Magento Hosting
While Magento is a powerful eCommerce platform with multiple tools that let you start your business in a short time, hosting isn't included in the package for those using Magento Open Source. Therefore, the solution is to find a hosting provider for your website.
Magento 2 hosting solution provides updates to enhance your website's performance and security. So the key is to find a hosting provider that matches your business's needs and minimizes server downtime.
The most important features of a hosting provider that you should consider are:
Compatibility: check that the provider is compatible with Magento
Security: whether the hosting solution has major security measures like dedicated firewalls, SSL certificates, IP whitelisting, 2-factor authentication, etc…
Speed: check the loading speed and if the server can handle overloads
Server location: select a server that is located close to your customers to increase your site's loading speed.
Support: the hosting provider should have a technical team for 24/7 support.
As an expert in Magento, we have created a list of the best Magento 2 hosting providers to give you a hand in choosing the most suitable one for your website!
The Best Magento 2 Hosting Providers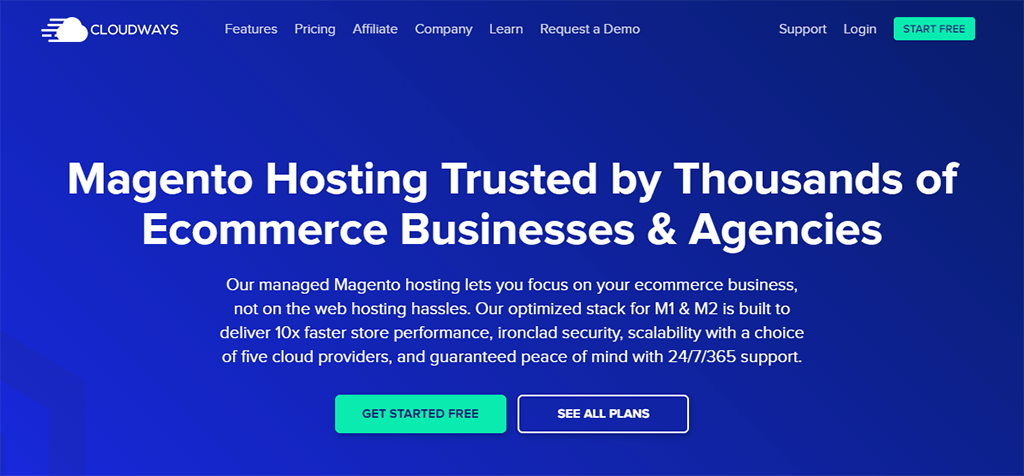 Cloudways is definitely among the top hosting providers for Magento stores.
You can choose from their 5 world-class cloud providers: DigitalOcean, Linode, Vultr, AWS and Google Cloud. Cloudways has 62 data centers around the world, so you can pick the hosting server that's closest to your customers to optimize the website's performance.
Features:
| | |
| --- | --- |
| 24/7 Expert Support | Regular security patching |
| Unlimited Applications | Free Migration |
| Pay As You Go | SSD-Based hosting |
| Free SSL Certificates | Automated Backups |
Pricing plans:
From $10/month (Standard)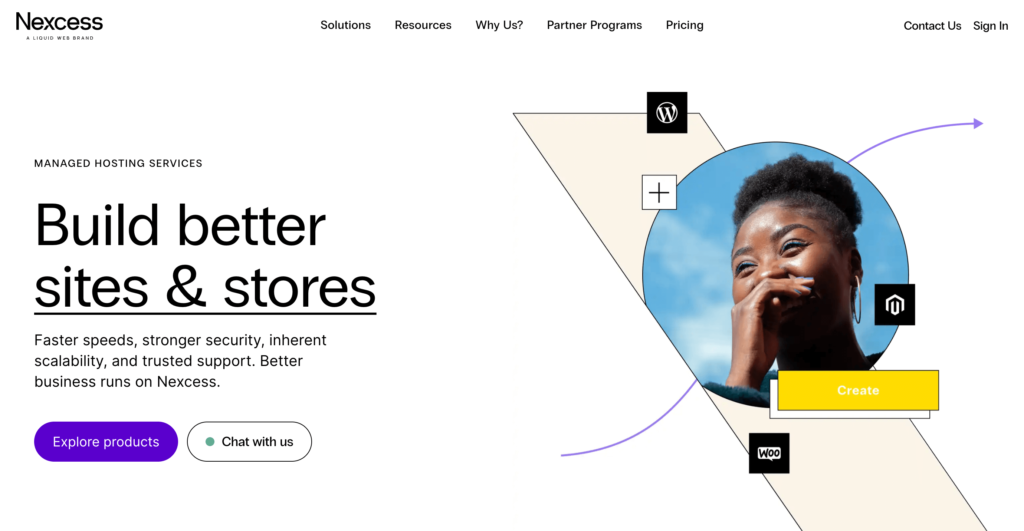 Nexcess is an expert in the hosting service, and it offers fully managed Magento hosting.
Its servers are praised for fast site speed as well as stability by many Magento users.  For support, Nexcess has a team of experts and a Magento Master on-staff to solve your problems. Nexcess's 6 pricing plans are built to suit different business sizes – from small (with XS package) to large-scale enterprises (with XL and XXL packages). Of course, if compared, these plans are still more costly than the packages of other providers.
Features:
| | |
| --- | --- |
| Magento-dedicated hosting | Support PWA |
| Stable and fast hosting | Daily backups |
| Free SSL certificate | Unlimited email account for all plans |
| PCI-compliant hosting | 24/7/365 support |
Pricing plans:
XS: $49/month
S: $99/month
M: $179/month
L: $299/month
XL: $549/month
XXL: $849/month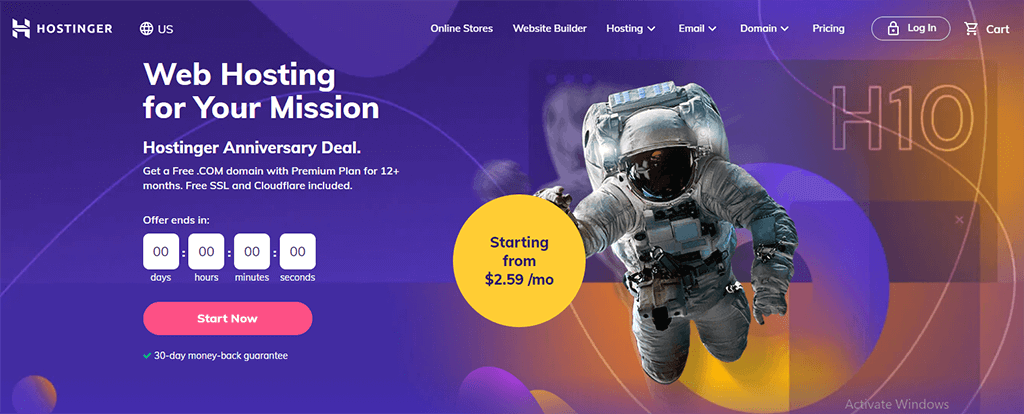 Hostinger brings you some of the cheapest pricing plans for Magento hosting. And it still provides excellent features with quality customer service. In case you need help, Hostinger's support team can respond in as fast as 50 seconds! Besides web hosting, Hostinger also offers website builder, email hosting and domain.
Currently, there are about 29 million users who have used Hostinger as their server and it has an average of 15K new signups every day.
Features:
| | |
| --- | --- |
| SSD storage | User-friendly control panel |
| Free SSL Certificate | 30-day money-back guarantee |
| Fast load time | Weekly backup |
| 24/7/365 support | |
Pricing plans:
Shared web hosting: from $1.39/month
Cloud hosting: from $9.99/month
VPS hosting: $3.95/month

For a lightning-speed load time, A2hosting is your go-to provider. The server claims to increase your website's performance by as fast as 20x time. A faster website does not only satisfies your customers but may also achieve a higher conversion rate and SEO rankings.
A2 hosting's pricing plans are also affordable, with the lowest price from $2.99 per month, which is great for start-ups and small businesses. It's compatible with the most popular platforms like Magento, WordPress, Drupal, OpenCart and Joomla.
Features:
| | |
| --- | --- |
| Up To 20X Faster Turbo | 99.9% Uptime Commitment |
| 24/7/365 support | Free SSL Certificate |
| Unlimited SSD Space & Transfer | Money-back guarantee |
Pricing plans:
Shared hosting: from $2.99/month
Reseller hosting: from $18.99/month
VPS hosting: from $4.99/month
Dedicated server: from $129.99/month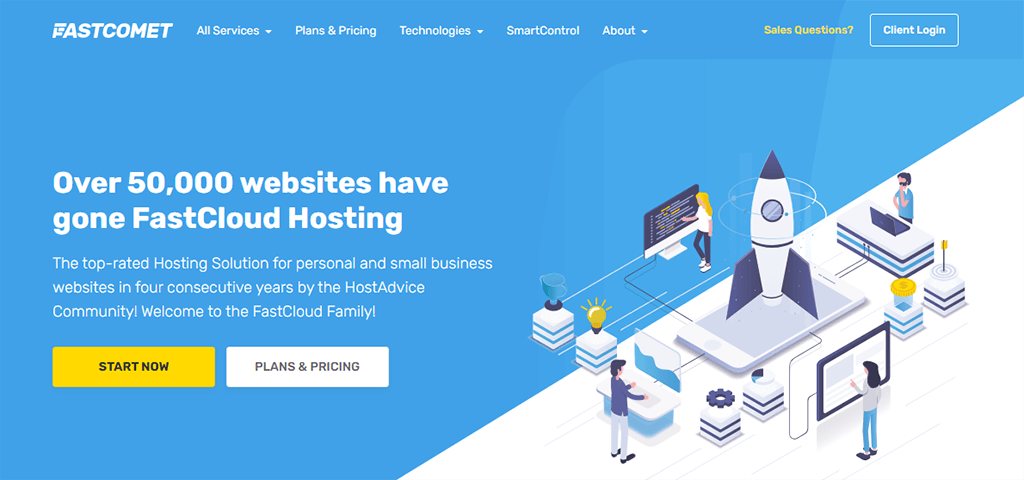 FastComet has supported thousands of websites around the world, and they sure let you know with the impressive number displayed on their homepage. And from its name, it's obvious that the hosting provider focuses on speed.
To best enhance websites' performance, FastComet's data centers are located in 11 different locations. Their servers are rated highly for stability, tight security and outstanding support. Their plans are also affordable for businesses.
Features:
| | |
| --- | --- |
| Solid server uptime | Powered by cPanel |
| SSD-only cloud | Daily and weekly backups |
| Free domain transfer | Free 24/7 support |
| Free Cloudflare CDN | 45-day money-back guarantee |
Pricing plans:
Shared hosting: from $3.48/month
Cloud VPS hosting: from $47.95/month
Dedicated CPU servers: from $111.19/month

Sure MageMojo is one expensive choice of hosting provider, but their services are completely worth the price!
It has been a Magento-dedicated hosting provider since the beginning and remains one of the top players in the market. Its mission is to deliver merchants, developers and agencies with the most powerful, reliable and feature-rich Magento hosting.
Features:
| | |
| --- | --- |
| 100% uptime | 24/7 support |
| World-class service | Pay as you go |
| Include premium Cloudfront CDN | Free Magento Migration |
Pricing Plans:
Business: from $98/month
Enterprise: from $1250/month

More than 2 million domains are trusting their websites with SiteGround, and that speaks something about why this is among the best providers.
Having been in the market since 2004, SiteGround continues to deliver exceptional service to their customers from around the world. Their hosting is easy to install, and supported with speed optimization, server monitoring, and top-notch security. SiteGround-hosted websites usually load in 650ms, and that speed is better than most of what others can offer. Moreover, their support team is professional and can go beyond duty to help to fix your problem.
Features:
| | |
| --- | --- |
| Free SSL | Unlimited database |
| Daily backup | 24/7 support |
| Free CDN | 30-day money back |
| Out-of-the-box caching | |
Pricing plans:
StartUp: $4.99/month
GrowBig: $7.99/month
GoGeek: $14.99/month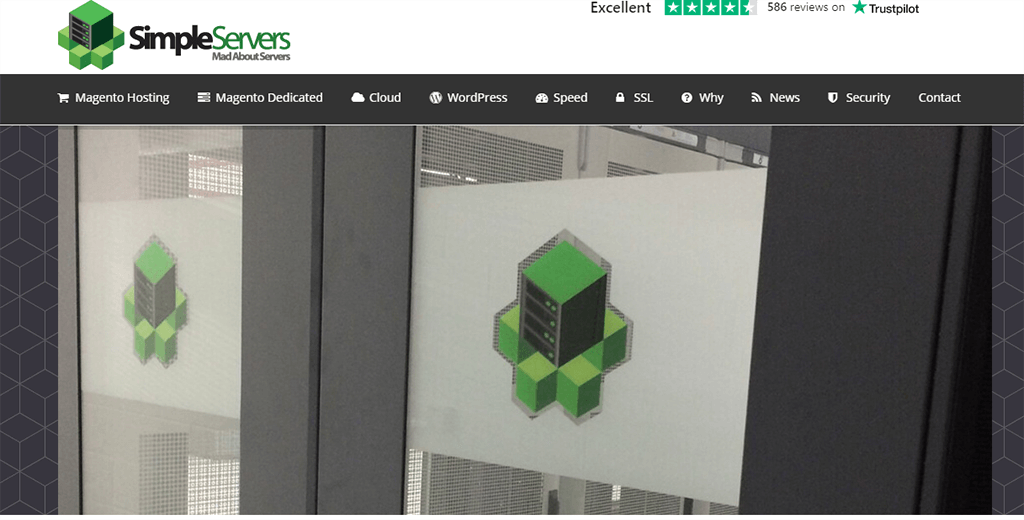 Simple Servers specialises in Magento hosting, and they do their job exceptionally well. They have more than 15 years of experience in the industry and know what makes the best Magento hosting for theory customers.
Their teamwork constantly to ensure customers' websites are performing with the fastest speed and 100% up-time. Simple Servers is also the only Magento host that has DDoS Mitigation Built In.
Features:
| | |
| --- | --- |
| Optimized for Magento | 3-hour hardware replacement |
| DDoS Mitigation built in | 1-click install |
| 100% up-time | 24/7/365 support |
Pricing plans:
Shared SSD hosting: from £14
SSD Semi dedicated hosting: from £45
Magento dedicated server: from £141.25
SSD Magento dedicated server: from £141.25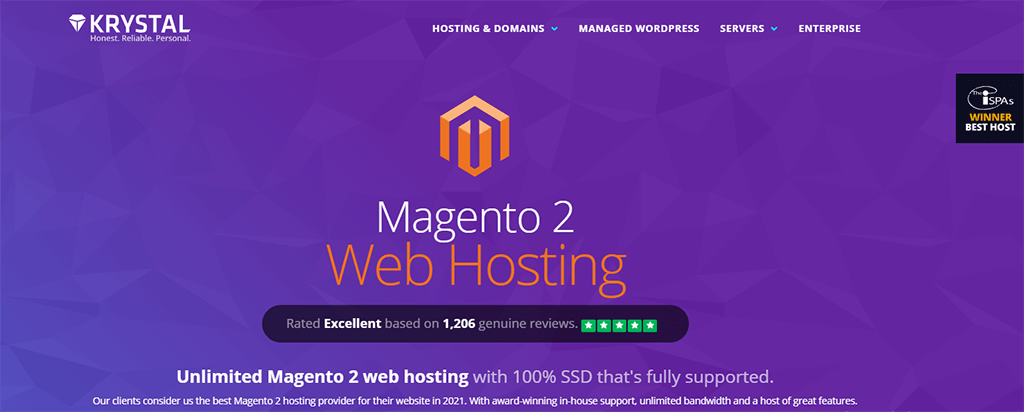 Krystal Hosting is a superb choice for website hosting. They provide dedicated Magento hosting, utilizing LiteSpeed for the fastest possible load time. With Krystal, your website will get excellent security, regular backups (6 times a day), and in case you haven't go a domain name, receive 1 for free from the provider.
Krystal's all-around packages meet most of their customer's demands. The only drawback is probably the fact their data centers are located in the UK.
Features:
| | |
| --- | --- |
| 100% SSD's for ultimate performance | Fully optimized hosting platform |
| Unlimited bandwidth | Regular data backups |
| Regular security/malware scans | LiteSpeed caching |
| 24/7 support | 60-day money-back guarantee |
Pricing plans:
Sapphire: £29.99/month
Diamond: £59.99/month
Tanzanite: £99.99/month

Rackspace is an expert in providing multicloud solutions. They deliver innovative capabilities of the cloud to help customers build new revenue streams, increase efficiency and create outstanding experiences.
You can get in touch with them to define the right strategy for your website, and have a customized solution for your business.
Features:
| | |
| --- | --- |
| Optimized Servers for Magento 2 | Consultation services |
| Fast 24/7 Support | Customized solution |
Pricing: Contact to get a quote

InMotion is a reliable US-based provider of web hosting service for more than 15 years, and they also have Magento-dedicated hosting. You can choose the most suitable one from their wide range of plans.
Not only that, Inmotion is reputed for its exceptional customer support. Its hosting server is built to offer great scalability for business growth, so you shouldn't be concerned with a large website traffic spike.
Features:
| | |
| --- | --- |
| 1-click installation | Fast SSD and reliable drive storage |
| Free SSL certificate | 90-day no-question money-back guarantee |
| Free website transfer and server setup | cPanel included |
Pricing plans:
Essential: $155.99/month
Advanced: $229.99/month
Elite: $299.99/month

This is no doubt a familiar name for you if you've looked up a domain for your website. And they also offer outstanding hosting services for businesses. GoDaddy offers many different hosting plans, including shared hosting, WordPress hosting, VPS hosting, and dedicated servers. Their servers are reliable with blazing-fast speed.
Features:
| | |
| --- | --- |
| Unmetered traffic | Unlimited websites and databases |
| Free SSL certificate | 24/7 support |
| Free Office 365 Email | 99.9% uptime guaranteed |
Pricing plans:
Launch: $19.99/month
Enhance: $34.99/month
Grow: $44.99/month
Expand: $59.99/month
Wrap Up
We hope that following this article with our list of the 12 best Magento 2 hosting providers, you are clear on what features to consider when choosing a provider and can look up if any of the mentioned names stand out for you.
Before purchasing any plans, we recommend contacting the provider and discussing your business's needs with them. They will be able to give you advice on picking the package for your online store.
A ready-made Magento 2 solution that includes hosting
SimiCommerce is a ready-made eCommerce solution that aims to provide an easy, quick and affordable way for retailers to go online.