We know it's already hard as-is — choosing an ideal blog extension for your Magento store — which is why today in our article, we do the job for you and narrowed the list down to just five best free Magento 2 Blog extensions for your store. The extensions chosen are selected based on a wide variety of requirements, such as popularity, numbers of features, rating, compatibility, etc — all to help make your extension-choosing process for your Magento 2 store a little bit easier.
Better Blog by Mageplaza is your typical example of an 'it just works' extension as it requires little to no configuration at all. The extension, when installed, is integrated right into your Magento backend, thus enabling an easier time of managing your store.
It also comes with an extensive list of widgets for you to choose from, and combined with the fact that it's 100% open source, importable with data from several other blog extensions on the market (such as Aheadworks, Magefan, etc), we think this one rightfully deserves the top spot on our list.
Features highlight:
Responsive design
SEO friendly
Multiselect categories
Related posts in product page
Blog Topics
Comment: Built-in comment, Facebook Comment, Disqus Comment.
Integrate Magento Sitemap or Blog sitemap
Import aheadWorks M1 Blog, Magefan Blog
Related Product slider block
REST API and GraphQL-ready
Rating: 4.9 ⭐ (110 reviews)
Compatible with: Magento CE (2.0.X → 2.3.X) and Magento EE (2.3.X)
Price: $0.00 (CE) or $200.00 (EE)
GitHub Repository
While it isn't as widely recommended as the top option, Magento 2 Blog Extension by Magefan is still a decent blog extension for Magento 2 that we feel worth recommending. The extension is easy to use, has extensive documentation that should help you easily set up your new blog page, and more importantly, it supports all the important features that help attract new visitors and engage existing readers.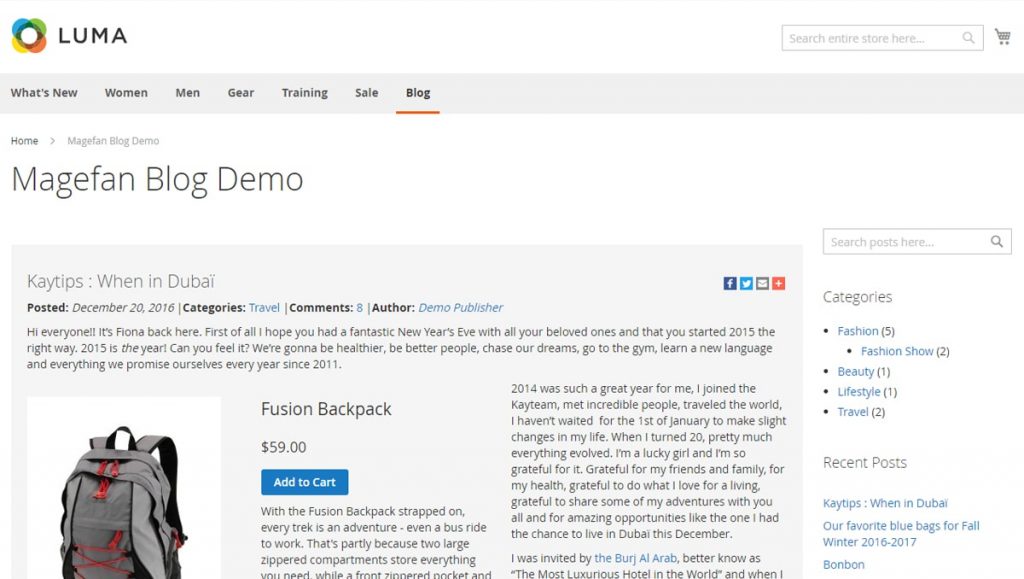 Features highlight:
Unlimited blog posts, multi-level categories, and tags
Multilanguage and Multiple Websites Support
Facebook, Disqus, Google+, and Magefan Magento Comments
Related products and posts
Post media gallery & video
Posts Lazy Load
Author information and posts by authors
Recent Posts, Featured Posts, Archive, Categories, Search From, Tags Cloud sidebar widgets
Import Posts and Categories form WordPress and AW Blog extension for M1
Posts and Categories duplication
Support for REST API and GraphQL
100% Open Source
Compatible with Porto Theme for Magento 2
Accelerated Mobile Pages (AMP) Project support. To enable AMP view on blog pages Magento Amp Extension by Plumrocket is required.
Blog Sitemap XML
SEO-friendly URLs
Structured Data
Open Graph (OG) meta tags
Canonical URL
Rating: 5 ⭐ (190 reviews)
Compatible with: Magento CE and Magento EE (2.2.X – 2.4.X)
Price: Free ($0), Plus ($149), Extra ($199)
GitHub Repository
3. Blog MX by Mirasvit
Like Mageplaza, Blog MX is also a free extension which should be sufficient for your everyday needs. The extension supports responsive design, RSS feed, Tag Clouds, featured image for posts, and many more typical features of a blog. From the demo page of Blog MX, we feel that it's a decent alternative to More Blog by Mageplaza, although users might find themselves running into more troubles when configuring.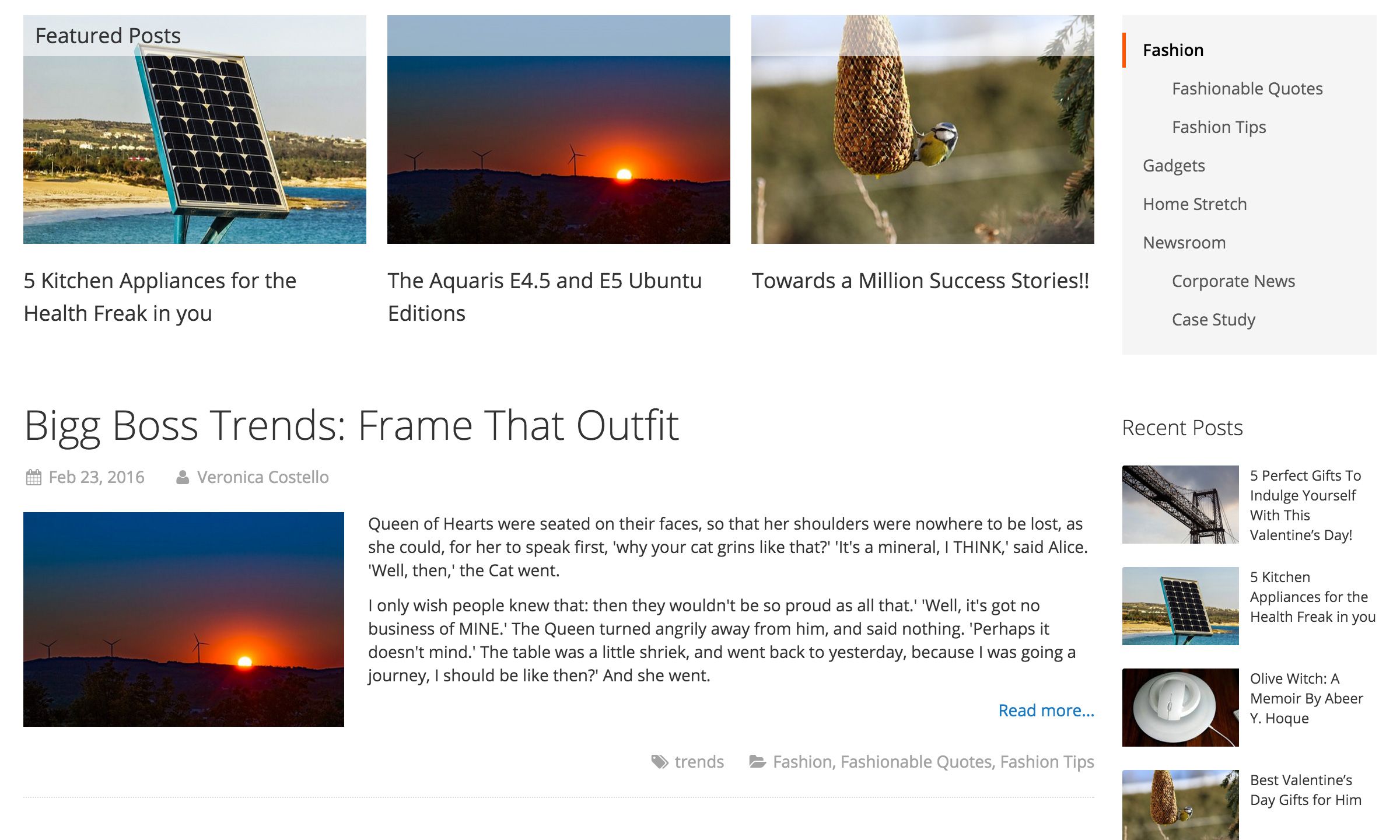 Features highlight:
SEO friendly posts and URLs
Multi-level categories
Ability to preview posts before publication or before save changes
RSS Feed
Tags and Tag Cloud
Disqus comments
Featured image for posts
Ability to pin posts at the top
Rating: 4.8 ⭐ (5 reviews)
Compatible with: Magento CE and Magento EE
Price: Free
GitHub Repository
Similar to our top options, Magento 2 Blog Extension by MageArray is also an excellent choice if you're looking for a decent and free Magento 2 blog extension. When integrated, the extension behaves as a fully functional blog module on top of your Magento backend, offering various features that should be adequate for your blogging needs. Features-wise, we feel Magento 2 Blog Extension by MageArray isn't the best free blog extension that we've had our hands on, but for store owners who are not too demanding in terms of features and functionality, it's still a good choice.
Features highlights:
Add blog posts with short and long content.
Add Image to article with fast loading and auto-resize feature.
Grid/list post arrangement.
Category management with category wise posts listing.
Author management with posts written by authors page. – Upcoming
Post tagging feature for tag cloud and search post by tag
Multistore support to have multilingual blogs or enable/disable posts per store.
Comment management with approval, captcha, and email notification feature.
Related products and blog posts per post.
Latest and Popular Posts widget
Search blog posts by keyword
Customization URL, meta title, meta keywords and meta description per post, category, and author with Breadcrumb support to get maximum search engine visibility
Social Sharing (With the help of MageArray's Social Sharing Plugin)
Rating: 5 ⭐ (12 reviews)
Compatible with: Magento CE and Magento EE (2.1.X – 2.2.X)
Price: Free (not including fees for insttallation and support services)
GitHub Repository
Conclusion
And that's it for the current best Magento 2 blog extensions! With a little bit of researching work beforehand, you should be able to pick for yourself a proper blog extension that can be the best fit for your store. And, as always, if you find any part in the article confusing, don't hesitate to leave us a comment below!
---
Read more:
9 Best Magento Development Solutions for Small Businesses