Up until now, there are more than 370 eCommerce platforms diverse in prices, features and pricing methods. Choosing the ideal one for your business requires understanding of your products, your selling channels and general eCommerce features. To make the platform finding task less daunting, we have handpicked the best eCommerce platforms in 2023 for various business sizes and types.
Best eCommerce platforms ranked by popularity
The most simple way to judge the best eCommerce platform is to check how many businesses are doing well with it. 
We have checked over 20 popular eCommerce platforms on the internet to find which platforms have the most websites ranked in the top 1M website with Builtwith. 
And here are the results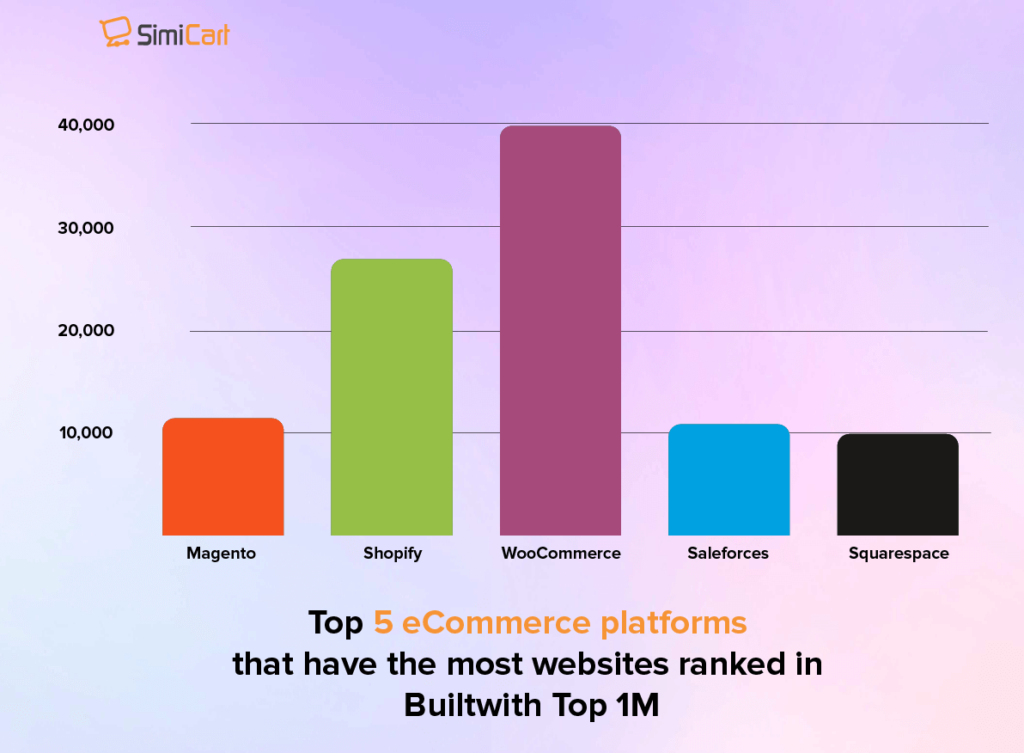 And the detailed list:
|   | Number of websites | Percentage |
| --- | --- | --- |
| WooCommerce | 39,747 | 3.97% |
| Shopify | 26,796 | 2.68% |
| Magento (now Adobe Commerce) | 11,340 | 1.13% |
| Salesforce | 10,759 | 1.08% |
| Squarespace | 9,819 | 0.98% |
| Wix | 5,533 | 0.55% |
| PrestaShop | 2,980 | 0.30% |
| OpenCart | 2,907 | 0.29% |
| BigCommerce | 2,464 | 0.25% |
| SAP Commerce | 1,534 | 0.15% |
| Weebly | 1,206 | 0.12% |
From the data, it can be said that WooCommerce and Shopify remain the two most popular eCommerce platforms, followed by Magento, Salesforce, and Squarespace.
Best eCommerce platforms ranked by G2 reviews
While Builtwith data gives us a pretty accurate insight into the popularity of eCommerce platforms, it can not tell us much about another prominent factor: quality.
How does one platform function? Is it easy to use? Is its pricing reasonable? What about available support?
There are many things to judge the competency of an eCommerce platform, also, each user can have a different experience with it. 
Therefore, we find the most objective way to rate eCommerce platforms is based on their real users' reviews. For this reason, we collect eCommerce platforms' reviews from G2 – a trustworthy review platform for software and technology, and here are the results.
Note: For the sake of fairness, we only pick eCommerce platforms that have more than 100 reviews on G2 to compare ratings. 
*Combining ratings of Shopify and Shopify Plus altogether
**Both Wix and SquareCommerce offer blogging tools besides eCommerce cart functionality, so their G2 reviewers are a mixed bag of bloggers and online sellers. 
***Combining ratings of Magento Open Source and Magento Commerce altogether
Best eCommerce platforms in 2022: a detailed pros & cons comparison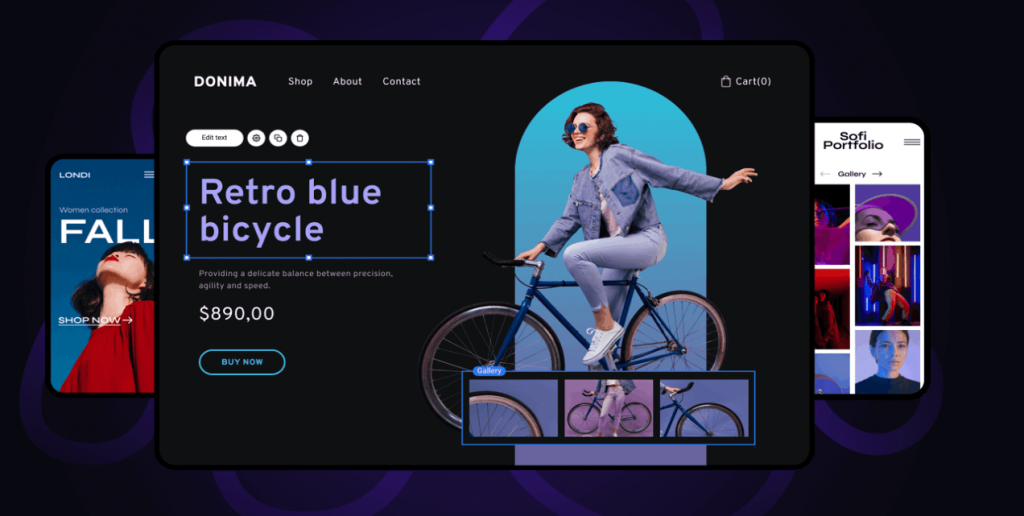 When it comes to a no-brainer website building experience, Zyro is surely the winner. Besides a list of templates and a drag-drop editor to create storefronts, the platform also comes with plenty of handy tools from logo-maker to image resizer, image background remover to slogan generator. You need not make a great creative effort and any special skills to prepare a beautiful and captivating store in minutes. 
Pros: 
Fast and secured web pages empowered by Hostinger, a reliable hosting provider
Affordable prices (from $8.90/month)
A useful pack of AI business tools to help you create content fast and easily: SEO-writer, blog title generator, slogan generator, logo maker, heatmap, etc
Templates for policy pages, refund pages, etc
Super easy to use
Cons: 
The number of templates, features and extensions are still limited. But they are improving.
Lacks flexibility so it's difficult to change any functionalities you dislike. 
Pricing: 
Basic: $8.90/month
Unleashed: $12.49/month
eCommerce: $24.49/month
eCommerce Plus: $14.90/month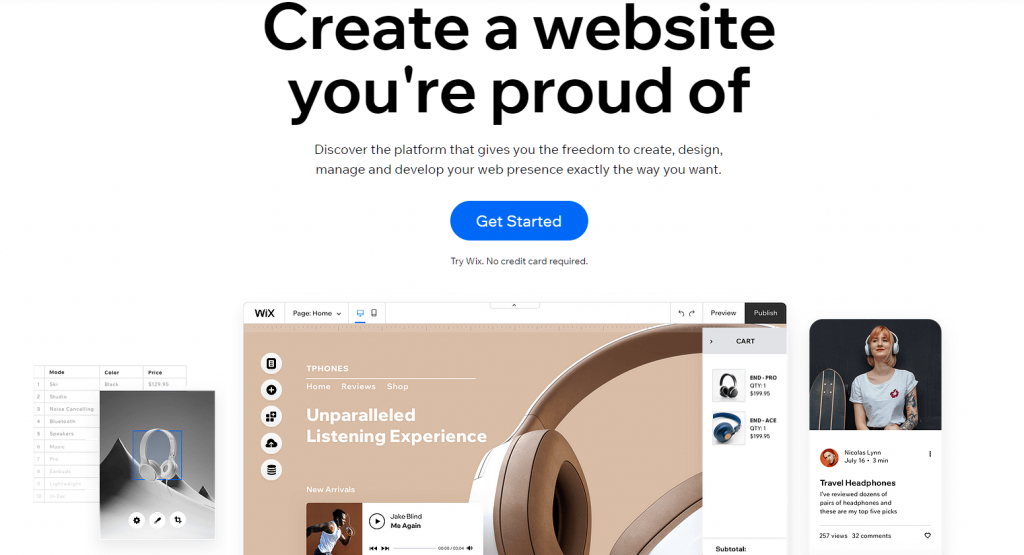 Wix is a popular Content Management System (CMS) with over 5.5M premium subscriptions. Its eCommerce cart ranks 10th in the top eCommerce Usage Distribution among the top 1 million sites. The platform impresses with its rich-built features, competitive pricing suitable for various industries, store types, and technical levels. 
Pros:
Over 800 FREE beautiful templates for various industries 
Intuitive drag-drop editors with an AI website generator for beginners to roll. 
Various built-in features not only for a classic eCommerce store but also for booking online services, restaurant & hotel reservations, fitness subscription services. All of them are included in pricing with no extra fees. 
Catered for everybody from beginners to advanced web owners to developers. While Wix editor offer state-of-the-art design functions that all marketing teams love, Velo is a Wix's specialized platform for developers to customize
Plenty of extensions
Rich built-in features especially for SEO and Marketing. 
Cons:
The drag-and-drop editor is not the most responsive, and beginners may get lost among dozens of design elements at first. 
You can not switch between templates. If you do, you will lose all your setting for the previous template
Basic page builder tools are not best for mobile. Wix uses "absolute positioning", which means your site pixel is unresponsive for different screens. For the best mobile experience, users need to use Wix Editor, a more advanced & complicated tool for responsive designs or purchase Wix mobile app, which costs about $200/month.
Pricing
Business Basic: $17/month
Business Unlimited: $25/month
Business VIP: $35/month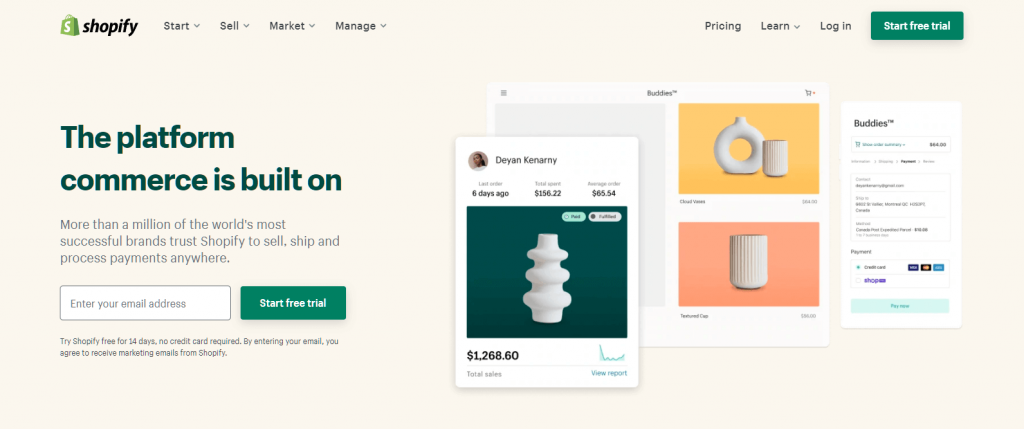 Shopify is by far the most popular eCommerce platform with the biggest market share. It is first widely acknowledged as a user-friendly platform helping everybody build their own eCommerce store without a single code. Then, it grows to be a famous choice among dropshippers. 
Pros:
A great number of themes and extensions. 
Easy to use, fast to set up
Rich built-in eCommerce features
Fast speed and secure
A lot of choices of payment methods
A big community of Shopify users and certified partners to help you with any troubles.
Cons: 
There are not many free themes and not all themes support multi-languages
You may need to buy some apps to improve functionality, which can add up costs overtimes
Not the best option for SEO. Although it does all the basics, it gets difficult to further optimize for the best search engines results
Transaction fee: there's an additional transaction fee on top of the payment gateway fee. 
Do not support multi-store. A Shopify account can only create one web store. 
Pricing: 
Basic Shopify: $29/month
Shopify: $79/month
Advanced Shopify: $299/month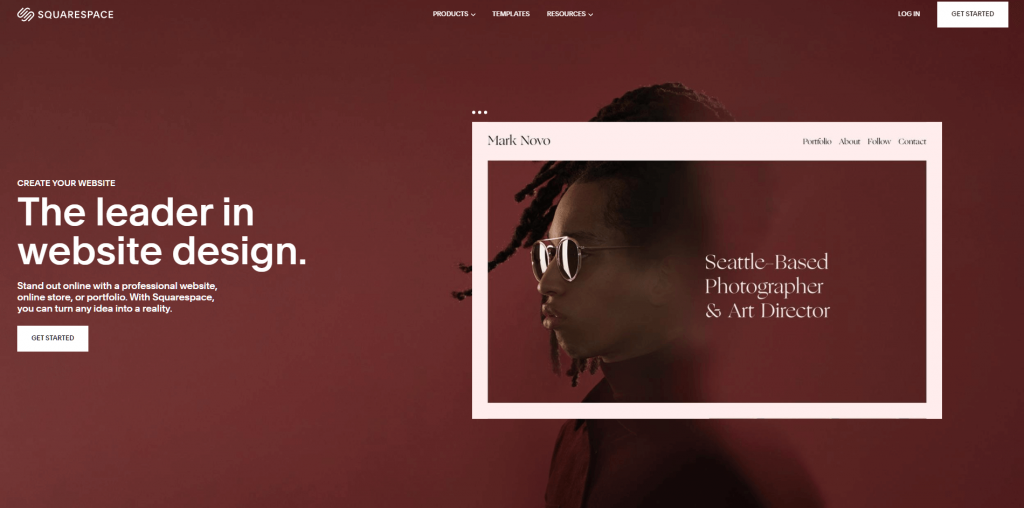 Reasonably priced (from $12/month), SquareSpace is a fast-growing eCommerce platform for aesthetically stunning storefronts, SEO and blogging content. Its rich library features over 110 templates, all of them are eye-pleasing and artful. Furthermore, the platform supports better blogging experiences than most other competitors while offering a good number of advanced SEO tools to get your site visible.
Pros:
Rich and beautiful free templates. Fully responsive. Plenty of free stock images and fonts are available
Decent blogging experience with tools for commenting, setting multi-authors, AMP support, and even Podcast hosting
Responsive and helpful live chat
Mobile app available
A good number of built-in tools for SEO & marketing
Cons:
Some aspects can be hard to use 
It's challenging to create multilingual pages with SquareSpace
You can not change the template once you've selected
Limited payment gateways
Basic POS system which is only limited to the US
The marketplace still lacks lots of extensions 
Pricing: 
Personal: $12/month
Business: $18/month
Basic Commerce: $26/month
Advanced Commerce: $40/month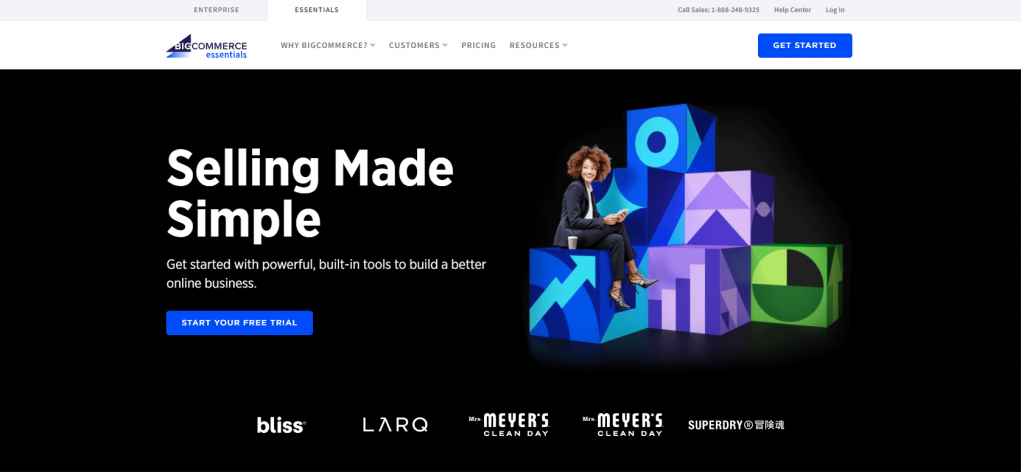 BigCommerce is a reasonable choice for robust eCommerce, management and SEO tools, which makes it a good option for small and low-budget businesses. Moreover, the platform is flexible to scale up with multiple plans including BigCommerce Enterprise to support your company's growth. It has over 60,000 active users including some big names such as Toyota, Sony or SkullCandy. 
Pros:
Good SEO features
A great number of built-in eCommerce features even for the cheapest plan such as third-party real-time shipping calculations, comprehensive reporting tools, product reviews
No extra transaction fees applied on top of the payment gateway's charges
Easy to sell on omnichannel by seamlessly syncing inventory across stores and other sales channels such as Facebook, Amazon, eBay, etc
Cons:
You need to upgrade to a more expensive plan if you reach a specific sales amount.
Free themes are limited in styles and font options
Lacks of native feature for POS
It's not the easiest experience to use BigCommerce template editors and design. 
Pricing:
Standard: $29.95/month
Plus: $79.95/month
Pro: $299.95/month
Enterprise: Contact
6. Shift4Shop (formerly 3D Cart) 

Shift4Shop is another great choice to simply build an eCommerce store without breaking the bank. Its predecessor is 3DCart, a well-established eCommerce platform founded in 1997. Thriving to be the best SaaS eCommerce platform, Shift4Shop solves some major disadvantages of Shopify such as extra transaction fees or native SEO tools shortage. 
Pros:
A comprehensive set of tools sufficient to start selling online without needing to buy more extensions
100+ free templates to easily design your storefront. All is mobile-friendly
No transaction fee applied besides the fee charged by payment companies
Easy to use. 
REST API access: you can customize themes and functionalities for your websites using API integration. 
Cons:
Limited ability to customize website templates. Designs for free themes are pretty basic, too
Apps in Shift4Shop Marketplace are varied in prices and pricing methods. Moreover, the lack of reviews for those tools makes it harder to judge an app's buy-worthiness.
Pricing: 
Basic store: $29/month
Plus store: $79/month
Pro store: $229/month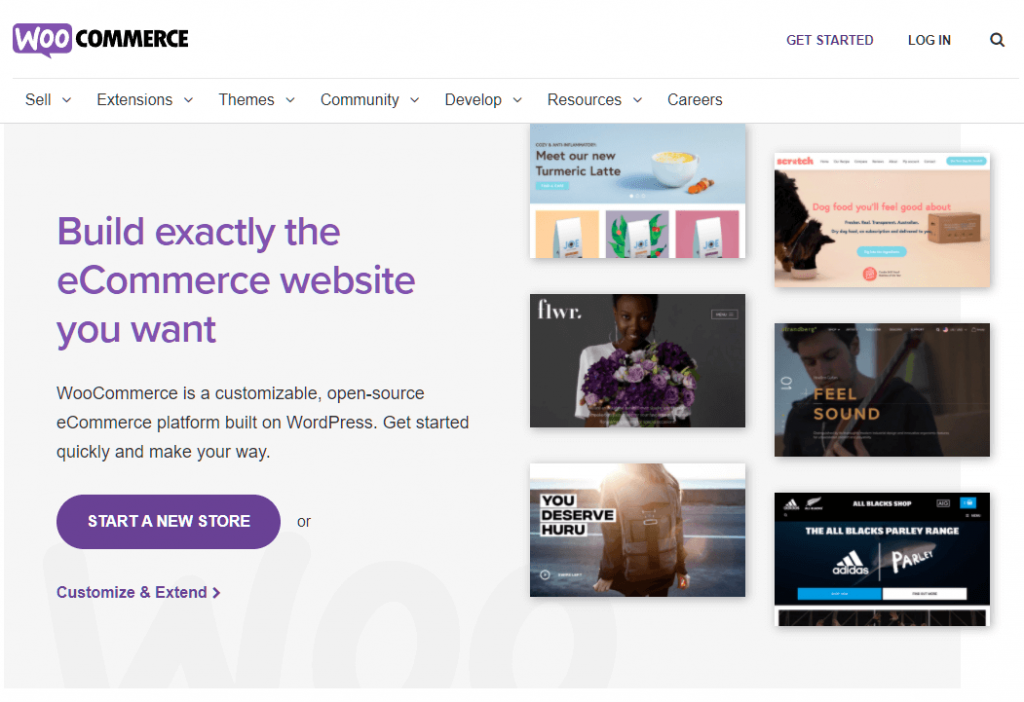 WooCommerce is not an independent eCommerce platform yet a WordPress's plugin for selling online. Users need to install the free WooCommerce plugin, then buy a hosting package, theme and some more extensions to build a fully functional cart.
When it comes to popularity, WooCommerce is the first runner-up behind Spotify. The platform allows aspirational store owners to build a free website, then gradually refine it as you grow by adding more codes or plugins. 
Pros:
Great capability to customize and a large community of coders to help the non-tech-savvy with it
A rich market of extensions and themes
WooCommerce is free to install and there are a good number of free extensions for Woo as well.
Great for SEO thanks to being a WordPress plugin.
Cons:
Extra costs are needed for hosting, themes and some extensions (and development costs)
Users may face some maintenance issues due to the fact that WooCommerce works on a compilation of plugins rather than a solid system
There's a learning curve for those who don't have any tech know-how. Some customizations need good coding skills to make. 
Pricing: Free
Magento is an open-source platform unlocking the endless potential of customization and scalability. It's one of the most prominent names in the market with a huge community hub where users can easily find documents, tips and other resources to enrich their stores. Moreover, its abundant toolset for eCommerce makes it a safe and sound choice for any starters. 
Magento has two editions:
Magento Open-Source offers its free source code to everybody, which is suitable for SMEs and techies to build their own websites.
Magento Commerce is an upgrade from the open-source one designed with eCommerce enterprises in mind. The solution adds many more advanced features including B2B functionality, powerful reports, 24/7 support and an intuitive drag-and-drop page builder. 
Pros:
Highly scalable and customizable due to its being an open-source platform
100% free to download and install
A rich market for themes and extensions
A large Magento forum where techies discuss and help each other with any issues that may occur. The platform's popularity and its many developers also mean that it's easier to hire a skilled Magento coder at a more affordable price than other platforms.
Robust eCommerce features with powerful tools for catalogue management, SEO & Marketing tool
Cons:
Although Magento's backend is easy to navigate, it takes coding knowledge to build a website from Magento's source code. Thus, business owners without development skills need to hire code experts to create a Magento site. 
Magento themes are a bit more expensive than other platforms' themes. Plus, its sturdy structure may require a more expensive hosting plan to ensure fast loading speed. 
It's not the fastest platform out there. However, customization done right can make a Magento site blazing fast. 
Pricing: 
Magento Open Source: Free
Magento Commerce: from $22,000/year
>> Read more: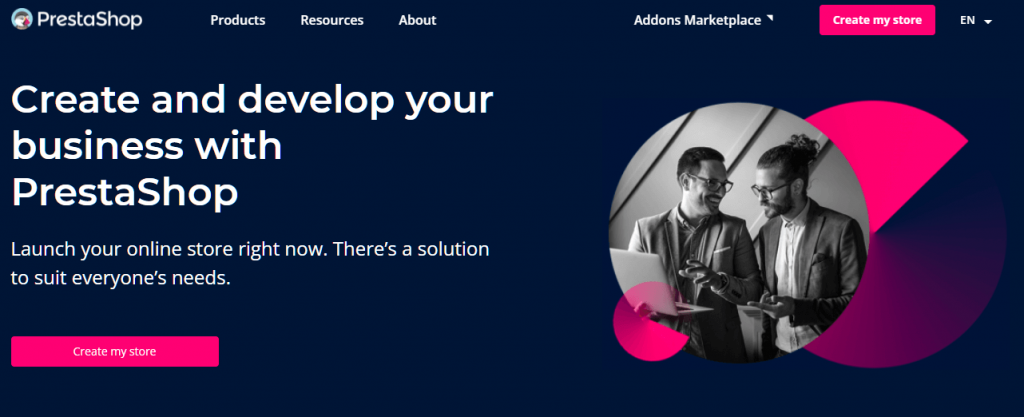 With over 300,000 stores worldwide, PrestaShop is another open-source cart solution that delivers superb experiences to both buyers and business owners. Its simple interface enables everyone to build a decent website from a free source code, although there may be a learning curve for beginners. 
Pros:
A good-to-go list of eCommerce features to start selling
Free to download and install due to its being an open-source platform
A good market for themes and extensions. PrestaShop has over 3200 themes that are aesthetically designed for various purposes and styles.
Offer some good free modules for dropshipping such as integrations with Alidropship, BDroppy, BigBuy along and other automation tools.
Possible for non-technical users to build a free eCommerce site from scratch
Cons: 
A steep learning curve for beginners
Limited themes and plugins in the market
Pricing: Free

SAP is a big software company providing top-notch solutions for supply chain management. Its solution for digital commerce fuels growth for all business types from B2C to B2B, D2C, etc. Plus, the eCommerce platform with its POS system is capable of supporting greatly complex situations while offering stellar performance and high scalability.
Pros:
There are no limitations of services, products and integrations. The capability to customize is never-ending
ERP processes all core operations of all company departments in a single ecosystem, which cuts costs and empowers growth.
Highly integrated with any other open-source software
Able to create rich content for promotions, products, products catalogues.
Clean and configurable user interface
Cutting edge technology
Cons:
Price can be a bit expensive for small businesses
There's a learning curve, training materials could be improved
There may be some slow server issues 
Pricing: Upon requests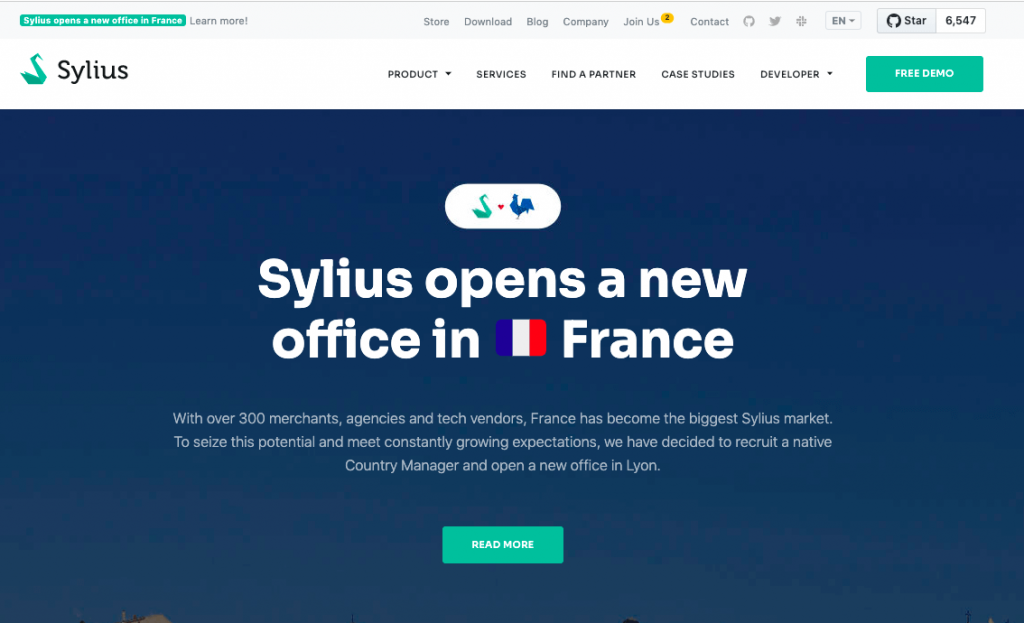 Sylius offers custom solutions for all mid-market and large-scale companies to stay at the top. Utilizing powerful headless technology and modern support, the platform helps businesses to grow their digital channels with the best agility and scale up unlimitedly. 
Pros:
One of the most flexible and scalable platforms utilizing the headless technology
Source code is open for all techies to create their own online store.
There are a good number of free helpful extensions in the Sylius marketplace.
The API-first solution allows you to connect with every preferable software via API with no platform restrictions.
Cons:
Setting up is a bit complicated even for coders. Training materials and tutorial videos could be more helpful.
It's costly for SMEs.
Pricing: Upon requests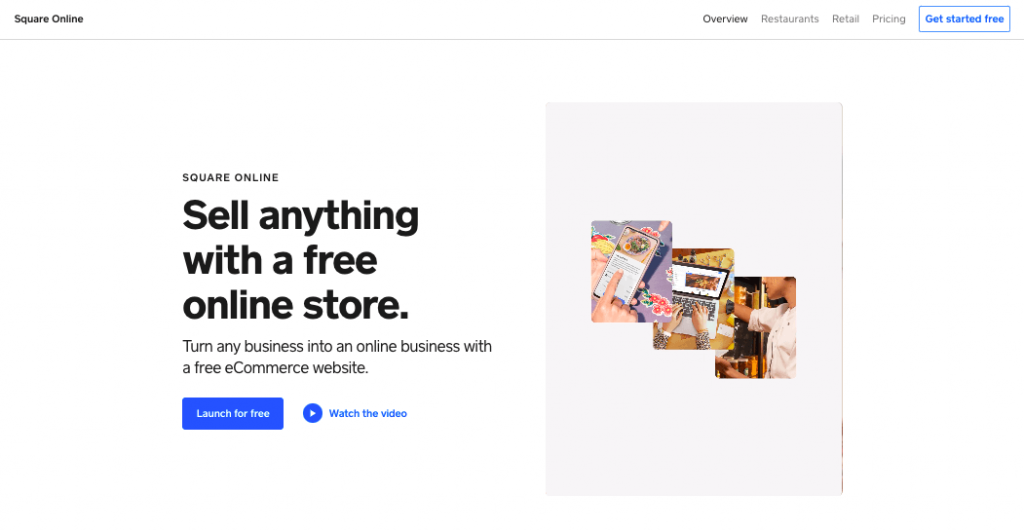 SquareOnline has the most attractive free starter plan for everyone to try online business without spending a penny. The platform, which is user-friendly, offers an abundant set of eCommerce tools to build a decent digital store. However, SquareOnline's best strength is its POS system, which is easy to use,  low-cost yet allows great flexibility. 
Pro:
A truly good free plan with many helpful features. The paid plan is also affordable starting from $12/month.
Cheap and efficient POS system
The higher plans have some great functions
Many beautiful themes to explore
Cons:
Square footer/ads are applied on the free plan
Features for shipment is quite limited
There are reportedly some issues with account stability
Pricing:
Free
Professional: $12/month
Performance: $26/month
Premium: $72/month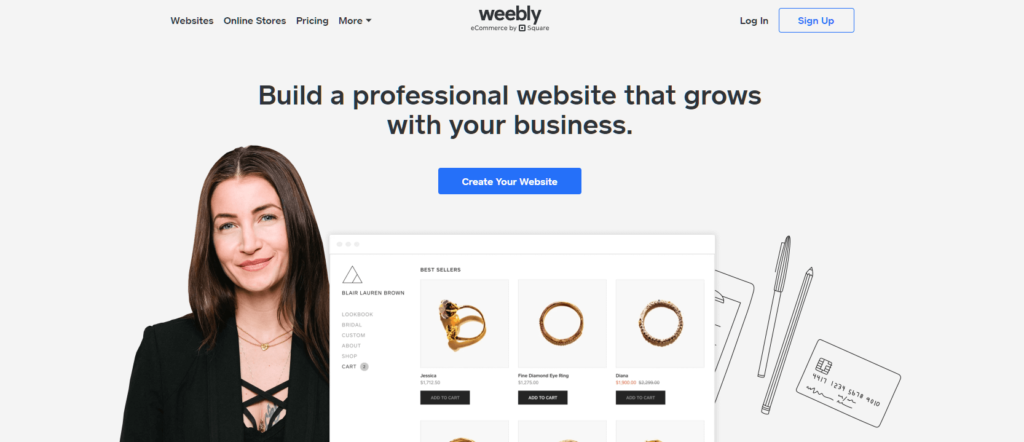 Weebly is budget-friendly for selling online with its highest plan costing only $38/month  Also, the platform is very simple to start with, and store owners can create an SEO-friendly, professional eCommerce website with simple cart functionality in a few clicks. 
In 2018, Weebly was acquired by Square, a big payment company. For this reason, Weebly users now can take advantage of some Square payment functions such as Square POS right on the platform.
Pro:
Cons:
Lacks eCommerce features 
Lacks the flexibility to edit themes
Not robust enough to handle websites with large traffics and many SKUs
Pricing:
Pro: $12/month
Business: $25/month
Business Plus: $38/month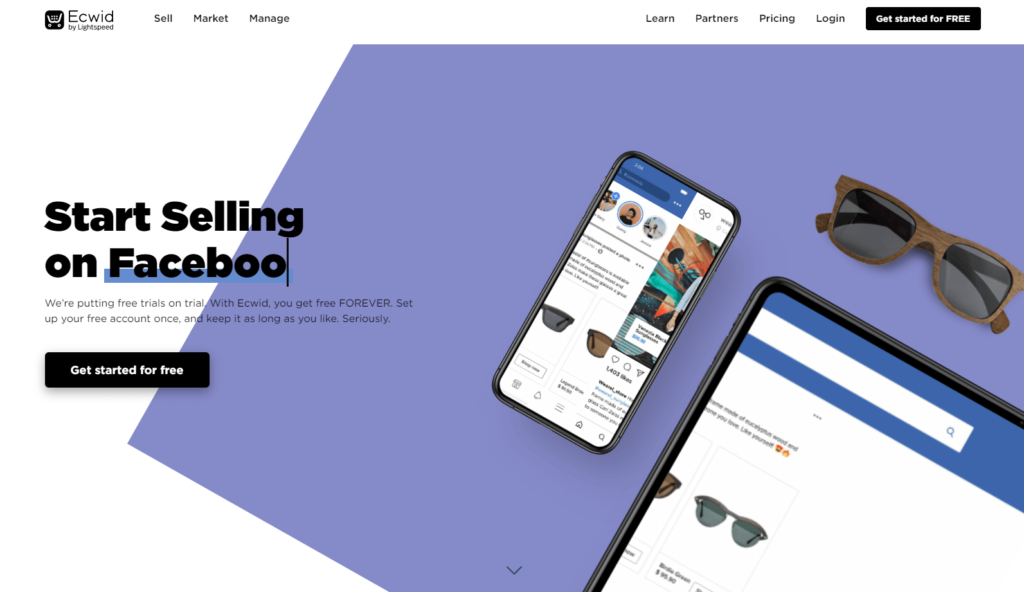 Rather than an independent eCommerce platform, Ecwid is a plugin that adds eCommerce functionality to existing websites. For example, you can turn your WordPress or Joomla site into a whole capable eCommerce store with Ecwid. 
Ecwid falls into the category of easy-to-use platforms for individuals and small businesses to start rolling as soon as possible. While it is not the most feature-rich, Ecwid has all the essential features that newbie store owners will love: from an easy synchronization with all major marketplaces, social networks & apps; to great tools for email marketing and advertising.
Pros:
A free plan that lasts forever & cheap pricing overall
Easy to create websites with no coding experience
Pre-built integrations to sell on social networks (Facebook, Instagram, Pinterest, Tik Tok, SnapChat), and marketplace (Amazon, Google Shopping)
Pre-built setup so you can promote your products with Facebook ads, Google ads and other marketing tools right away
Flexible payments with pre-integrated POS solutions
Live & phone call support
Cons:
Not suitable for sellers who have lots of products and expect high traffic
There are not many extension choices on Ecwid app marketplace compared with WooCommerce or Shopify
Lacks the flexibility to add eCommerce features or adjust themes
Pricing:
Free
Venture: $12.50/month
Business: $29.17/month
Unlimited: $82.50/month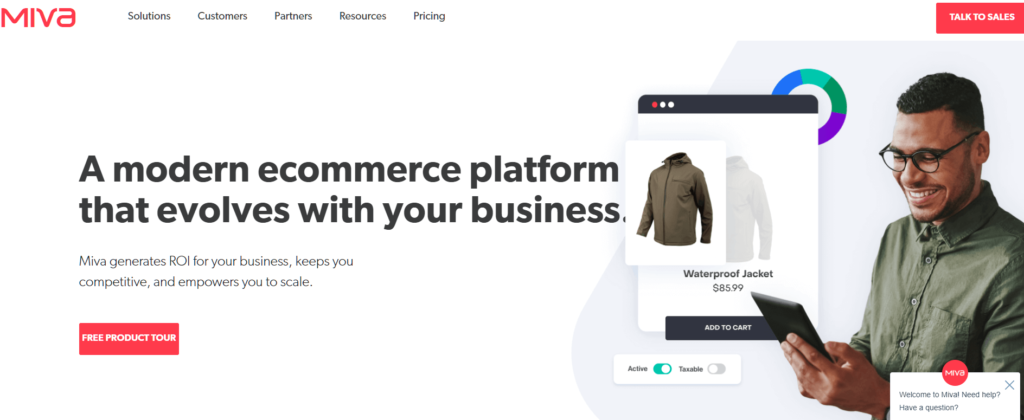 Miva equips businesses with important tools to move agilely, cut costs, and drive sales. The platform can handle large-SKU & high volume orders, while seamless integrations with world-class ERP tools enable businesses to operate more efficiently and accurately. 
The platform is tailored to meet the needs of retailers, manufacturers and wholesalers perfectly. Thus, if you want to sell to both B2B and B2C, Miva is an excellent choice. 
Pro: 
Rich built-in features for various business models: B2B, B2C, and DTC. Sell for B2B and B2C at the same time
Strong product merchandising and promotion tools
Highly scalable and reliable
Powerful enterprise-level integration
Cons:
Hidden pricing. 
It's not very easy to use, custom codes are needed and its administrative backend is not very intuitive
Additional prices for custom development, so overhead prices can turn costly
Pricing: Upon requests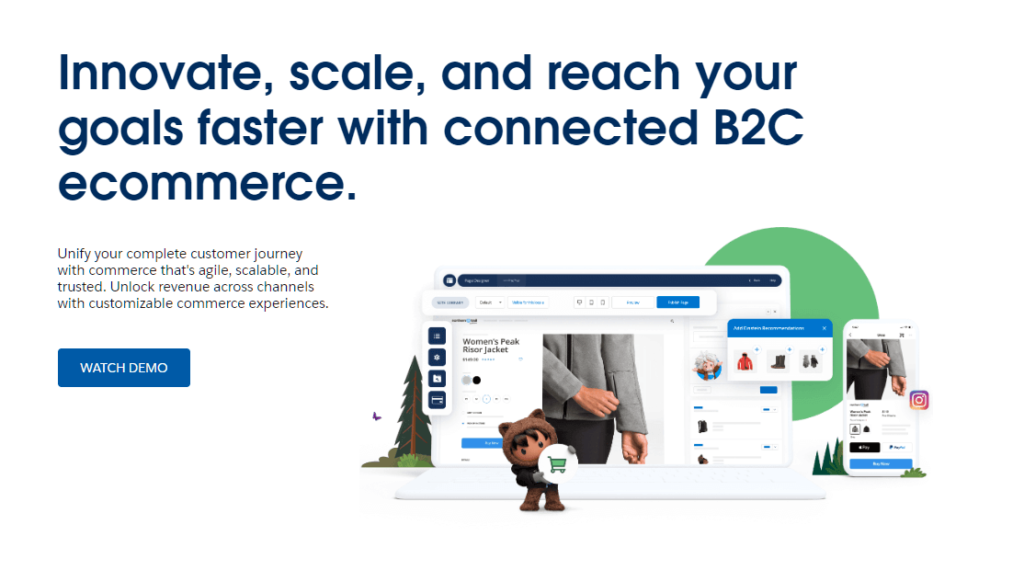 While best-known for its CRM, Salesforce has a rich ecosystem that assists businesses in every step of the customer journey from eCommerce, order management, customer success, and more. 
Being part of the ecosystem, Salesforce Commerce is a powerful platform for both B2B, B2C, or even B2B businesses who want to expand into B2C alike. It is built so that business can quickly adapt to market demands, scale up fast and go global. 
Pro:
Harness the power of AI for personalized recommendations and customer analysis
Embrace the headless technology to accelerate time to market and create unique customer experiences.
Powerful eCommerce functionalities for all eCommerce aspects: from product merchandising, optimized checkout, order management to SEO, mobile experience, and sales integrations
Built for various business models (B2B, B2C, DTC)
Cons:
Hidden pricing
Since it is not an open-source platform, there are limits in what you can customize 
It can be complicated to integrate with other software
It's not the best easy to use, as well as the system can be clunky sometimes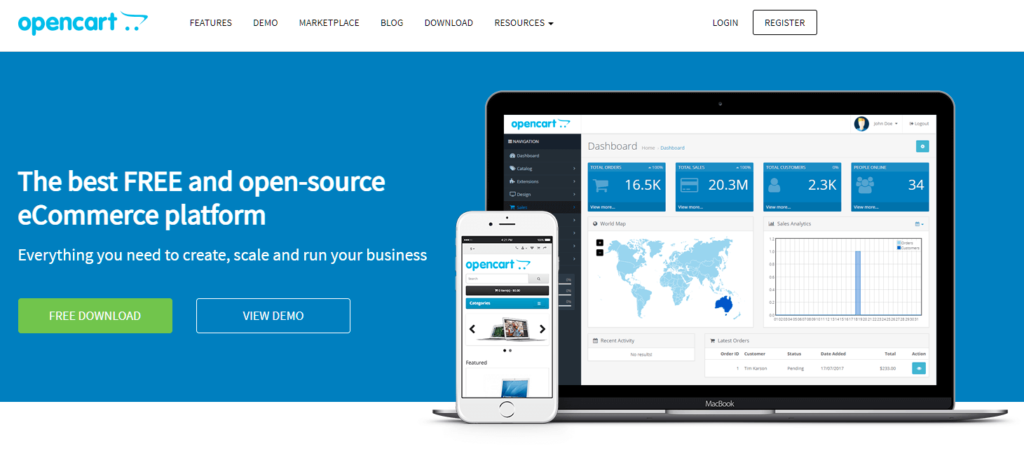 OpenCart is another popular open-source platform where you can freely download and develop a website on your own. It is packed with abundant eCommerce functionalities to create a seamless customer experience as well as manage orders and shipments. 
Pro:
Completely free to download and use
Support a wide variety of payment gateway out-of-the-box
A decent collection of eCommerce features
Highly customizable since it is an open-source platform
Cons:
Requires developing skills
Lacks themes for style choice
Lacks plugins to enhance eCommerce functionalities
Pricing: Free
Important factors for an online website
Whether you are an eCommerce toddler or a manager in a multi-billion corporation, if you want to establish an online store, there are some universally crucial factors to know. In fact, every eCommerce store and eCommerce platform must have these factors to secure a decent position and grow in today's competitive market. 
So let's take a brief look at what they are. 
Performance
Web pages that load instantly and smoothly are extremely important for an eCommerce store. Shoppers in modern days have no patience in cyberspace, thus, they will leave and never come back to a poorly performing site.
Still not convinced? The benchmark data from eCommerce SpeedHub has shown that: "with every 1 second taken to load, there are decreases in conversion rates by 5.7% (mobile) and 3.3% (desktop) while the bounce rate also drops by 12%"
As speed affects traffic, conversion, and even SEO rankings, today's website speed must take no more than two seconds to load. So how to make it possible? 
How fast a website is depends on its size, its hosting quality, and its optimization level. If your website has lots of traffic and product data, it will be slower. The problem, however, can be easily fixed by good hosting and optimization. Therefore, basically, the more advanced your hosting plan is and how well you optimize your site decides its loading time.
SEO
In case you did not know, SEO stands for Search Engine Optimization, which is a practice to get your site easily found on search engines like Google or Bing. For eCommerce, SEO also means getting your products on Google Shopping Feed and showing your product information such as colour, price and star review right on the search results. 

Your website needs to show up and deliver helpful products or information when your customers need it. It's what SEO is all about. 
SEO can be free to practice, yet it brings truly potential traffic to your site and increases the conversion rate. 
Security
Nobody would want to shop in a digital store that has a history of private information leakage. Customers need to fill in their credit cards, names, phones, emails and addresses to make any purchases and they want them to be safe in your hand. 
Furthermore, an eCommerce website can be vulnerable to DDoS attacks, malware and other various hacking attempts that, at worst, can bring your site down. Security is as worthy of concern for business owners as for their customers. 
Luckily, cyber protection can be done right with a good eCommerce platform and/or* a good hosting solution. Before purchasing any, users should know what they offer for a safe web experience. Do they provide SSL certificates? Are they PCI compliant? Do they feature further firewall and DDoS protection?
*Some eCommerce platforms include hosting, some don't.
Designs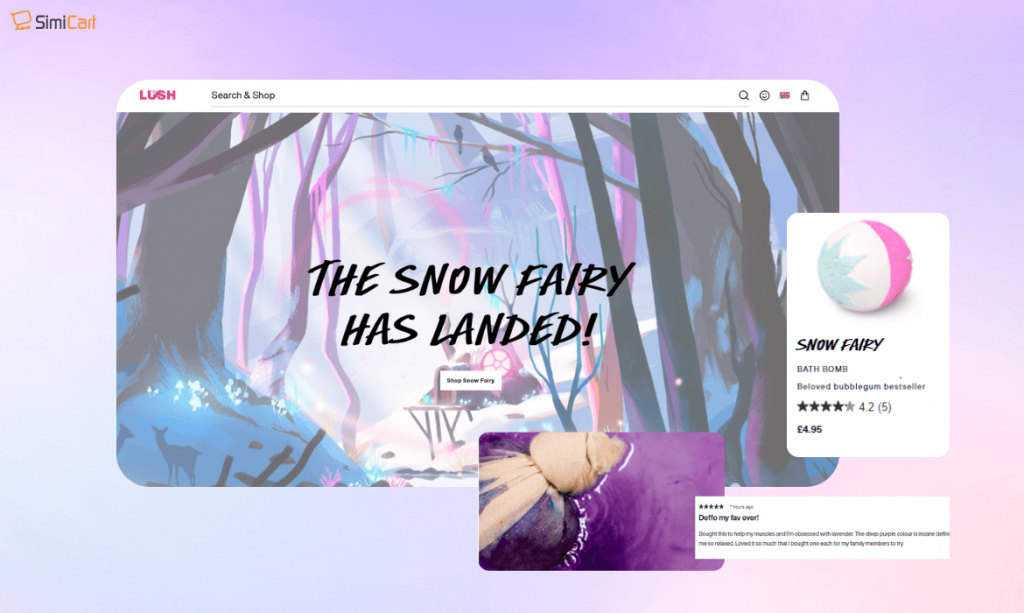 We all know that an ugly website does not stand a chance in today's business. People do not only need to buy stuff, they need to buy enjoyably. Thus, one of the key missions is to design an eye-catching and well-branded storefront that creates a good impression.
Choosing an eCommerce platform for an amazing UI (user interface) depends on your design and technical skill.
If you are a complete beginner, you can just find a beautiful theme and change texts and photos to your liking. Best eCommerce platforms must have rich template libraries with various prices and designs for many industries. You should shop around the theme markets of these platforms to see if there are themes that fit your style before making any purchase. 
If you do not have much coding and design experience, but you do not want to use themes like everyone else either, then you can turn to open-source platforms having great optimization capabilities like Magento or PrestaShop. They're the best options for owners full of unique ideas for their stores. Here, you can choose a theme and have the developers customized whichever parts you want. Otherwise, you and your team can work on design and coding from scratch.
Integrations
Besides basic features for selling products online, integration with external software are essential to optimize every aspect of your business, unify all sale channels, smoothen the operating process and reach the ultimate goal of growth and revenue.
Generally, here are some most popular integrations for an eCommerce website:
Payment gateway integration: Connecting your store with popular payment gateways like PayPal, Stripe or Authorize.net
Sales Channels integration: Sync your store's products with other potential sales channels such as Amazon, Wish, eBay, Google Shopping to reach more customers, unify data across channels and sell more. 
ERP (Enterprise-Resource-Planning) integration: Connect your store with accounting, marketing, CRM, and any other systems your company uses to optimize data management.
Marketing integration: use SEO plugins to get better ranking, or research Google Analytics to get a better idea of traffic and conversion, etc
What kind of integration you need depends on your business model, product, order fulfilment method or company size. If you don't know what kind of integration your store needs at the moment, it's good to go for a platform with a prestigious extension market. Poor integration restricts your store's potential to grow and connect. No one wants to face this scenario once his/her store is set up already. 
Mobile-friendliness
Mobile eCommerce (M-Commerce) is one of the biggest trends everyone is aware of. Statistics have shown that "79% of mobile users have shopped at least once with their phones in the last 6 months". Delivering a seamless mobile experience is the key path to reach millions of customers, boost omnichannel sales, raise brands awareness and keep loyal buyers.
Thus, it's important to check beforehand if the platform you are using supports responsive UX/UI designs. Generally, a responsive design makes sure your store will look flawless on every device from computers to phones to tablets. 
If you have decided that mobile sales will be the life force for your business, maybe you would fancy building a mobile app. At this point, choosing a platform with strong integration power will be a good idea, as you can easily integrate with a builder tool to create a mobile app instantly or sync data between phones and computers smoothly.  
Support
No matter how robust an eCommerce platform is or how skilful its users are, confusion, bugs, and errors may still occur. Therefore, support is important for business owners to create stunning websites for their visions and get them launched quickly. 
The best eCommerce platform needs to go an extra length to help its users create their website with little effort by any means from 24/7 support, live chat to beneficial users guidelines. Checking reviews from reputable sites such as TrustPilot or G2 is a good idea to judge how enthusiastic an eCommerce company's support team is. 
Also, check beforehand what kind of support you are going to get: 24/7 message, phone call, email, documents or guidelines, etc and consider if your team can pull it off with this platform's support. 
Best eCommerce platforms specialized for different business demands
Best eCommerce platforms for non-tech-savvy beginners

Note: Scroll down to read a detailed introduction of these platforms 
Why we choose these platforms
Many people are seeking a chance to thrive in the eCommerce market. Without any coding experience, they are excited to open their own digital stores while step-by-step learning about it. An eCommerce platform that helps them start a store quickly, easily and cheaply would be perfect for non-tech savvy beginners. 
These aforementioned platforms amazingly fit into this categorization. They all offer drag-and-drop editors, hundreds of themes and extensions which literally requires no coding skills. As a result, all users can create their own websites like child play. 
Their subscription pricing also means that you do not have to pay a pile of money straight away but start with only about $20-$30/month. Furthermore, as they are all top-popular choices, they have a huge community of users, responsive support, plenty of guideline blogs and videos. If you get stuck somewhere, getting help is easy. 
Last but not least, their service includes hosting management, which means fewer things to worry about, you can start selling as soon as possible. 
Best low-budget eCommerce platforms

SquareOnline
Wix
SquareSpace
BigCommerce
Shift4Shop
Why we choose these platforms
Firstly, we choose beginner-friendly platforms that include hosting services. Users can pretty much build an eCommerce website on their own, thus cutting the cost of custom development and hosting. 
Moreover, for us, the best pocket-friendly eCommerce platform must offer many worthy built-in functions so that users will not have to pay much for extensions. Besides, since themes and extensions are shortcuts to launch a beautiful and highly functional website, platforms with affordable themes and plugins (and lots of free ones, too) will be prioritized. 
If you are an IT expert, the cheapest way to create an eCommerce platform is obviously coding a website from scratch with open-source code. We have a dedicated blog post where you can find many great open-source options here. 
Can I create an online store for free?
Since there are many platforms available for selling online, one may ask if it's possible to start an eCommerce site for free. Technically, yes. Many eCommerce platforms offer free plans with basic features for order fulfilment, sales and marketing features, and checkout. While these features are good enough to start an online store, you may stumble upon some problems such as a product number limit, platform watermark on your site, or not being able to have your own domain name. For those who don't mind these limitations, then here are some best free, beginner-friendly plans to try an eCommerce site:
Best eCommerce platforms for start-ups and SMEs

BigCommerce
Magento Open Source
WooCommerce
PrestaShop
Why we choose these platforms
User-friendliness and low prices may not be the top concerns for small and startup businesses. Don't get us wrong. It's absolutely necessary to have a cost-effective eCommerce solution that your team can work with seamlessly. Nevertheless, there are more important factors for small business owners to consider to find the true eCommerce comrade for your growth. We also base on these factors to choose the best platforms for small businesses and startups. 
Firstly, the best eCommerce platforms for SMEs and startup businesses should be equipped with the most robust built-in features as well as endless capabilities to customize and integrate. No aspirational companies would want to restrict their chance to increase sales by some customizing limitations. The first version of the website may not be perfect, yet through experimentations and optimizations, companies can add any functionalities or customize any elements to make them win the KPI race.  
Secondly, since all businesses aspire to grow big one day, it's best to prepare for those days right from the start. A platform with good scalability can perfectly handle a great deal of traffic and products for businesses to maximize their selling potentials. 
Finally, it's responsive customer support. For business, time is money, you need to launch a fully-functional website to meet your sales timeline. Moreover, any bugs or errors may lead to a loss in traffic, engagement or even conversions and nobody wants that. Thus, a 24/7 customer support team that satisfies your needs and solves worries is essential. 
Best eCommerce platforms for medium and large enterprise

Magento Commerce
SAP Commerce
Sylius
Why we choose these platforms
All of these platforms are best at versatility, performance and integrating capabilities, which help large-scale companies utilize all of their power and greatly expand their influence. Their seamless integration with ERP optimizes cooperation between all company departments, manages data efficiently, thus, boosts enterprises to grow radically and sustainably. 
Moreover, to stay ahead of all competitors, it's important for big eCommerce websites to have stellar speed, deliver out-of-the-box features and unique UI/UX experiences for unrivalled engagement and conversion rates. These platforms are either open-source or PaaS (platform-as-a-service), which provides the greatest flexibility to customize, top-notch hosting option for amazing experiences and application of the best eCommerce technology (headless commerce, for example)
Best eCommerce platforms for dropshippers

Shopify
Magento
BigCommerce
Shift4Shop
Why we choose these platforms
These platforms have plenty of convenient dropshipping extensions, from automatically importing products from suppliers, managing order fulfilment to maximizing Marketing results. Shopify, for example, has an unrivalled app market for dropshipping with over 288 plugins to source products worldwide. 
Since the most attractive advantage of dropshipping is to sell without owning your own warehouse and products, dropshipping stores can scale up greatly and fast. Thus, it's worth considering platforms supporting scalability like Magento and BigCommerce.
Finally, a user-friendly platform will save dropshippers time worrying about technical matters and instead, focus on marketing, sales and product sourcing. Although Magento requires complicated development, once the site is done, its user interface is friendly and easy to navigate. Otherwise, Shopify, BigCommerce and Shift4Shop are all non-tech-savvy oriented. 
Best for local bricks-and-mortar stores

Why we choose these platforms
Owners of local stores do not have much time for learning & researching, nor do they need a complicated website with powerful functionalities. Thus,  platforms offering the best ease of use with decent eCommerce features seem to be good matches. Also, they must be affordable, too. 
Furthermore, POS integration is essential for local businesses to captivate customers in both online and offline spaces and boost omnichannel sales. Thus, we recommend using these platforms that deliver delicate POS systems. 
Best for B2B

Magento Commerce
OroCommerce
CS-Cart
Why we choose these platforms
Other than the key factors for all eCommerce platforms such as performance, SEO, security above, an ideal one for B2B businesses need abundant built-in features and plugins to facilitate B2B selling smoothly. For instance, they should allow you to display different prices and product catalogues for various customer sections or let customers request quotes for further negotiation. 
We hand-picked these platforms from our top eCommerce platforms for B2B list. Please check it out for more options and detailed comparisons. 
>> Read more:
Things to consider further when choosing the best eCommerce platform
Customization or not
All eCommerce platforms can fall into these three groups or somewhere in between: open-source, PaaS (platform-as-a-service) and SaaS (software-as-a-service).
The open-source ones are often free while offering the ultimate ability to customize but you will need a strong development team or hire one. SaaS platforms, on the other hand, are user-friendly, which, in return, lacks customizability. PaaS offers great versatility as well as developing customization services for your unique businesses, thus, platforms of this type tend to be much more costly than the other two. 
Consider your budget, eCommerce needs, aspiration to grow to choose the right amount of customizability you need. 
For non-technical-centric SMEs with great demand for customizability, we recommend Magento Open Source. Its customizability and scalability are well-proven. Furthermore, the platform's popularity and its huge community of coders make it easier to hire professional code experts at affordable prices. 

Choose the right hosting
You can choose to host your own store by purchasing a good hosting plan to take full control of your site performance. Otherwise, you can use services offered by SaaS platforms such as Shopify, BigCommerce, Wix. These companies will take care of everything from optimizing hosting for performance, security and hosting maintenance so as you can have a piece of mind. Obviously, choosing a hosted platform means more restrictions to what you can do to customize. It depends on your team's technical knowledge and your ambition to find the right option. 
>> Read more: 
eCommerce hosting & all you should know
Payment gateway
Generally, all eCommerce platforms accept popular payment methods such as Paypal, Amazon Pay, Skrill, Authorize.net. However, it's worth comparing different payment gateway options from multiple platforms because some platforms such as Shopify will charge additional transaction fees on top of what payment companies do. Thus, if you choose Shopify, it's better to use its own payment gateway. 
Also, if your business needs to use some specific payment gateways, please check if the eCommerce platform can integrate with the gateway company or not. 
It's time to experience
We hope this article helps you understand what kind of eCommerce platforms you need and narrow it down to some ideal options. There are tons of solutions for selling online, although it may be overwhelming at first to figure out the best candidates for your store, with patient research, we believe you can find the perfect bet. 
If you find that Magento can be greatly beneficial to scale up online, please do not hesitate to ask us. Our tech expert will get back to you in minutes.