Building an eCommerce website is now easier than ever. You do not need to know anything about codes or designs to create one easily. There are opportunities for everyone to engage in digital selling to earn an extra income, turn their business idea into reality, or even start a business empire.
That is to say, it's hard to find a suitable eCommerce platform to start with – the one that fits your budget level, your needs and helps you grow.
In this article, we will explore the best eCommerce platforms for small businesses, examine their pricing in-depth, and point out the most important things about each platform that you need to know.
Our choosing criteria
Affordability
Pricing is definitely the primary concern of every small business owner. While different SMBs have their own budget thresholds for building an eCommerce site, we make sure the cost to develop and maintain one with these eCommerce platforms does not exceed $10,000/year.
Ease of use
Unless you're from a technology startup, chances are that not many IT experts are in your company, especially those who are experienced with web development. In fact, many businesses do not even hire a developer because their budget is better spent on product creation or marketing.
Thus, it's crucial for an eCommerce platform to be easy-to-use so that even a low-tech store owner or a busy 9-to-5 worker can easily figure it out. By being able to quickly build a website, store owners can save lots of time, and money (and mental breakdown, too) to focus on other important tasks.
To judge an eCommerce platform's ease of use, we explore three factors:
Level of coding experience required: Do you need any coding experience to create eCommerce websites with the platform, as well as to maintain it (e.g add extensions, change design)?
Backend user experience: Does its admin backend load smoothly? Is it easy to navigate and convenient to use?
Guide & documentation: Are there abundant instructions and guides so if store owners come across any troubles, they can easily find answers?
Support: What kind of support is offered? How effective is the support according to reviews?
Features for sales and marketing
Digital marketing plays a decisive role for a newly-established business to start selling and grow. A good eCommerce platform is packed with effective features that help its users maximize their digital presence and convert.
These includes:
Sales channel integration: easily integrate and synchronize data between an eCommerce website with other sales channels such as Amazon, Facebook Shopping, Google Shopping, etc for multi-channel selling.
Built-in feature for promotions: tools that promote products and create a more enjoyable shopping experience . For example, tools to upsell relevant products right on the product page.
SEO-ready: Is it easy to optimize your website for search engines like Google or Bing so as it can rank on the first search result pages.
We carefully examine each platform's sales and marketing features. Those offering more useful features are likely to bring more value to SMBs.
Theme & design
Store design is the face of your business, and it affects how your buyers think of your company and your product.
While store design for small businesses may not need a super fancy effect, no merchants want their store to look just like others'. The website facade must at least be simple to use, reflect the brand characteristics & speak to its target audience.
That's why we highly evaluate eCommerce platforms with a variety of theme options available. Thus, you can easily find an attractive-looking theme for your industry, no matter if you want to sell fashion items, digital goods or gym supplements. Moreover, it also means that there are different price ranges for themes, so you can find one that fits your budget.
Scalability
It's easy to create and maintain an eCommerce website for a small business with just several dozens of products and about 100 visitors a day. However, it is a different story to accommodate a hefty store with hundreds of thousands of visitors and a huge SKU collection.
When your store grows big, everything requires more, for example, a better hosting environment, more payment gateways, more space for products, more features, etc.
Thus, if you expect your business to grow dramatically, you should choose a platform that can evolve with you.
Customizability
The freedom to make changes to your website is what all merchants seek, and small businesses are no exception. No one wants to create an online store only to find out later that they can not optimize email popups, add more pages, or modify the checkout flow the way they want.
Lack of customization makes it difficult for SMBs to be unique and stand out from other competitors, as well as get in their way to implement their best practices to drive sales.
Other factors
These are 5 criteria we think it's crucial for every small business to specifically consider when choosing an eCommerce platform.
Besides, we also take other factors like speed, security, inventory management, and payment gateways into consideration. They are important to every eCommerce platform, regardless of their suitable business sizes.
9 Best eCommerce platforms for small businesses (free & paid)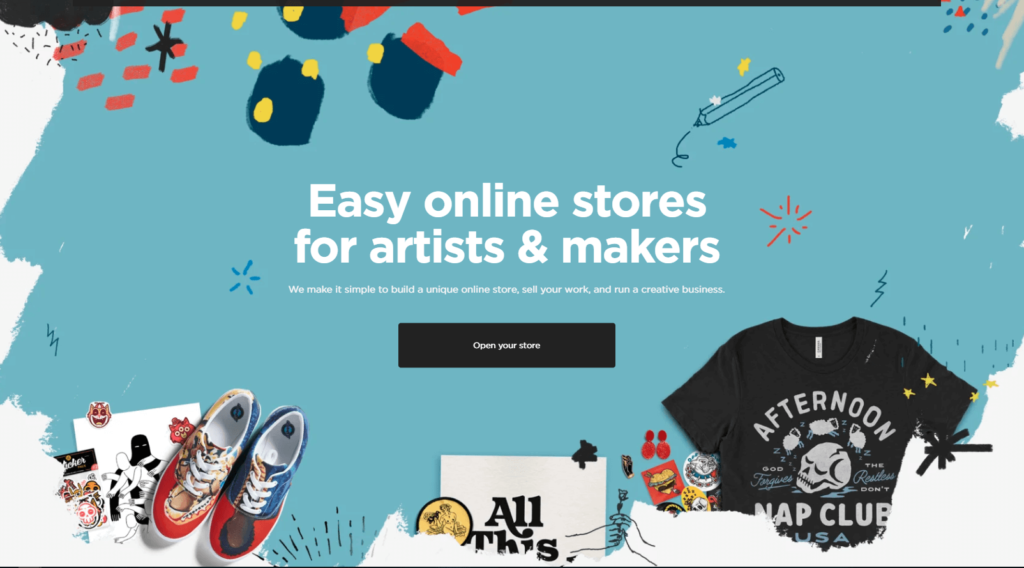 No trial
Pricing: from $0
Big Cartel is a niche eCommerce platform that helps artists and makers to sell their art and crafts online easily without breaking the bank.
Here is what small businesses need to know about Big Cartel:
Tailor-made for artists and makers
The platform is equipped with the best features needed from a standard inventory management system and delivery function, to integration with Google Analytics and promotional discounts.
Its drag-and-drop builders along with pre-built templates make sure artists can create an online store without any development issues, though they can still add codes to create unique styles for their stores.
Forever free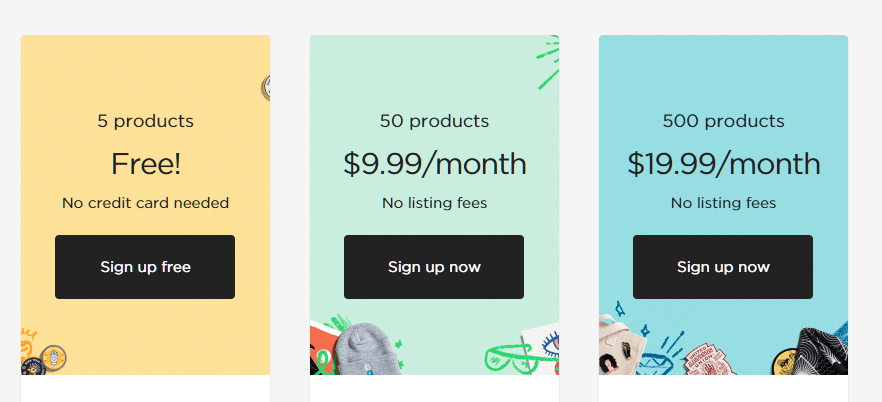 Big Cartel's free gold plan lets you have a domain of your own with no branded watermark whatsoever. Whereas artists are limited to selling 5 products only, it's not a bad option to start with.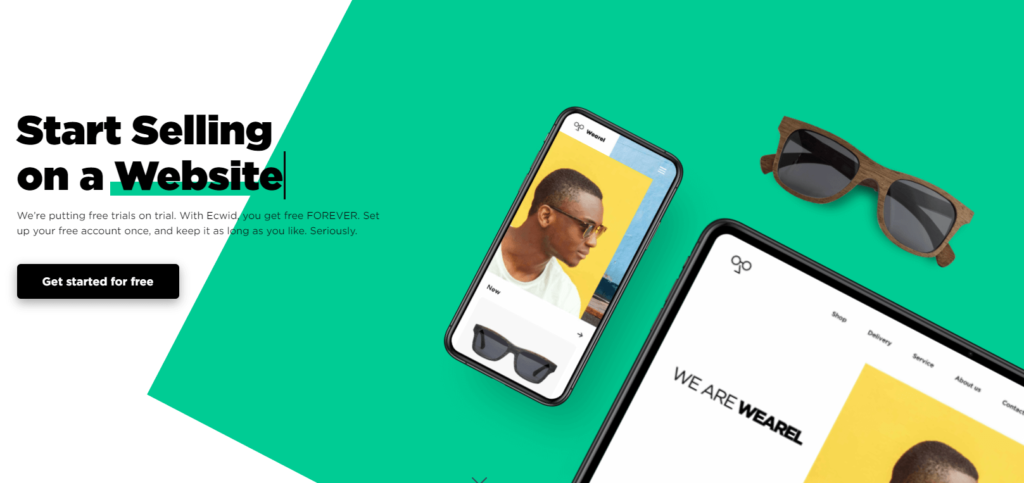 No trial
Pricing: from $0/month
Ecwid is an eCommerce plugin for small businesses to conveniently sell on multiple channels and implement ad campaigns.
Here is what small businesses need to know about Ecwid:
Out-of-the-box features for sales and marketing
Ecwid is a no-brainer for newbie eCommerce store owners, as you don't need any coding skills to navigate its backend or build websites.
The platform does not have the most features, but it makes sure to have some most important ones, which are built-in natively so you don't have to set them up by yourself.
These include the ability to sell and advertise on multiple channels such as Facebook, Amazon, Tik Tok, and even on your own branded mobile app.
Besides, it features an out-of-the-box POS system solution, one-tap checkout, abandoned cart, and integration with over 100 payment gateways.
Reasonably priced with a free plan

Given its useful native features, no hosting and top-up processing fee needed, Ecwid is an affordable choice for many businesses.
Its free plan makes sense for starters who just need an eCommerce website and promote products via ad platforms, whereas it's a must to upgrade to use many sales and marketing features such as Facebook inventory synchronization, POS, or abandoned cart.
Used with existing websites
Ecwid can be considered flexible in its own way. In fact, it's an eCommerce plugin like WooCommerce. Thus, you can easily integrate Ecwid with any of your existing websites like WordPress, Joomla, or Wix.
Although it is not a very powerful platform for SEO on its own, integrating Ecwid with other CMS systems like WordPress and Wix means that your eCommerce website can inherit all SEO capabilities of these prominent CMS systems.
However, unlike WooCommerce, merchants can build an Ecwid website independently from any existing CMS. Therefore, if you do not have any website to begin with, you can still build your own with Ecwid.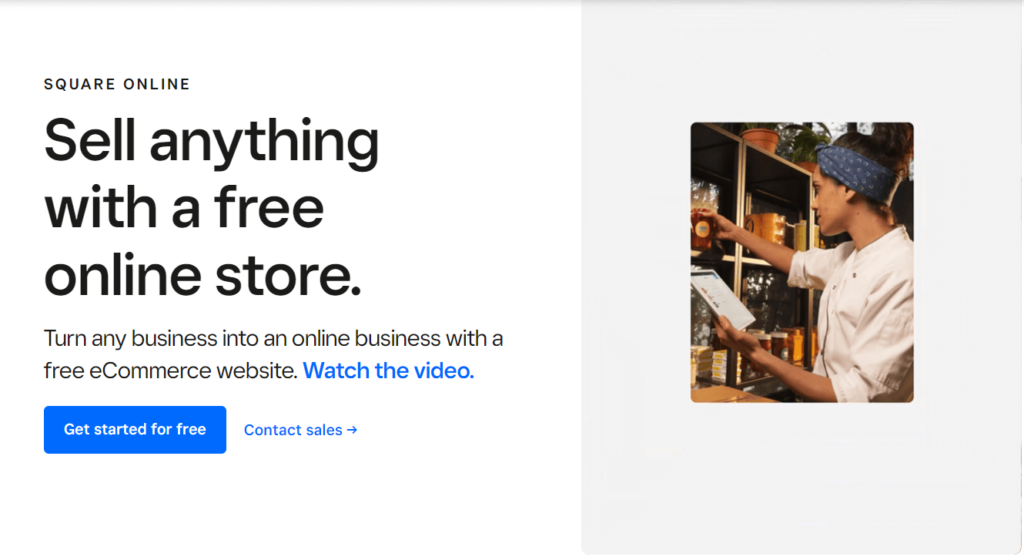 Trial: 30 days
Pricing: from $0
Square has a free plan for businesses with tight budgets to enter eCommerce and start selling. The platform, with its powerful POS system and best-picked sales features, is great for businesses to embrace omnichannel commerce.
Here is what small businesses need to know about Square Online
Basic, easy to use with limited customization
SquareOnline inherits all eCommerce functionality of Weebly, another popular eCommerce platform for ease of use. Thus, you will find no problem navigating its minimalist backend, dragging and dropping your storefront, and setting up cart functions.
On the downside, there's little freedom to customize storefronts with Square Online. There's only one theme to begin with, not to mention that you can not add any custom codes to create something out of its provided elements.
There are not many sales and marketing features either, but they are all pretty helpful. You will get a basic SEO tool, major email automation flow, popup templates, pre-integration to sell on Instagram and Facebook, product reviews, and an abandonment cart.
These are abundant for many businesses already, but if you need more, it's hard to find many plugins for eCommerce in the Square app marketplace.
Free plan with transaction fees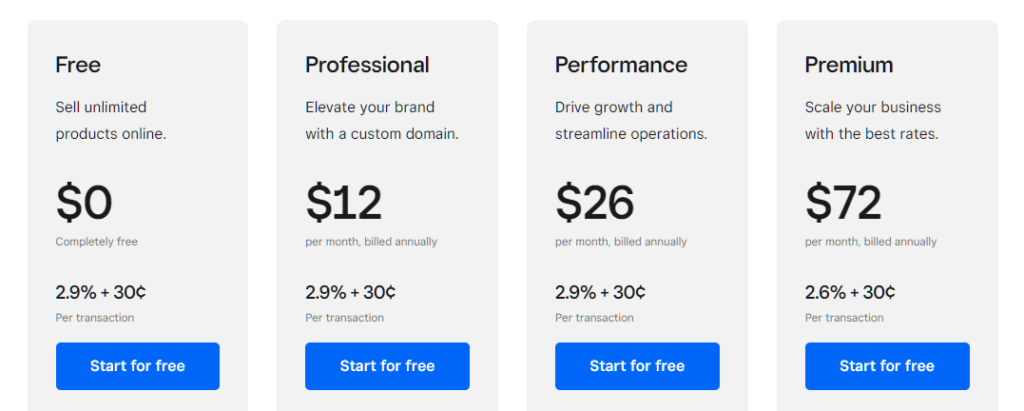 Square has a forever-free plan that allows merchants to sell on major social media, create websites, and use its POS system. However, you will have a Square watermark on your website, as well as face restrictions on payment gateway and sales features.
Plus, all transactions by Square cost you a processing fee of 2.9% + 30¢, and you can not choose another payment gateway for a cheaper rate.
A powerful payment system that is great for local stores
The Square ECommerce platform is a small branch of the Square payment company, which empowers one of the best payment solutions for eCommerce. Using Square Online means taking advantage of its POS system and its order & management tool for on-demand delivery & in-house pickup.
Moreover, the platform enables multiple stores so that you can manage different brands under the same chain without a problem. Its sales and marketing features are focused on ads and social commerce, which are major selling channels for local businesses.
Thus, it's hard to tell if Square is a good choice for aspirational businesses to scale up, but it's definitely an amazing offer for local businesses to expand.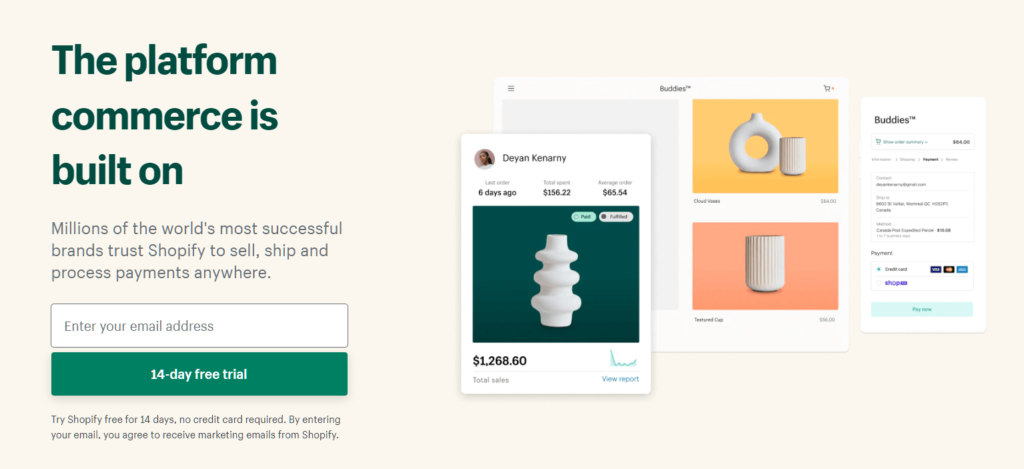 Trial: 14 days
Pricing: from $29/month
For an eCommerce platform, popularity is a big advantage. It's easier, and safer to go with the flow and build websites where many others do.
Choosing everyone's favorite means shopping for apps and themes is easier and more enjoyable since there are many options available. Also, dozens of people have tried them before you and have left reviews, so you can make the most informative decision.
Shopify is definitely the platform that gives you these merits.
Easy to use
Shopify makes it possible for a low-tech person to create a fully-functional website without a single line of code. It's easy to :
Navigate and proceed in the admin backend
Design store with page builder and ready-available theme
Add new features to a Shopify store.
The only complaint should be that Shopify's native page builder can not generate a live preview, which makes it a little inconvenient for merchants to create page designs.
Abundant features for Sales and Marketing but lack SEO features
Shopify is packed with all essential features to market your products and sell online effectively. Significantly, it allows inventory synchronization with seven sales channels from Facebook, Instagram, Amazon, Shop App, etc.
Also, marketers can right off the bat segment customers, automate email flows, and use gift cards to run effective email marketing campaigns.
As for SEO, Shopify provides basic features so that your page can be found on Search Engines like Google. However, its URL structure and limited blogging functionality make it more difficult to achieve amazing SEO results.
The greatest theme and app marketplace
Whatever Shopify does not have in its original plan, you can purchase from its app marketplace. Shopify App Store is probably the richest extension marketplace for an eCommerce platform, with more than 7,000 apps & plenty of reviews.
Shopify is integrated with the best dropshipping apps and POD apps, which makes it a great choice for those who want to start a dropshipping store or sell printed products.
Similarly, the platform has many brilliant theme options, which vary in styles and industries. Along with 14 free themes, merchants can easily find templates to design unique and stunning store facades from Shopify marketplace (68 themes) and Themeforest (1,460 themes).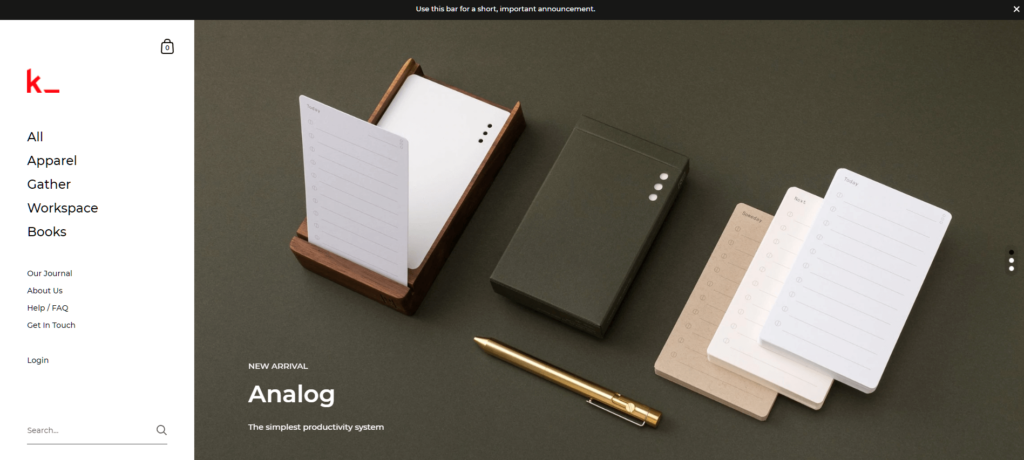 Generally affordable but with pricey payment fees

Note: Besides the official plans, Shopify has a $9 Lite plan that lets you add a Buy Button to your existing WordPress or Tumblr blog and start selling.
$29 a month is a reasonable cost for a decent eCommerce website, not to mention that you need not worry about hosting and have a simple POS system integrated.
On the downside, it's kinda pricey to process payments with Shopify.
Merchants are encouraged to use their native payment gateway with a fee of 2.9% + 30¢ per transaction, which is slightly lower if you opt for a higher plan.
Otherwise, if you choose a third-party payment gateway, the platform would charge you a top-up 2% fee.
Customizability: OK
Shopify is not the best choice if you're looking for extreme versatility, but it's not a very poor choice either.
Since the platform does not let anybody freely adjust its source code, merchants will face some challenges to customize their store designs and optimize speed. For example, it's unable to add pages that are not part of the theme and create multiple stores.
However, many limitations in creating a dynamic personalized experience as well as optimizing speed can be solved with Hydrogen – Shopify's framework built for developers to customize frontends flexibly.
Easily scalable
Although Shopify's features and capabilities are not robust enough to meet the demands of big businesses, once your business reaches a certain growth, you are invited to move into Shopify Plus.
Shopify Plus is tailor-made for scaling businesses, which enables more enterprise-level integration, better freedom to customize, and more control over the checkout.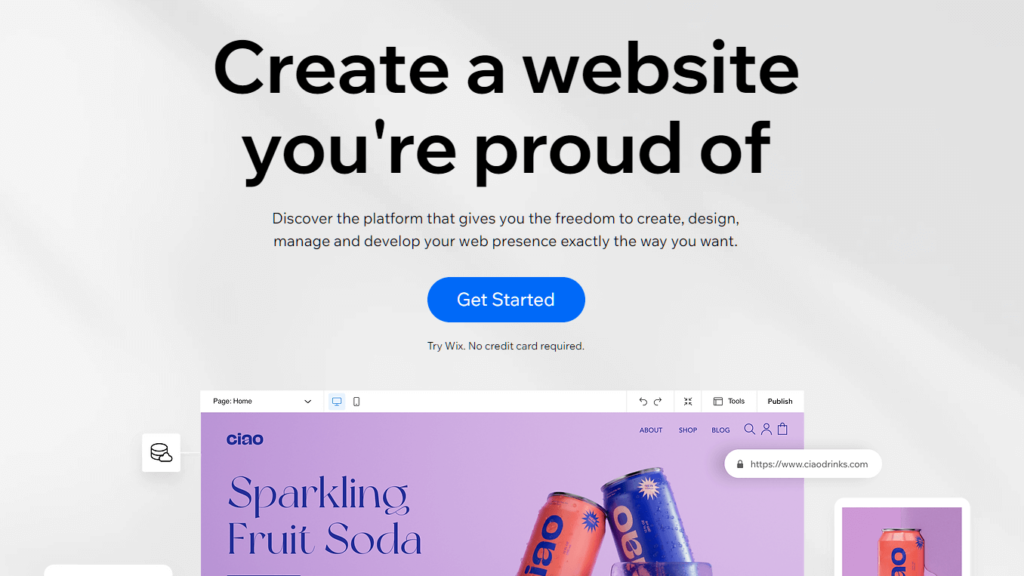 Trial: 14 days
Pricing: from $17/month
Wix is a worth-for-value eCommerce platform with many helpful sales features, an intuitive user experience, and a spacious room for creativity.
Here is what small businesses need to know about Wix.
Easy to use out-of-the-box
Despite having so many features, the Wix backend has a nice UI/UX so users can easily figure things out without being too overwhelmed.
What's better? The platform has many convenient tools to help users create an eCommerce store and start selling right away without much setup and creative work. These includes:
AI tools to automatically craft store designs based on given styles and features and create Facebook ads campaigns
Great content editing tools with many stylish themes for eCommerce to build site, design, email newsletter, social media post, forms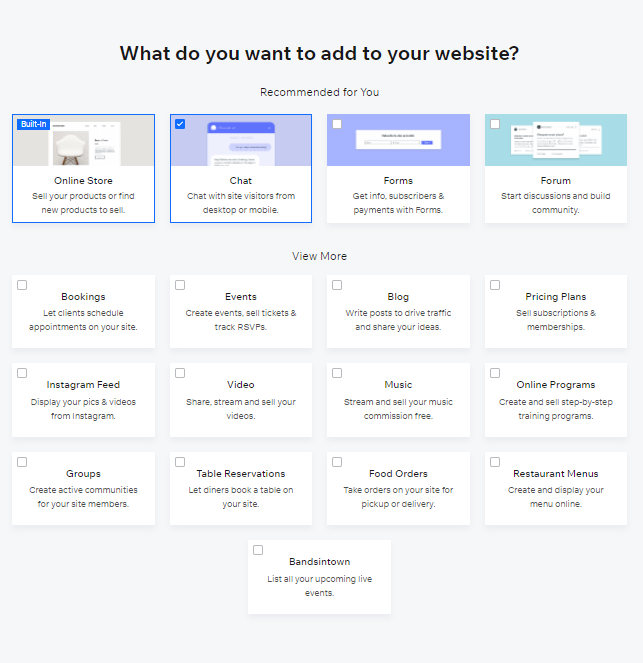 Rich features to promote, get ranked, and drive sales
Wix comes up with some useful features for sales and marketing that other platforms lack such as customer loyalty, live chat, and built-in CRMs.
Moreover, embracing omnichannel selling is an easy-breezy task with Wix. The platform powers seamless storage synchronization with big social networks and marketplaces like Facebook and Amazon.
What's better? You can easily manage and reply to customers from all sales channels (website contact forms, live chat, Facebook, Instagram messages) in one place.
Besides, it is one of the best platforms for SEO featuring a powerful blogging tool, pre-integrated Google Analytics, and many convenient tools to optimize SEO effortlessly.
Good for value

Wix offers attractive pricing plans that include hosting, and unlike Shopify, it has no top-up payment processing fee.
Merchants can opt to use Wix payment, which, by the way, has a quite attractive processing fee of 1.9% + 0.3 EUR for EU transactions. Otherwise, store owners can choose a payment of choice without paying any other fees for Wix.
Besides, while there may not be many available Wix themes on the market, its (70+ free) built-in templates and page builder are sufficient for merchants to roll.
Not the best for customizability and scalability
Wix has one of the best page builder tools which is both intuitive to use and flexible to customize themes.
Moreover, if available elements can not satisfy your need for a unique storefront, for instance, you want a more personalized page, Wix Dev mode lets your developers tweak some codes to make it happen.
However, you can not switch templates or edit themes once your site is published, which is a big minus point.
As for scalability, Wix has a storage limit of up to 35GB and a 100-page limit, which is not ideal for scaling-up stores.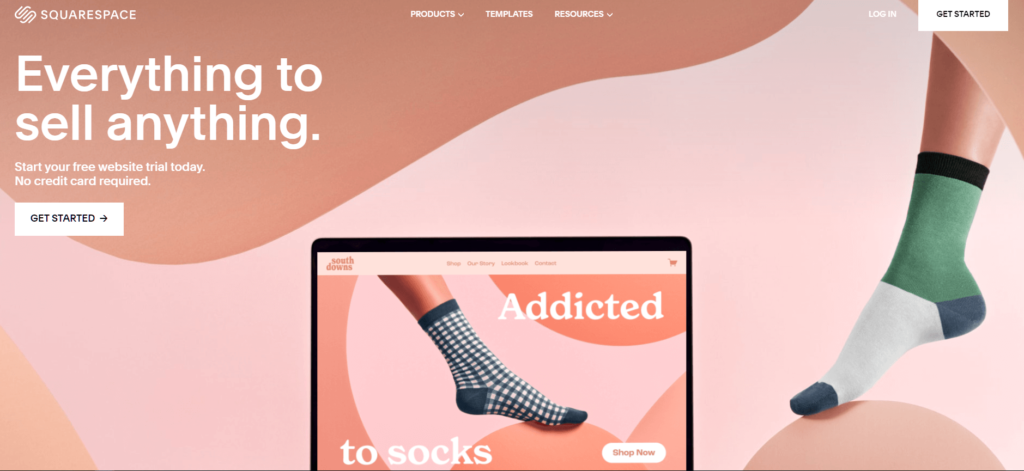 Trial: 14-day
Price: From $14/month
Squarespace is among the top choices for ease of use and affordability while helping merchants create the perfect look and feel for their stores.
Here is what small businesses need to know about Squarespace
Aesthetically pleasant and effortless to use
Squarespace has 45+ inspiration-worthy templates for eCommerce. These are great for businesses who want to tell a compelling branding message via visual designs.
Being a style-centric platform, the platform makes sure its users can create compelling designs even without a creative mindset.
Its page builder has many stock photos, as well as plenty of pre-saved blocks so that you can customize banners without thinking about layouts and decorations.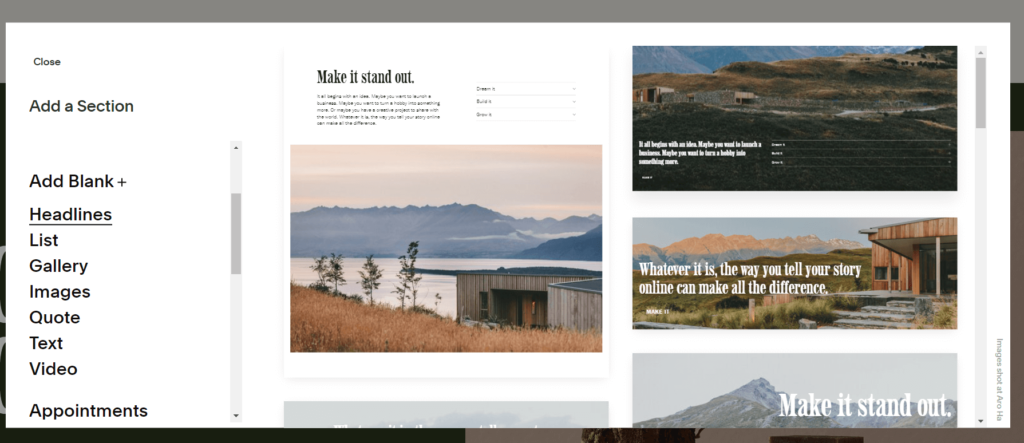 Similarly, you can design email, social posts and create videos with its content editing tool. This is super convenient if your brand needs to generate several Insta reels or Tik Tok posts every day.
Useful features but can be limited
Squarespace offers a pack of time-tested features for eCommerce sales and marketing, such as product merchandising, email marketing and SEO.
In fact, SEO with SquareSpace can be pretty effortless with a helpful blogging tool, built-in integration with Google Business, sitemap & schema markups generation, and 301 redirects.
Besides, it has tailor-made features for various stores: from selling services, membership, to on-demand videos and online courses.
It also comes with some interesting features that do not come out of the box on other platforms such as PodCast integration.
How about the downside? Squarespace lacks many other eCommerce features for sales and marketing such as Amazon integration or one-click checkout. Its marketplace does not offer many choices to upgrade either.
Not for complex and scaling up companies
Squarespace allows you to add some CSS/HTML to customize themes and create multiple stores. However, it's unable to create catalogs with many layers of subcategories.
Also, as for scalability, to maintain performance, Squarespace recommends having fewer than 400 pages with up to 250 images.
Reasonable pricing, but need to upgrade plans to use sale features

With the highest plan costing less than $50/ month, and no hosting and additional fees required, Squarespace is an excellent choice for low-budget businesses.
However, it's worth noting that lower plans lack the flexibility to integrate and edit themes and do not offer most sales and marketing tools.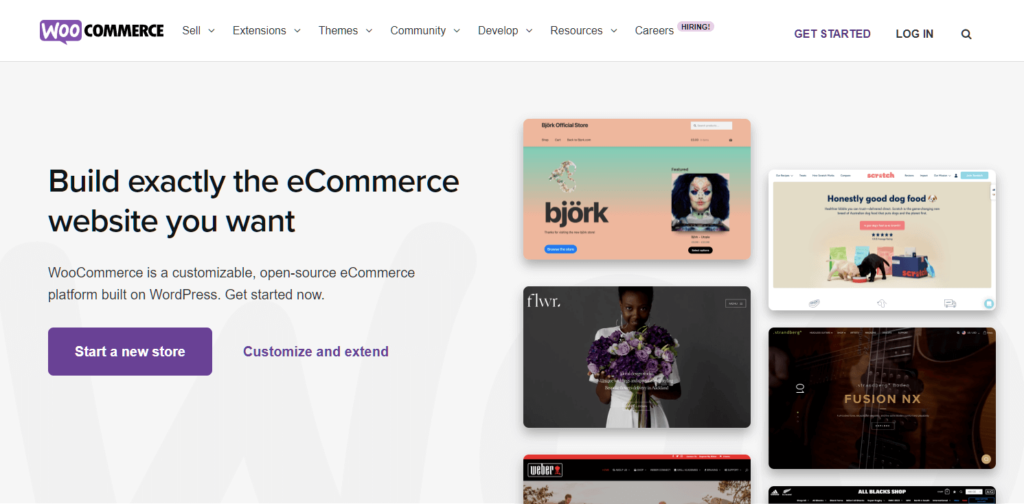 No trial
Pricing: from $15/month
WooCommerce is a sweet blend of affordability, usability, and customizability, which makes it one of the most favorite eCommerce platforms with nearly 40,000 stores ranked in the Builtwith Top 1M websites.
Here is what small businesses need to know about WooCommerce.
A treat for WordPress users, a learning curve for others
Rather than an independent platform, WooCommerce is actually a WordPress plugin that WordPress users can install on their websites and start selling. For that reason, those who have experience working with WordPress will have no difficulty using WooCommerce.
On the other hand, the platform is not as easy to use as many other platforms for a total newbie. There is no built-in page builder and you need to read some documentation to find out what to do with the theme.
Similarly, while other platforms have pre-integrated many cart functionality and sale channels, WooCommerce's starter package is very basic. You will need to manually add more Woo extensions and test if it works by yourself.
Moreover, since the WooCommerce plugin is free, there is no live chat or 24/7 support. Thus you need to solve troubles on your own, luckily with the help of internet guides and the Woo Community.
Powerful at a hidden cost
Since WooCommerce's native features are pretty limited, usually, you will need to shop for plugins.
Just like Shopify, WooCommerce has a rich marketplace so you can find themes and plugins to boost sales, leverage marketing, and enhance your store performance.
From product reviews to dynamic recommendations, a loyalty program, you can choose whichever features you want and pay for them only. Packed with many plugins, a WooCommerce website can convert sales greatly while meeting the sophisticated demand of your business.
Also because of this reason, there are no straightforward costs to build websites with WooCommerce and you will need to calculate based on several factors:
Hosting: start from $15/mo
Theme: $0 – $129
Plugins: $0 – $300/ year
Custom development: $1,000 – $6,000
Generally, it requires about $1,000 to start a WooCommerce website. Since it is not a monthly subscription, it is not a high price for small businesses.
Freedom to customize and grow
WooCommerce is an open-source platform, which means you can tweak the codes without any restrictions.
If you know some codes, you can customize your theme freely. If you don't, you can install a drag-and-drop page builder like Elementor, which empowers hundreds of elements and design options.
Due to its flexible characteristics, it's safe to grow big with WooCommerce. Once your store expands and needs more storages, more pages, more unique features, the platform can handle it all easily.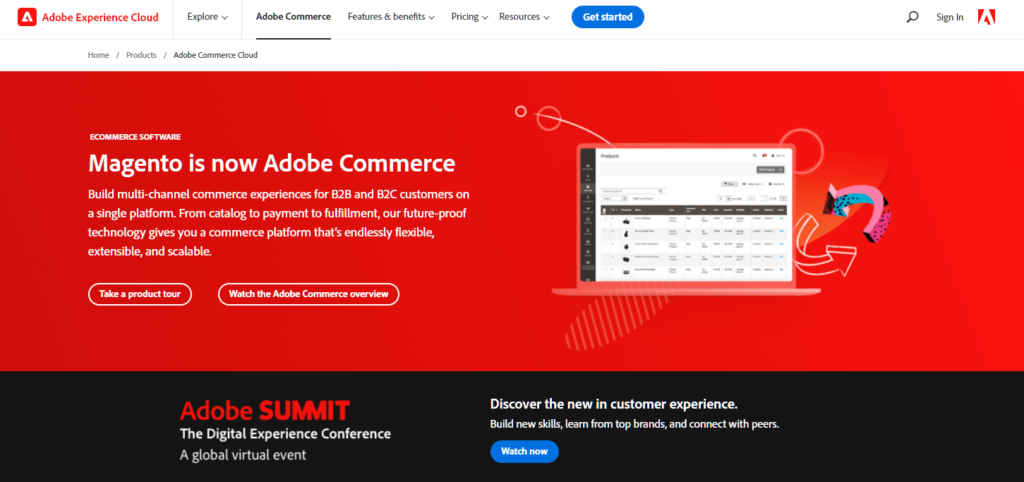 Trial: No
Price: from about $15/month
While not actually the best option for ease of use, Magento features rich eCommerce functionality, ultimate customizability, and unrivaled scalability.
The platform is for businesses with complicated needs and aspirations to grow big.
Here is what small businesses need to know about Magento Open Source:
Coding needed, highly-customizable
While people can still set up a Magento store with no code, in general, Magento is developer-friendly. You will need technical skills to set up, modify themes, add extensions, and maintain websites.
It is not the best choice for ease of use, but in return, it provides the best flexibility to craft the store the way you want.
Being an open-source platform, it allows coders to modify your source code. Thus, you can change every part of your eCommerce websites, from speed, and themes to extensions & inventory systems.
One-time price with add-up fees for hosting and maintenance
Technically, Magento Open-Source is free to download and use. However, low-tech merchants will need to hire a development team to turn a bunch of code files into functional shop pages.
The cost to develop a Magento store depends on its project complexity, in general, for small businesses, it will cost from $2,000 – $15,000.
In addition, unlike other platforms in this list, Magento requires hosting – buying a slot on the internet server to host your website. Since its structure is very robust, hosting for Magento is normally more pricey, which costs at least $15 for VPS hosting.
Moreover, you will need to buy themes and extensions. This also adds up the cost.
For these reasons, Magento is often not the best budget-friendly choice. However, besides hosting, every other cost for Magento can be paid once, so when considering the long-term benefits, Magento is not really expensive either.
Feature-rich, made for scalability and growth
Magento comes up with comprehensive features for sales and marketing including upsell and cross-sell, promotional pricing and coupon generation, landing page, persistent cart, recently viewed products, and more. The platform is also good for SEO, especially technical SEO thanks to its great customizing versatility.
Moreover, it's got over 3,000+ extensions and various themes options to enhance cart function and optimize the user experience.
Using Magento means taking full control of your website, so it's the best option for scalability.
You can add unlimited product pages, integrate with all existing software, and create multiple stores to expand internationally.
Moreover, if there are problems with speed and resource management, you can scale up your hosting plan, optimize the coding structure, and so on.
>> See more: WooCommerce vs Magento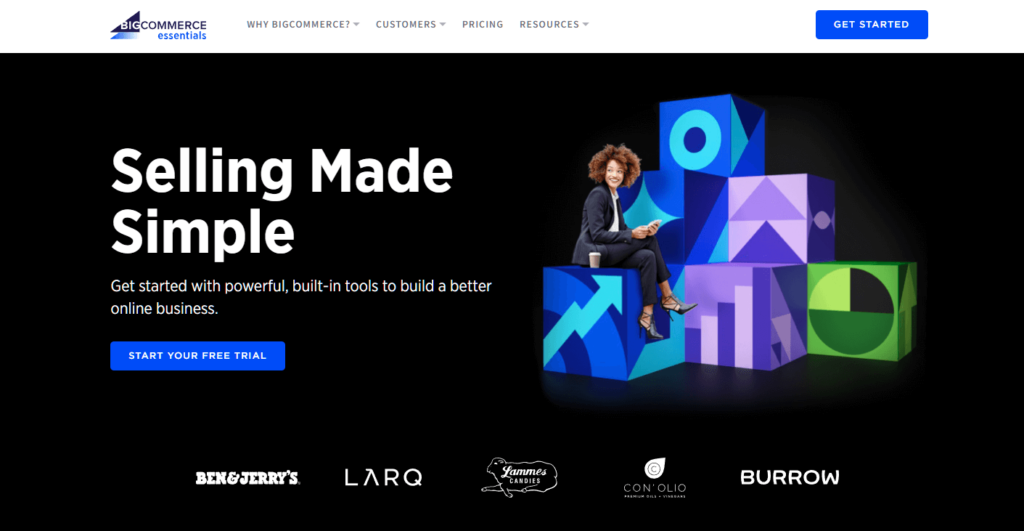 Trial: 14-day
Pricing: from $29.95/month
BigCommerce has both Shopify's ease of use and Magento's customizability, which is the sweet combination many small businesses need to grow big in the modern age.
Here is what small businesses need to know about BigCommerce:
Powerful but beginner-friendly
BigCommerce offers many cart functions out-of-the-box, from integrations with social media & marketplaces, to plenty of options to upsell, product merchandising, and product reviews.
Thanks to its rich built-in features, you would not need to rely on lots of third-party apps like Shopify or WooCommerce. (But if you do, the BigCommerce app marketplace with more than 1,000 app choices is not bad for plugin shopping either).
As for ease of use, its comprehensive features make it difficult for your team to explore everything in minutes. It takes a bit of a learning curve to figure out how the platform works and customize your online store.
However, unlike Magento, the platform does not require developer-level skills to work with. BigCommerce's friendly user interface, page builder, and pre-integration with many sales channels and payment gateways make it simple for your team to set up and sell.
Affordable with sales thresholds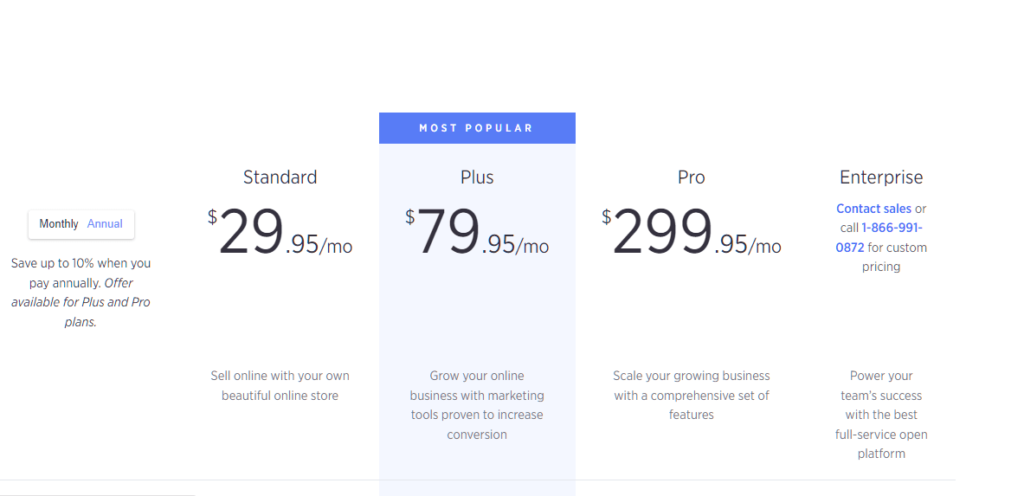 With a similar pricing range to Shopify but offering more features, BigCommerce is quite affordable.
Besides costs for themes and plugins, the platform charges no other add-up cost including any top-up payment processing fees.
The most unpleasant part, however, is the sales threshold. BigCommerce will force merchants to upgrade their plans once they reach a certain revenue:
Standard: $29.95/month – for the annual revenues of up to $50k
Plus: $79.95/month – for the annual revenues of up to $180k
Pro: $299.95/month – for the annual revenues of up to $400k
Versatile and scalable
BigCommerce has lots of customization options to change the frontend such as adjusting Javascript and API for integration. It is considered a more flexible platform than Shopify.
Its solid structure, comprehensive cart functions, and flexibility let BigCommerce scale up with businesses easily. Also, even if you have reached the sales threshold of the biggest plan and still need to scale more, BigCommerce has an enterprise solution to empower your growth.
>> See more: BigCommerce vs Magento: Infographic.
How to choose the best eCommerce platform for your small business?
No one wants to build a website on an eCommerce platform only to switch to another later. Besides the time and money wasted, migrating websites is a true headache.
However, there are many eCommerce platform options, all promising to benefit your business. It can be a bit overwhelming to choose the ideal one for your business right the first time.
Luckily, one can narrow it down to a few options to start examining them further by understanding their needs and budget.
So let's start with a few simple questions:
1. What are your business objectives and business type?
If you just want to open a small side business to earn a small and steady income, go for Big Cartel, Ecwid, or Shopify Lite.
If you are running a local restaurant, fashion store, or gym fitness center and you want to establish an online presence, offer your customer a smooth digital checkout and increase omnichannel sales, then Wix, Square, Squarespace are your best bet.
If you want to grow a big online business and generate many sales, Shopify, WooCommerce, BigCommerce, and Magento are more suitable.
2. What are your sales channels?
Each business has its own ways to drive profits, they greatly depend on the industry, target audiences, and products of that business.
If you are selling clothes, accessories, and low-priced products, ads and social marketing are useful sales channels. However, if you are trying to sell wholesale products for companies, SEO may be your pound.
Knowing your ways to convert sales help you find the best platform that gives you the best tool for it.
Best for SEO: Wix, WooCommerce, BigCommerce, Magento
Best for Amazon and other marketplace synchronization: BigCommerce, Shopify, Magento, WooCommerce, Ecwid
Best for selling on social media: Wix, Square Space, Ecwid
3. How complex will your site be? How capable is your tech team?
The complexity of a website greatly relies on how flexible its eCommerce platform is. Usually, a better flexible platform will be more difficult to use and vice versa. Therefore, you also need to evaluate whether your team can code or not.
After finding answers to these questions, you can check which platform fits your business in terms of usability and customizability:
Easy but lacks customization: Squarespace, SquareOnline, Big Cartel, Ecwid
High customizability but not very easy to use: Magento
Somewhere in between: Shopify, BigCommerce, Wix, WooCommerce
4. What is your budget?
Do you have a bunch of money to invest in an eCommerce website at once? Or Would you rather pay a monthly subscription fee? If that is the case, how much do you have for one month?
Zero to low-priced subscription fee: BigCartel, Ecwid, Square Space, Wix, Square, WooCommerce (yearly subscription for plugins).
Medium-priced subscription fee: Shopify, BigCommerce
High initial price: Magento
eCommerce platform cost (FAQs)
Are there any free eCommerce platforms?
Technically yes. Most open-source eCommerce platforms are free, also, some platforms such as Square or Ecwid have forever free plans.
However, open-source platforms require certain technical skills to use freely, while free plans of eCommerce platforms are limited in features so users often need to upgrade to paid plans. 
What is the cheapest eCommerce platform?
From our collection, Big Cartel, Square, and Ecwid offer attractive free plans that equip their users with the most essential eCommerce functionalities, while SquareSpace and Wix also have great value for money.
How much does it need to build an online store with an eCommerce platform?
The cost to build a digital shop varies greatly among businesses. We can roughly estimate for a small business, it can cost from $0 to $4,000/ year.
What factors contribute to the cost of creating a small business eCommerce website?
The cost of building an online store is based on the fees for its platform, theme, hosting, extensions, and custom development (e.g. speed, feature customization, storefront design).