Today's consumers are making purchases on the go, and researching across multiple screens – but mobile phone is still the most preferred device in their shopping journey: The number of mobile transactions continues to grow, while desktop usage declines.
By 2021, the world's m-commerce sales will make up for 53.9% of all e-commerce sales.

SimiCart's M-Commerce Statistics
As shoppers are moving from desktop to mobile, it requires a mobile first approach to influence their buying decisions. For online retailers with ecommerce apps, the shift from website to app is a major trend among their customers.
With more consumers turning to their smartphones to shop anywhere, businesses of all sizes are improving their on-the-go experience with ecommerce apps. Let's take a look at some examples of the most successful shopping apps that dominate their share of mobile commerce in 2023:
7 Best Examples of e-Commerce Apps for Your Inspiration
1. Sephora
Sephora is the international cosmetics and beauty retailer with around 1,750 retail stores across 30 countries. The brand has built on tremendous success with their digital makeover, where the Sephora app play the key role as a mobile tactic. Within the app, the beauty retailer has launched several new digital experiences that benefit their customers.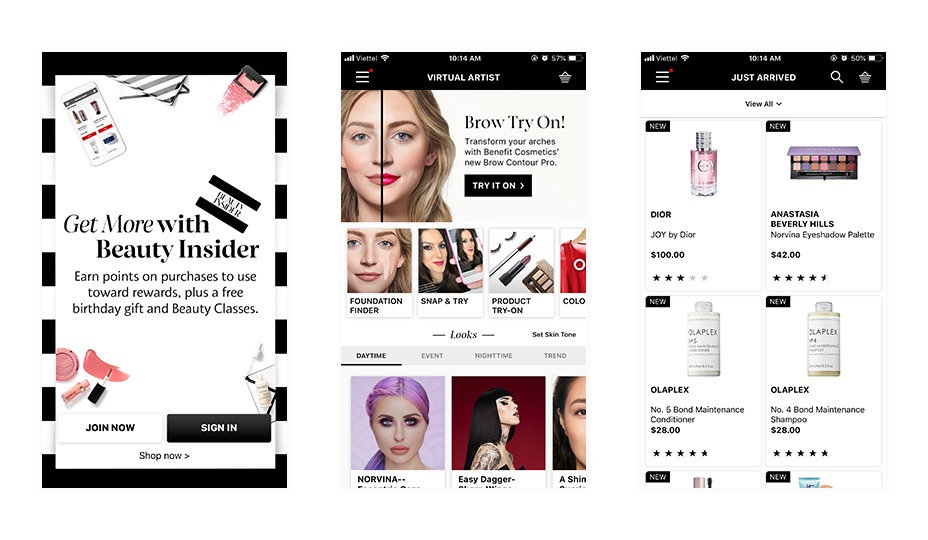 Feature highlights:
The app has more than 2 millions downloads and heavily features in-store digital experience: integrated loyalty card and gift card, product scan for rating and reviews, personalized alerts about offers available in store,.. It even allows app users to virtually try on different make up products from their mobile device with Sephora Virtual Artist. The augmented reality feature has driven more than 8.5 million visits and 200 millions shades of lips, lashes, foundation and more – tried on by Sephora customers.
Check out the app on: Google Play Store | Apple App Store
2. ASOS
ASOS is the UK-based global fashion retailer offering more than 85000 products online through mobile experiences. With more than 80% UK traffic comes from mobile devices, the brand has invested a large portion of its resources on ASOS mobile app to deliver 850+ brands at their customers' finger tips. The app have more than 10 millions downloads – with consumers spending 80 minutes per month on average in app.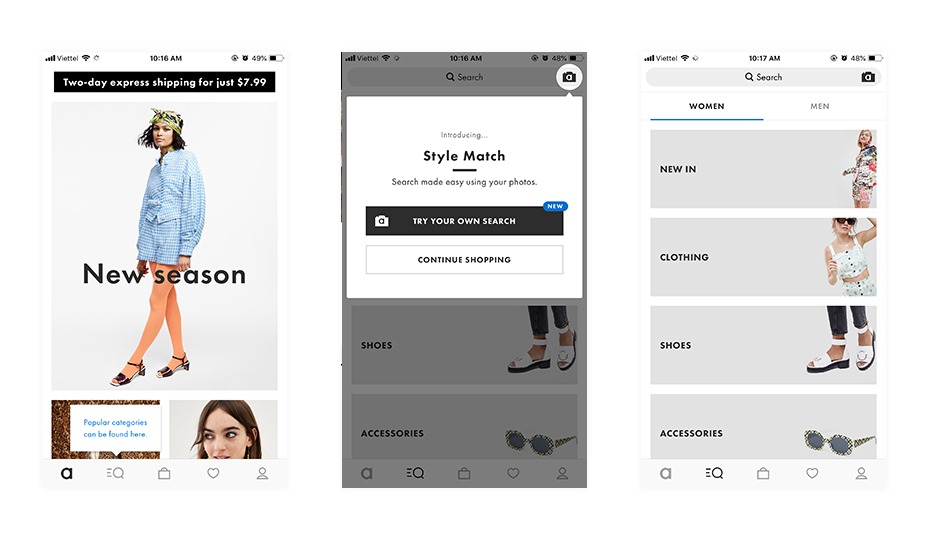 Feature highlights:
With the implementation of Asos' "Style Match" visual search tool, in-app sales is expected to grow by 30%- 35%. The key app feature is incredible useful for shoppers to quickly find similar items to any desired outfit. They can do it by simply take or upload a reference photo, the style match will show the closet results among the brand' stock of 85,000 items. By analysing the colour, pattern, texture from the image, the tool has been working really well to make convincing recommendations to their users.
Check out the app on: Google Play Store | Apple App Store
3. Boxed 
Boxed is an American online wholesale retailer that offers direct delivery of groceries and household products in bulk. The brand provides an easy to use mobile app that allows customers to shop wholesale products on-the-go and without paying wholesale club membership fees. App users can enjoy the convenience of bulk shopping from their mobile devices.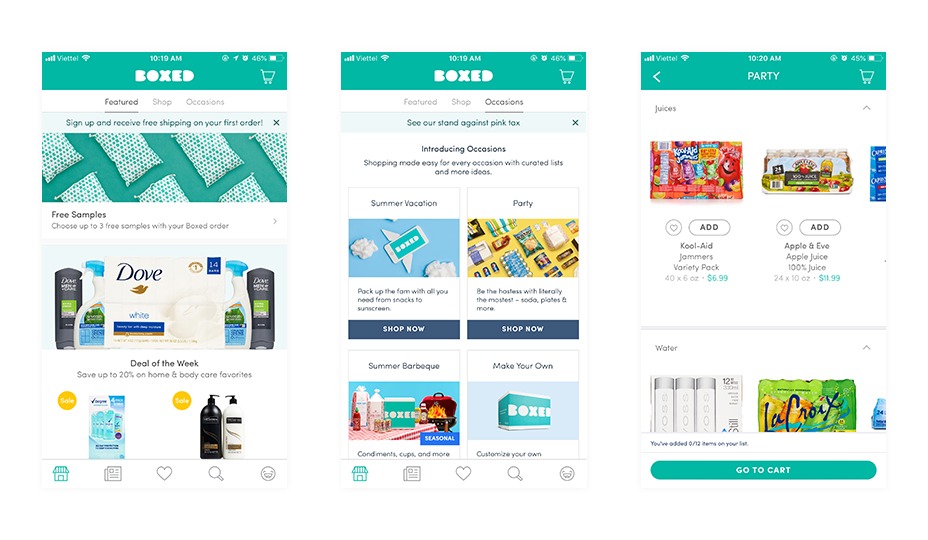 Feature highlights:
Boxed also created curated shopping lists and ideas for specific occasions like vacation, party,.. to save time for app users in planning for what they'll need to bring or serve. These lists are completely configurable so users can easily customize their own list by deleting existing terms that don't apply or add new terms that are relevant to them.
Based on past purchases, the app applies machine learning to predict when their customers run low on a product. Its SMART Stockup will then send a reminder so they can easily re-order the products. To make shopping even more rewarding, Boxed app lets customers hunt for deals and offers in the Stuff on Sale section.
Check out the app on: Google Play Store | Apple App Store
4. Glasses by Warby Parker
Warby Parker is an innovative American online retailer of prescription glasses and sunglasses. The billion-dollar business started out with an online distribution model that allowed customers to order and try on several pairs of brand-name glasses for free before buying. Being able to offer a risk-free way for consumers to try on products – in the comfort of their home, is a massive success for Warby Parker. Within 48 hours of the website going live, the eyewear brand already had a waitlist of 20,000 customers. The successful web-based retailer continues to scale their business to mobile with an award winning iOS app.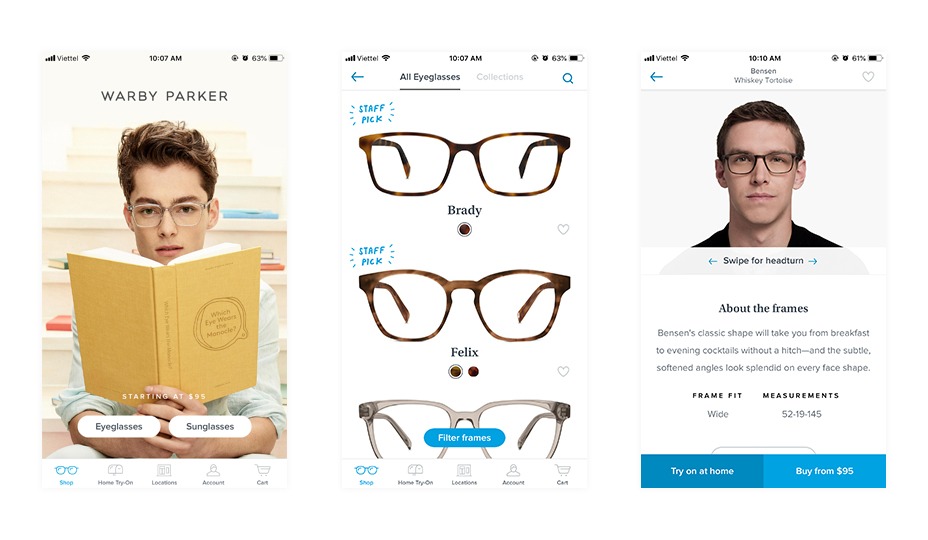 Feature highlights:
Warby Parker app was featured in the Apple Store immediately after launch. The app is named one of Apple's 10 best apps of 2016 and have over 500 five-star reviews. Its digital try-on offers a fun and convenient experience for app users. With Warby Parker app, customers can try to place a virtual glass style on their photos to see how it looks on them. In its latest update, the app adopts iPhone X's camera to take maps of people's faces to recommend their best fit glasses.
Check out the app on: Apple App Store
5. Nike
Nike's digital transformation is driven by the evolving customer behaviors and preferences. The brand took a step to remove friction and personalize experiences through the intersection of digital and physical environments. With the aim to blend physical shopping and smartphone technology into one, the sportwear giant introduced its Nike app – as a part of their customer-focused digital strategy.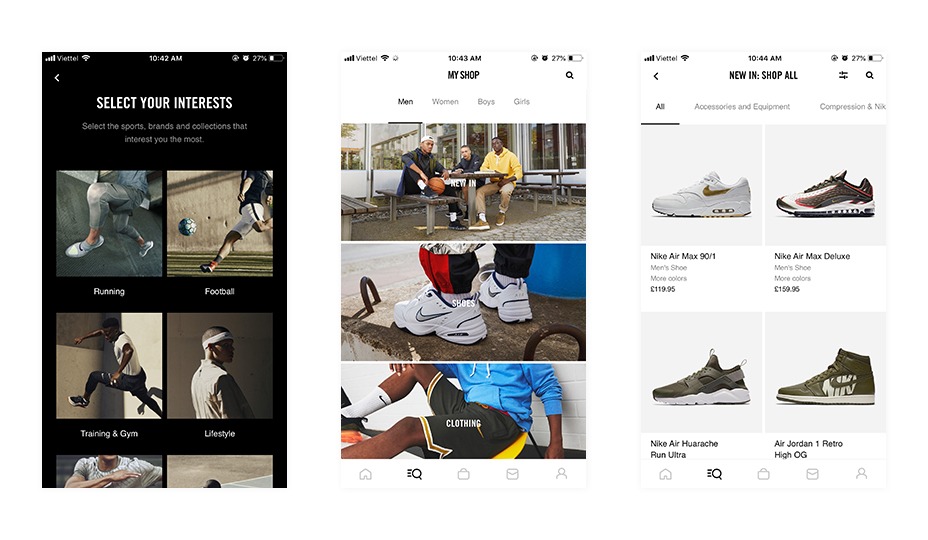 Feature highlights:
Nike app aims at enhancing the customer experience in several ways. It enables customers to check any item's in store availability, allowing for same-day reservations. After a reservation is made, a push message will be sent to notify customers when their items are ready to be picked up. NikePlus members can access special Nike products, exclusive discounts, and partner rewards for their in-app shopping. Its barcode scanner allows users to quickly and easily check product details, discover available options, and see real-time inventory online and in-store.
Check out the app on: Google Play Store | Apple App Store
6. JOANN
Jo-Ann Fabric and Craft Stores, the US's largest fabric and craft retailer with locations in 49 states, was founded in 1943 as a single retail store. Today, Jo-Ann is running 850 stores providing fabrics and craft supplies across the country. In summer 2017, the digital-influenced business rolled out its JOANN app to enhance the omnichannel experience for customers.
Feature highlights:
With the app, JOANN Fabrics customers can shop for supplies, find project ideas and take advantage of mobile coupon offers. The app makes it easy for their customers to browse weekly sales, get personalized deals, custom shopping lists,.. JOANN app is described as the industry-first tool that enable users to publish their own projects with photos, videos and even music. In this way, they can confidently share their finished projects with friends, family and one another. By creating a unique connection with their customers, the app has millions of active users, and downloads continue to increase at a rapid pace.
Check out the app on: Google Play Store | Apple App Store
7. Wayfair
The American ecommerce company offers a selection of more than 10 million items across home furnishings, décor, home improvement, housewares and more. As one of the world's largest online destination for home goods, Wayfair continually developing innovative technology features within its mobile app that completely transform the way people shop for their homes.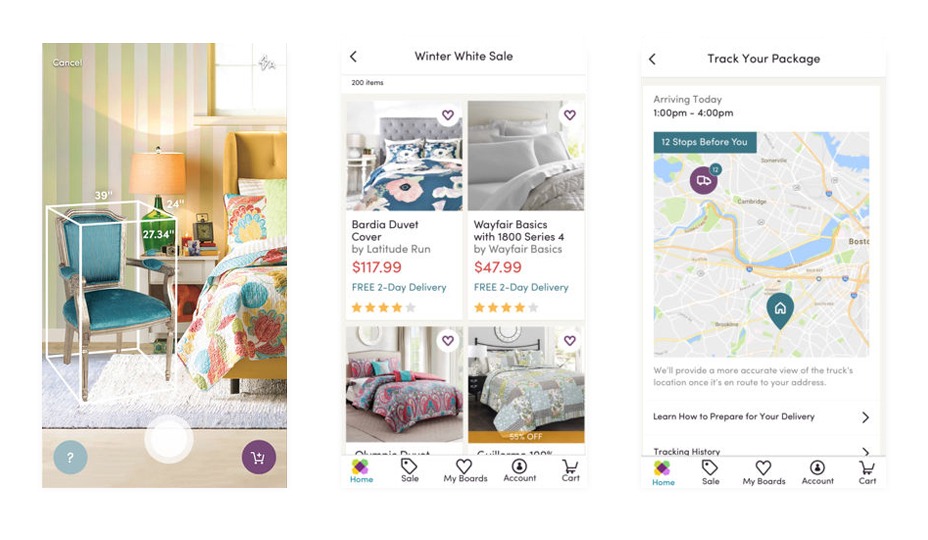 Feature highlights:
Leveraged by augmented reality technology, the app is capable of virtually turning every home into a furniture showroom. The "View in Room 3D" feature makes shopping from home not just quick and easy – but incredibly inspiring. With the ability to arrange virtual life-size products in their own space, home shoppers can visualize furniture and decor in the real home with a mobile device. As a result, the app enables users to make online purchases with the confidence that they will look great and fit in their space. The innovative feature has played a critical part in the online shopping experience for millions of Wayfair app users.
Check out the app on: Google Play Store | Apple App Store
It's your turn
According to Criteo's Global Commerce Review, in-app transactions grow 22% year over year. In most world regions, mobile now accounts for more than 50% of online transactions, and in-app sales dominate. The rise of app adoption comes down to the superior experience it offers. Mobile-first interface, fast loading, secured checkout and easy access from the home screen are among the reasons why shoppers prefer mobile apps.
---
DON'T MISS:
10 Best Progressive Web Apps (PWAs) for Ecommerce 2023