When you own a Magento website, it means that you have plenty of options to develop your online brand and acquire large marketplace. You can either work with custom development or ready content management system.
Moving to a Magento mobile shopping apps, you will not receive the above supports, so have to develop every aspect of a mobile app from the design, the user interface to the core coding skill. Equipped with unique and useful features, SIMICART is the mobile app builder that you can rely on when intending to launch an expected Magento shopping app.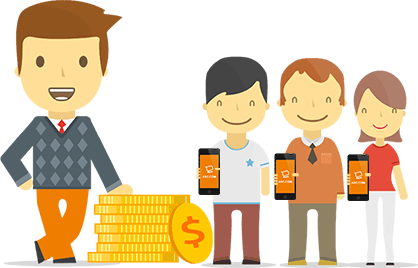 Building Magento shopping apps with template brings about apparent benefits!
Among the most concerning issues of a Magento shopping app as mentioned above is the design of it. How to optimize the design of a Magento shopping app is always what mobile app developers care about most. The good news is that now you can benefit from building a Magento shopping app with the template.
It can be considered a very smart way to save time and cost to develop the app. It sounds complicated, but in fact, what you have to do is just simply choosing the most proper theme among available themes in SimiCart. It is undeniable that the themes from Simicart can help you get apparent benefits. To understand deeper about building a Magento shopping app with available template, continue reading:
Visible advantages of building a Magento shopping app with available template!
Advanced designs  – ready to use
The first clear benefit of getting a template at hand instead of hiring someone to custom build it is that the design is ready for your app. With an available theme, you will be able to track what your app would look like at the beginning of the development process. Another important factor determining the success of a Magento shopping app is the user experience  considering the various form factors that it will be built on.
With a ready app template, you can get the app with the right UI design as well as UX. Besides, you also can customize the theme if it does not meet your requirement for free.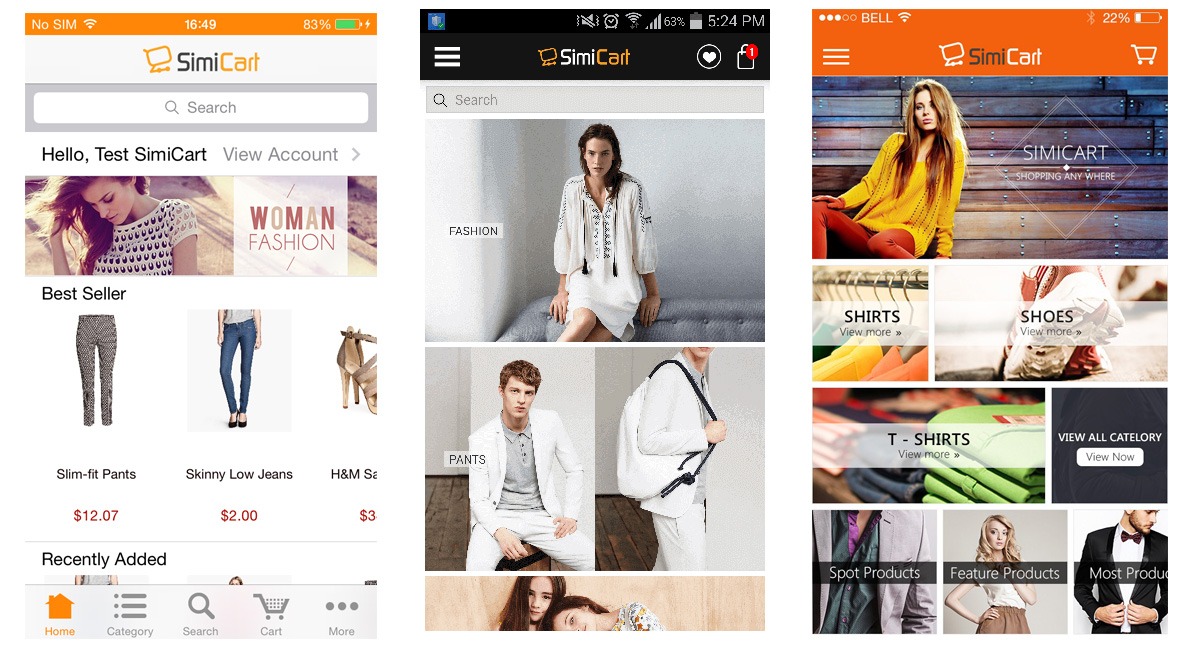 >>>Related:  How To Design Great User Experience (UX) in Your Mobile App
Frontend flexible for development work
The second advantage of creating a Magento shopping application with a ready template is that you would get the high-quality base to create the app on. Besides, requiring no coding skill, you will save time to modify the interface maximumly. All you have to do is just adding the features by programming and selecting the right backend that you wish, let all the left things for the Simicart theme to care about.
Cost effective
A fascinating benefit may be the cost advantage! With a template, developers will not have to spend much money on hiring designers, can select the best theme and apply for working at ease without any difficulties. An available template would cost you less then designers for sure.
Nowadays, with thousands of Magento mobile themes launched each year, people's head may be spinning around as not know which is the best version to adapt your Magento app. Then you can utilize the theme from Simicart with very low price in comparison with hiring a development team to set up the theme for your app. There are two choices for you: Matrix theme and Zara theme with the price of just $49, so grab one of the themes and experience great benefit from it.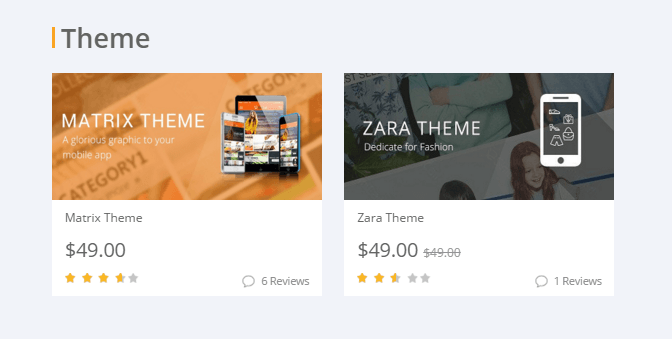 Overall,
Available templates can provide the mobile app developers with a great place to build the app on. Utilizing Simicart theme for you own Magento shopping app is the great way to ensure that your app will avoid 100% the fault in designs as these templates have been tried and tested elaborately before being introduced to the market. Do not hesitate, take the desirable template for your Magento shopping app now. 🙂
Read more :
Simicart