The blooming age of digital selling has given birth to new business models such as B2B2C eCommerce, DTC (direct-to-customer), besides traditional ones like B2B (business-to-business) and B2C (business-to-customers). Embracing these new models gives businesses more choices to promote and distribute their products so that they can grow significantly in today's competitive market.
This article explores B2B2C eCommerce in the most simple way, as well as clarifies the blurred lines between B2B2C and other business models.
>> eCommerce Business Models: The Basic
What does B2B2C eCommerce mean?
B2B2C is short for business-to-business-to-customer. The business model implies a collaboration between two businesses (B2B) to offer special products and services to customers (2C).
For example, a grocery store integrates with a tech company to offer grocery delivery and pickup services. The grocery mart takes charge of its products, while the app company does all required services.
Also, for the B2B2C business model, customers are well aware of the business collaboration and where the products come from. This differentiates the B2B2C eCommerce model from white labeling and B2B.
Continuing with the grocery example, shoppers know that they are buying groceries from Mart A and use delivery service from Company B.
B2B2C vs marketplace
Commonly in marketplaces, vendors offer their own products, while the marketplace platform takes care of product merchandising, marketing, and fulfillment.
For example, consumers buy products from an Alibaba vendor, and they know that the product belongs to that vendor, not Alibaba. However, Alibaba will do the shipping and deal with all refund issues.
Thus, it can be said that eCommerce marketplaces (like Amazon & Alibaba) and their vendors function in the B2B2C eCommerce model.
B2B2C vs B2B
"B2B (Business-to-business)… such as one involving a manufacturer and wholesaler, or a wholesaler and a retailer… refers to a business that is conducted between companies, rather than between a company and individual consumer"

Investopedia
In both B2B and B2B2C eCommerce, companies must deal with other businesses. Amazon, for example, needs to attract new vendors and accommodate them, which indicates a B2B relationship.
However, essentially the two business models are not the same, and here are whys
| | B2B | B2B2C |
| --- | --- | --- |
| Target audience | Business | End customers |
| Branding | When end-customers buy your products, they do not know the products are from your company | When end-customers buy your product, they know the products are from your company |
| Scope of work | You are responsible for every part of the business | You are responsible for a part of the business, and your partner company takes care of the other. |
The difference between B2B and B2B2C
The benefits of B2B2C eCommerce for a B2B company
The age of eCommerce & Covid19 has urged many B2B companies to use online selling as another prominent sales channel, and via eCommerce, there's a golden opportunity for them to reach B2C customers and scale-up.
Instead of trying to be a B2C retailer, many B2B businesses embrace the B2B2C model. This is done by partnering with other companies that provide suitable services for them to reach their B2C customers.
This way, they won't need to spend lots of money and human resources, yet still are able to achieve accelerated results.
However, it can be challenging for B2B businesses to make the B2B2C model work. This requires finding an appropriate business partner who shares the same customer base. On top of that, the latter company must provide products and services that the former lacks.
And most importantly, their collaboration must provide a greater value for the customers which neither can do on their own.
B2B2C vs channel partnership
"A channel partner is a company — such as a reseller, service provider, vendor, retailer or agent — that partners with another organization to market or sell their services, products or technologies."

Gartner
If B2B2C means shaking hands with other company to sell products, people might wonder questions like:
"Is selling my products to supermarkets B2B2C?"
"Is product affiliate B2B2C?"
In a nutshell, no.
These business models are called channel partnerships. Although there are some similarities between channel partnership and B2B2C eCommerce such as the ability to sell with your own brand, or shared benefits between two companies, they do differ from each other.
Here are the most significant differences:
| | Channel partnership | B2B2C |
| --- | --- | --- |
| Sales | In general, a business sells its products to its channel partner who then resells them to end-customers. | A business does not sell their products to a middle man |
| Product price | In general, the channel partner can control product prices sold to their end-customers. | The business can control the product price sold to their end-buyers. |
Does B2B2C mean selling to both B2B and B2C customers?
Since B2B2C is a combination of both B2B and B2C, thus, it's quite common to interpret that B2B2C means selling to both wholesale and retail customers simultaneously.
This is not necessarily true.
While B2B2C marketplaces like Amazon are selling their products and services to both sectors: B2B and B2C, a business that's both wholesale and retail is not a B2B2C business.
The B2B2C model highlights the partnership between two businesses, in which their products and services complement each other and the end customers can benefit from this. Also, the customers can fully understand that they are buying products and using services from different companies.
For example, customers from Amazon know that they are purchasing from the eCommerce giant and another small business vendor.
Therefore, if a company sells to both B2B and B2C customers and if it is fully responsible for all selling processes from products to services, it is not a B2B2C business.
B2B2C eCommerce examples
1. Affirm & Casper

Business 1: Casper. Casper sells mattresses, bed frames, etc to help people sleep better.
Business 2: Affirm. Affirm enables customers to pay for expensive products in installments over weeks and months.
As mattresses and bedding cost a fortune, people have lots of hesitation when considering buying. Thus, the "buy now, pay later" pricing model Affirm offers can help Casper increase sales significantly.
In this collaboration, Casper's customers know that they are using a financial service from Affirm. The information is stated clearly on Casper's website.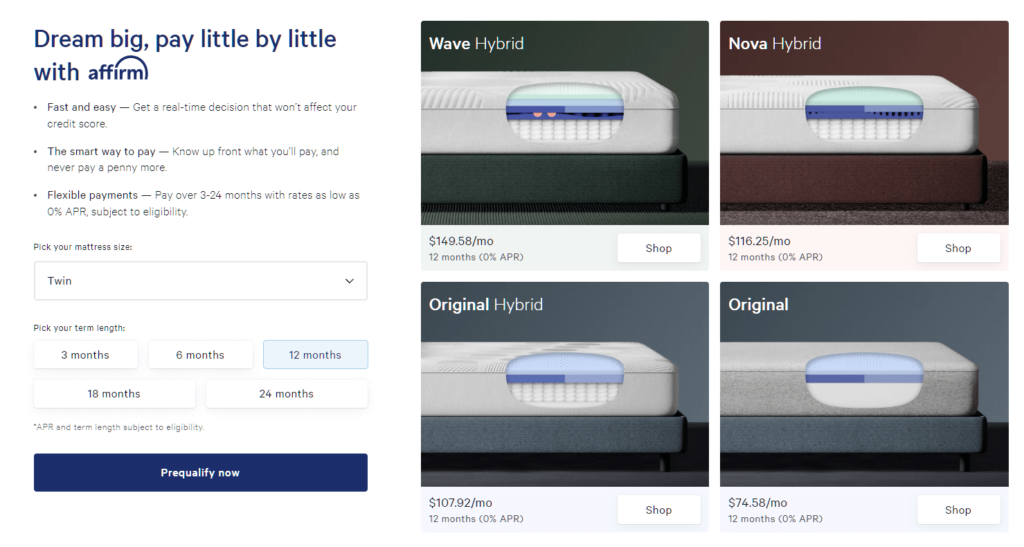 You can also see Casper's product on Affirm website. This means Casper can reach Affirm's customers to sell their products.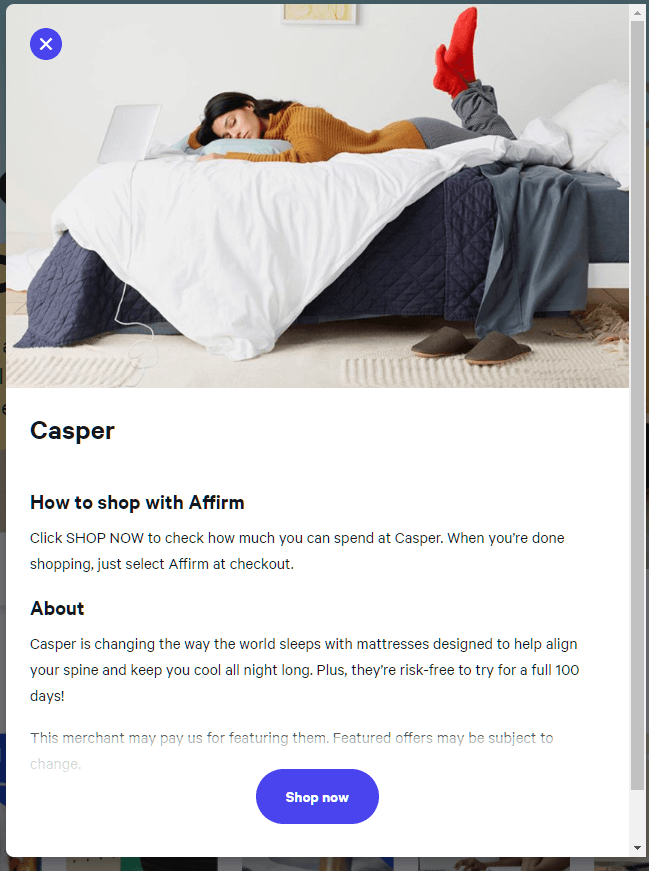 2. Grocery stores + Instacart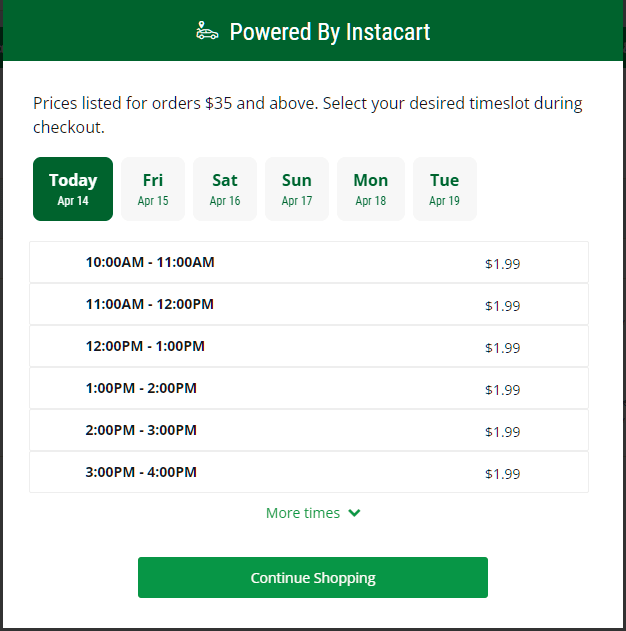 Company 1: grocery stores in the US and Canada
Company 2: Instacart. Instacart offers prompt groceries delivery and pickup services so that people can receive or pick up their orders on the same day they are placed.
While groceries need to be fresh when people buy them, shipping can take days to fulfill. Therefore, traditionally, they would need to go to grocery stores a few times a week.
Besides, grocery delivery is a complicated service. It requires shipper management, technological expertise, and a good customer success team.
To solve the two pain points, instead of trying to do everything on their own, the grocery stores have borrowed the hand of Instacart – a tech startup.
As a result, the partnership helps grocery stores cut the inconvenience of buying groceries and sell their foods to more customers
3. OpenTable and local restaurants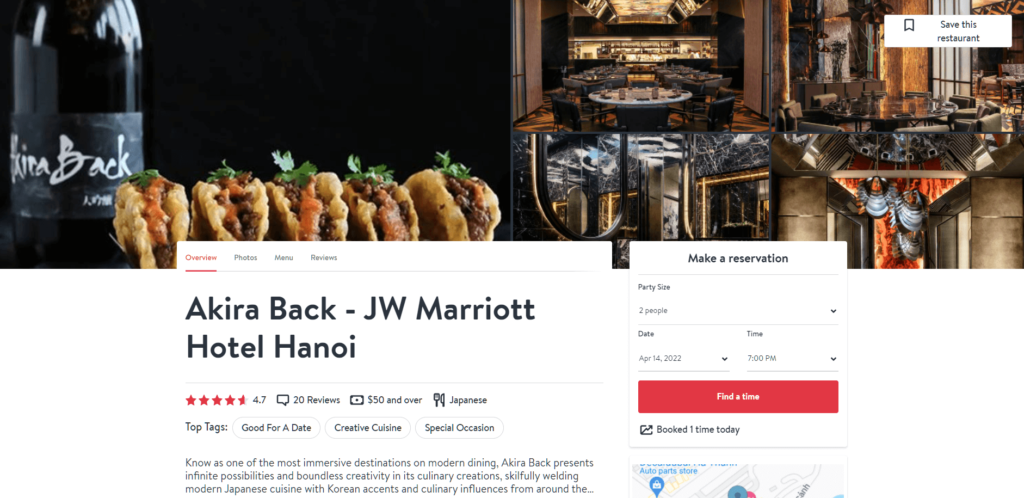 Company 1: local restaurants
Company 2: Opentable. Opentable allows people to conveniently find restaurants in every country, read reviews, and reserve a slot.
Since most local restaurants do not have experience in international marketing, they can not reach travelers who are thrilled to try new cuisines and often willing to pay. Opentable, on the other hand, facilitates a convenient online booking website where international travelers can browse for options, read reviews and take action.
Opentable has helped local restaurants connect better with worldwide travelers and generate more revenues.
B2B2C advantages and disadvantages
The B2B2C eCommerce business model can shed new light on your current business and open up more opportunities to grow.
However, not every business is successful with B2B2C eCommerce. A deeper understanding of its benefits and drawbacks will help you make a good decision.
The benefits
Improve product marketability
While products remain the star of every business, in this competitive world nowadays, add-on values such as convenience, guarantee, etc do matter.
Thus, integrating with another business that offers these values can increase your product charm in the market, which inevitably leads to a conversion boost.
Maximize each other's strengths
To stand out, businesses must strive to deliver something others can't. Especially for small companies, they should avoid being a "Jack-of-all-trades" and be specialized in a less-competitive niche.
Every business has something they are especially good at while being left behind in other fields. Thus, it's good to collaborate with another business whose expertise compensates for their drawbacks and vice versa.
Two are better than one. By taking good advantage of each other's strengths, companies can innovate and grow.
Reach more customers
Companies spend years accumulating their customers, some of them are loyal fans. If two businesses in the B2B2C model have the same target customers, they can promote their products/ services to each other's customer base.
While it takes lots of effort to acquire new customers, those who are dedicated to your partner's business will be more likely to trust your business and purchase from you.
Reduce costs
Using a service offered by another business can reduce overhead costs. For example, applying an app delivery service in a business's eCommerce system cuts the cost of logistics and paying shippers.
Moreover, building something new often takes lots of money and human resources. The B2B2C partnership lets one business use an already-established system of the other, so they do not have to develop one from scratch.
Increase brand recognition & reliability
If the two businesses have already had an established position in their niches, the B2B2C collaboration can boost the two brands' overall credibility.
For instance, if a furniture eCommerce business shakes hands with a famous financial company, its customers will feel safer entrusting their personal information.
The drawbacks
Lower profit
When joining Amazon, vendors must pay Amazon a fee of at least $0.99/an item based on their business size, in return for using Amazon's facility, customer base, shipping service, etc. 
This is similar to any other popular B2B2C eCommerce platforms, such as Booking.com, Airbnbs, etc.
Working in the B2B2C eCommerce model means a business must share a part of their initial profits with another business so that they can win more revenues in the long term. ECommerce store owners, therefore, need to make careful calculations to decide if the collaboration is worth it, and how they can maximize their sales with it.
Not suitable for all products
Whereas B2B2C seems to be a trendy move for B2B businesses, not all B2B brands benefit from this. Some products, such as industrial equipment or healthcare supply, are unique to B2B selling. It's hard for companies selling these products to transform into a B2B2C business.
Marketing challenges
There're lots of restrictions on marketing in B2B2C marketplaces such as Amazon or Alibaba.
Besides not being able to collect their own customer data, small vendors could not also run ads on the marketplaces, nor can they freely decorate their stores as they want.
This lack of autonomy is why many merchants decide to run an independent eCommerce website along with their marketplace store.
Moreover, for those who want to establish a B2B2C marketplace, a booking service, or a delivery app of their own, they need to attract both business partners and end customers at the same time.
This doubles the marketing efforts and may cause lots of hassle if digital marketing is not their strength.
Rely greatly on negotiation ability
For a successful B2B2C business, negotiation & communication with your business partner are vital. From controls over customer base, profit percentages to cross-business teamwork, everything must be carefully discussed and implemented in a win-win manner.
Might affect the brand's credibility
An unhappy customer is never a good thing, no matter whose fault it is: your brand or your partner's brand.
Same as how a brand's reliability can grow by joining hands with another reputable brand, if your B2B2C partner is incompetent, they can also negatively affect your business image.
Thus, a business must examine its partner closely before signing any partnership agreements.
B2B2C eCommerce platforms
B2B2C businesses may have different shapes and sizes, for example, they may be:
A small business that wants to collaborate with a tech company to improve their product services and reach more customers
A tech start-up that wants to provide services for businesses
A new marketplace, booking platform, etc
The best B2B2C eCommerce platforms must provide sufficient features and facilities for these different demands. In general, they must meet these criteria:
Having features for both B2B and B2C
Can be highly-customized
Easy to integrate with a new app, new partner, new system for data exchange.
As open-source eCommerce platforms are more flexible than SaaS (software as a service) solutions, B2B2C eCommerce businesses may find them more suitable.
Here are our top-picked platforms for B2B2C eCommerce:
1. Magento (now Adobe Commerce)

Magento is the most popular open-source eCommerce platform, which enables high customizability and integrability. Merchants can get full access to its source code to modify any features to fit their needs.
The platform's open-source version is free to download, so it's suitable for tech-driven companies to get started.
Because of its rich features and its robust infrastructure, Magento is great for enterprise businesses as well as those who plan to scale up fast.

Besides being open-source, Spryker embraces the composable structure, which lets users handpick each feature they need for their websites, no matter if it is for B2B, B2C, or marketplace.
Moreover, it is built with headless architecture & a strong focus on API. To speak in simpler terms, the platform is technology-driven, super flexible that can handle any unique integrations.
Unlike Magento or Spryker, BigCommerce is a SaaS platform, which can not offer the same high customizability as open-source options. However, it is still considered a decent eCommerce platform for versatility, which can satisfy the needs of small businesses.
On top of that, BigCommerce comes with ready-made features so that users can build websites without a single line of code. Also, new merchants only need to pay from $29.99/ month to create a store. Thus, it is an excellent choice for starters with a limited budget.
>>See more: Magento vs BigCommerce
Wrapping up
B2B2C is an innovative eCommerce business model that helps businesses reach more customers while lowering acquisition costs. If you want to find a successful B2B2C business, find nowhere but major marketplaces, booking & delivery apps, as well as small businesses associated with them.
That being said, it is not a fluffy road for any business to take and many challenges can be expected.
We hope the article has explained everything about B2B2C eCommerce well so that you can make an informed decision to start or transform your business.