With Facebook's $19 billion WhatsApp purchase and Snapchat's rise, it seems like the year of the messaging wars has started. The drastic rise in the mobile shopping apps was also a certain trend last year, showing that mobile shopping apps is becoming a fertilised landscape for online business to invest in. 
Recently, so many ecommerce startups have decided to invest in this potential market and this is considered a prominent trend in the coming year.
>>>Click here
No one can deny that e-commerce was the real mobile star of the past year. According to Flurry mobile analytics firm, the usage of apps for shopping grew much faster than any kinds of other apps. Sessions on shopping apps built on Android and iOS devices increased by 174% over the year, including 220% on Android which went up by 77% last year.
Meanwhile, productivity and utilities apps were the second fastest growth kind with the increase of 121%, while social media and messaging ranked the third place with 103% growth. The overall use of all up was up to 76%.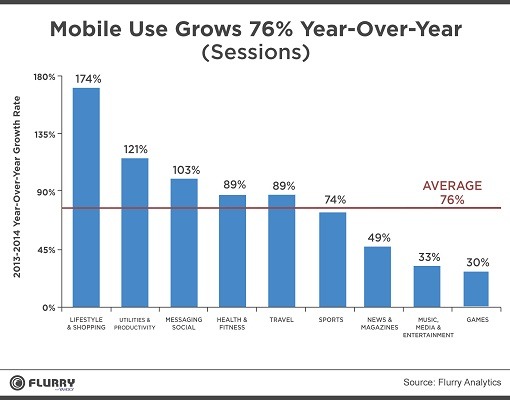 While the use of all app categories rose by double digits, games apps were left behind with just 30% growth (down from 61% in 2013). Besides, news and music apps also did not perform well last year. Such categories are growing from larger user bases, you may see a special point in mobile devices: users use their potent smartphones to take actions instead of simply consuming content.
Flurry also revealed some crucial information including where and when users are conducting apps for shopping. Consumers use apps for shopping most in the morning around 9 am, during the lunch hour and after work around 8 pm.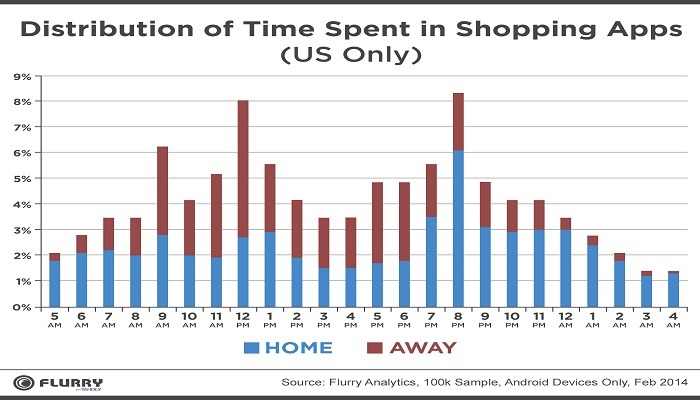 In general,
From the above survey, it is foreseen that in the coming years, the rise in the use of shopping apps is nothing strange. While the messaging and social media categories are said to increase significantly in the scale, but apps for shopping seem to steal the show as the establishment of e-commerce startups will exploit this potential market without losing any tracks.
>>>Related:  The Secrets of The Most Successful Mobile Apps