Shipping is essential for any online business, and savvy e-retailers know it involves much more than simply sending a box from their warehouse to landing step of customer's house. When it creates "wow" moments for customers, the good news your online business can drive more additional sales. However, it is so complicated and expensive if you try and navigate things like service level and accessorial charges.
In a recent post, we all figure out whether free shipping for e-commerce store is a must or isn't. Because logistics and shipping mistakes are easily made so today I will help you give some ways to avoid common ecommerce shipping mistakes altogether.
Ecommerce shipping mistakes within offering free delivering
Free shipping is playing an important role in buying decisions of customers. However it processes can cause evil for your online retailers if you're utilizing it correctly. So make sure that you online businesses are offering this promotion in a sensible way to encourage and attract more customers.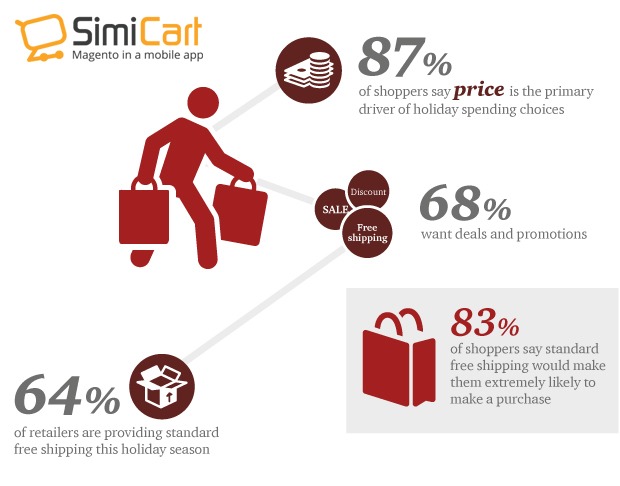 ccavenue android sdk : most popular payment solution for mobile commerce
Touting free shipping as the main marketing message
More and more online retailers are offering free shipping as a customer caring service. Although no official study hasn't been made to completely prove that there is a relationship between retention of product's branding with free shipping, it helps retain and attract more customers in fact.
However, don't overdo free shipping offers as prominent elements and drown out important messages about your company's branding and specific products. Remember that you are selling the product, not free shipping! Each product has to have a consistent message that goes along with your branding…When you try to overstate free shipping as an emphasis, it will take away one value from everything else. You don't want to be the company that people come to due to free shipping services! This means that your company's branding are incorrectly positioning!
 Assuming free shipping is your best promotional offer
Normally, online retailers assume free shipping as the best way to lure customers. Don't be fooled by that! Other promotional offers might help your business even more. 2 last years, while I'm working at an FCMG company, we did an experiment. Our customers have two different options when they buy our products. Either choosing free shipping offer or getting 20 percent off their total purchase. It was surprised that nearly two-third of customers choose the discount. Even better, they bought more because they wanted to increase their savings.
Going "fulltime" with free shopping offers
Normally, online retailers only offer free shipping at certain times. If you run this promotion all time in the year, everything seems to be no longer special. Your customers won't assume it's a different point because they get it without any fuss. So just doing this acts in certain times to make it as a solid promotion to entice sales. However, two questions are asked at here when to offer free shipping and how long to do it?
For instance, direct to consumer retailers are keen to offer free shipping during the Christmas shopping season. If your business is niche specific (such as Halloween decorations) your business may peak at other times. Consider to adjust the length of the promotion can have dramatic effects as well.  For example, only offering free shipping a long weekend can create a concentrated promotion with the urgency of a time limit. Similarly, spreading that timeframe out to weeks or even months may net you longer results. The key at here is that finding your business's own "sweet spot" means combining your cyclic sales trends with a little trial and error experiment.
Ecommerce shipping mistakes without free shipping offers
Don't give your customers the power of choice
Customer's demand is different and various. Some people may want their packages delivered as soon as possible even they have to pay added fee for the service.
Others may not mind how fast the packages delivered and only care whether the shipping is free or isn't. According to a study carried out by ORC International, 82% of American consumers prefer free shipping, while 17 percent prefer fast shipping within one to two days with willing to pay added fee. According to studies made by UPS, the average price customers are willing to pay is $8.50. So you should provide your customers with multiple options and various shipping method, free or fast.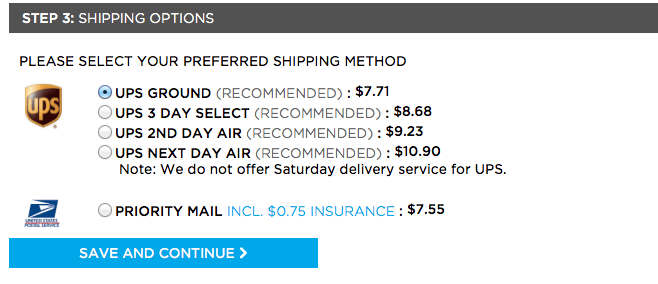 Paypal express checkout mobile makes it convenient and faster for customers to checkout either on web store or via mobile
Don't guesstimate shipping costs
Ensure that you have been researched the proper and have been found out the most effective cost for shipping an item. Depending on the kind of consignment and your carrier, additional charges may be applied such as Saturday delivery, fuel surcharges and residential delivery charges, etc. You can avoid wasting money if you take some time to do research. Remember that the world of shipping always changes. If you are unprepared for it, then it could cause you financially disastrous. So make sure that you have eliminated the shipping methods that you company or your customers no longer need. If you do not fully understand it, contact a carrier or shipper to get further information whether have other viable options.
Read more :