Why we can't afford to ignore mobile
Today, online businesses aren't just limiting when having only a fancy web layout. In a competitive market, it's about having a strategic process that integrates execution, innovation, monitoring and regular improvements; all from one central platform accessible to all.
And perhaps, Mobile Shopping Apps – Not still just a trend!!!! Not going mobile means that you are risking to lose all significant sales opportunities!
However, according to Bain Consulting, 40 percent of fashion retailers don't sell online especially via a mobile app.
All of them stupid? Not exactly, but you know it's really close!
In a very small number of cases, one business can succeed without selling online. But all of them are in distinctive situation! Chanel, for one, doesn't sell online because it will diminish the profit of brick and mortar stores or distract from the physical store experiences (including fashion advice and alterations).
It sounds reasonable, huh? Just right in some way. In general, wanna succeed, we can't afford to ignore mobile
But the process of creating a mobile app is very expensive, so how should companies take advantage of the trends in mobile shopping, especially within a limited budget? Here are 4 tips for designing cool mobile shopping apps
#1 Is your app dressed for success? How to make it more attractive?
* Do you know that top-performing apps generate over 3/4 of mobile sales? On average, an app drives 54% of mobile sales, but the best drive as much as 78%.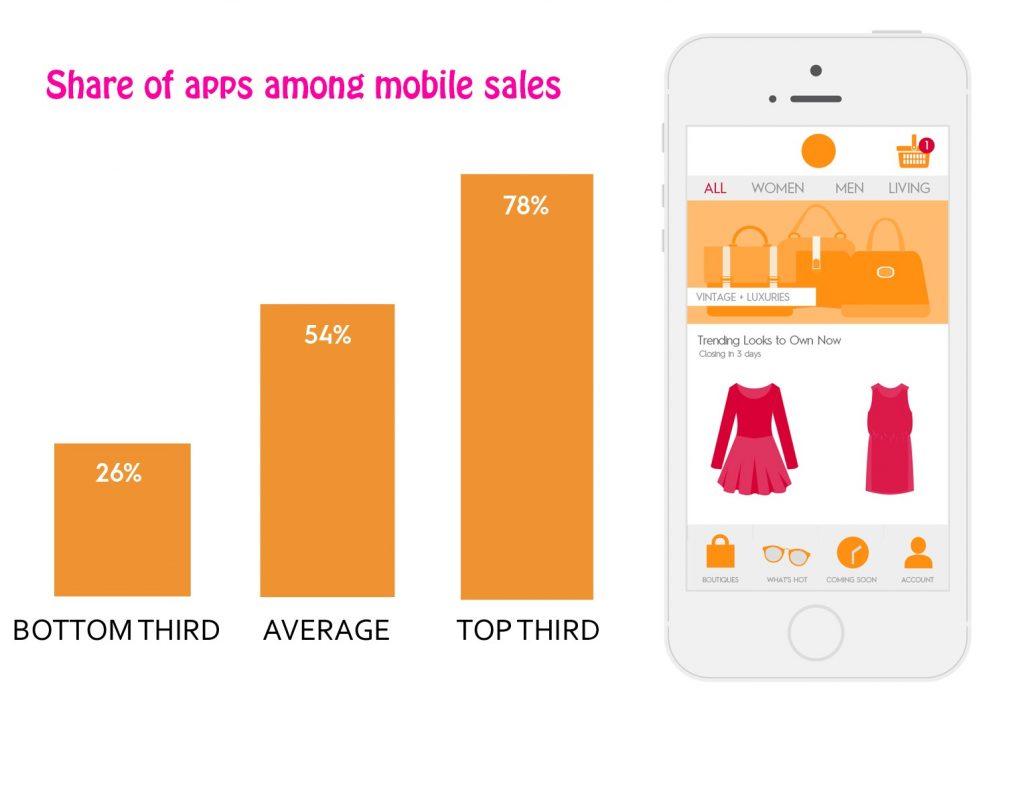 So what makes an app become a market leader?
According to Criteo, 9-in-10 of top-performing apps are successful thanks to 4 following elements.
Built for speed: Quick and streamlined checkout and Limited-time offers drive impulse purchases
Server as a reminder: Integrate features like saving items, add them to wishlists and transfer them seamlessly to a shopping cart
Well-connected: Consumers appreciate apps that are well-connected and enable them to share products on social networks.
Last but not least, a seamless experience, anytime, anywhere! A "holy" experience is exact word to describe consumer psychology, especially women. Consumers are looking for this level of convenience and ease-of-use Therefore, the most important part is mobile brings a greater experience like enabling to access to all goods at a tap or two.
Within a limited budget, how can you create a mobile app that is full of these elements? In a market as saturated as the e-commerce platform market, it can be very difficult to figure out which shopping cart software best meets your needs. When searching for a platform to run your e-commerce store, two names you can stumble upon including Shopify mobile app and Magento Mobile App.
However, I highly appreciate the second name. Ask any tech-savvy what the hot area is today, and they'll tell you "Magento Mobile App". Indeed, Magento is becoming the leading open-source platform in e-commerce market and the number of users is growing every day. Create your owning mobile app with no coding skill and low expenditure. More affordable than ever! Seamlessly aggregate your marketing message. Offering and engaging with them at a new level. Integrate into your Social Media which plays an important role in increasing online sales.
#2 How to woo the device-hopping shopper
Show the love to your existing customers
Even if they frequently visit your competitors' sites, your existing customers are your most important customers. Fickle as they are, you must work to outshine your competition to get them back to your site frequently. Offer a curated shopping experience to capture additional sales from heavy buyers and reactivate even shoppers who've purchased recently.
Make your app runway-worthy
Don't skimp, don't take shortcuts or take risks. Your app must be couture-perfect. Your design must invite repeat visits, minimize time-to-purchase and cultivate impulse buys. The investment will pay off, potentially driving a huge share of your mobile sales.
Design a fabulous mobile experience
It's coming, so get ready for it. Create a superior buying experience on every screen. And you will capture more sales. Speed up your mobile efforts now. Remember that the slower your site, the higher your chances of driving visitors away.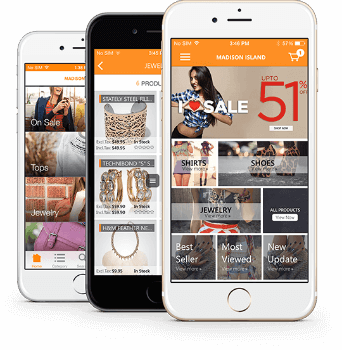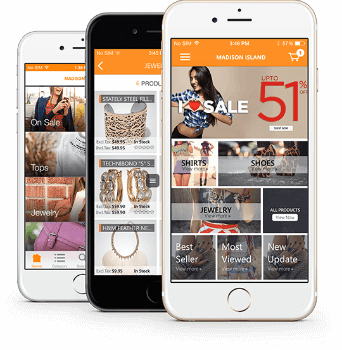 Do you believe that an eye-catching theme and better customer satisfaction go hand-in-hand?
In case you have any doubt any this, here is some evidence. A Good navigation helps shoppers find what they're looking for without hassle. A poor navigation will frustrate them or even lead them to abandon your store. A good image combined with calls to action do a wonderful job of explaining your products or getting your customers to look at something specific. And how about high-resolution items? It will provide a rich visual experience, allowing users to see sharper text and more details!
So, the biggest tip here is always keeping everything fresh and interesting!
Zara, for example, buyer perceptions about Zara are youthful, dynamic and creative. So their design is focused on these positioning. This kind of theme is perfect for portfolio owners to showcase their products. Your images, video, and content are brilliantly displayed in an intuitive and minimal design, allowing you to boast to the world just how beautiful your work really is. Wanna try Zara Theme now, check it here Zara theme
 To be continued…