As a matter of fact, sales report can noticeably affect your business in either a positive or negative way, and if you do not know how to manage your Magento sales report extension properly, you definitely should read this.
In order to make consistently the right decision for your business, it is essential to be fully aware of all the information about your Magento store. At this point, it is a brilliant idea to try using a Magento sale report extension with extremely helpful features:
Dashboard Panel overview: Just take a glance at the Dashboard and you can see not only key summarized points in your business but also all the available reports and data to which you can access freely every time you want.
Report sharing: By sharing the report, you can archive or send them easily to other users. Just get the extension email it for you.
Easy to use: The interface is quite user-friendly and there are complete guides for all functions. Besides, there are also many available IT supports to help you should you find any difficulties.
Profit estimation: With input statistics about your sales, the extension can calculate and give you the estimated profit for your store in any period of time.
Customization ability: you can customize your report easily to serve your convenience and preference.

Simicart – magento mobile website extension
2. A guide to use Magento sales report extension:
Despite the various functions it offers, using a Magento sales export extension is not difficult at all. In this article, I will show you a basic guide so that you can understand how you can use and manage your Magento sales report extension properly in the two editions Magento CE (Community Edition) and EE (Enterprise Edition) by following only 3 simple steps
a. Step 1: Open the report
Create your own account (if you have it already, skip)
Log-in to the site to open the report
Go to Report -> Sales and choose the report you want to take a closer view (there are many kinds of reports you can access here, including orders, tax, invoice, shipping, refunds, coupons, paypal settlement records, etc.)
b. Step 2: Choose the site and Time period you want to analyze
Enter the Filter area and fill in blank options to view the result of one or multiple Magento stores.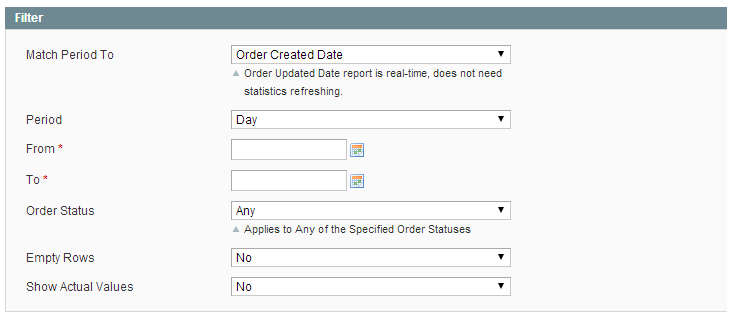 c. Step 3: View or/and extract the data
Click Show Report to view
Choose file types and click Export to export the report
In conclusion, an intelligent business man knows that information updating about sales terms and profits play a vital role in the management of a company, regardless of how big the store is. As a result, it should be crucial to obtain an extension that provides you all those smallest piece of information and assure the success of your business.
At this moment, our Magestore is having a lot of choices for Magento sales report extension such as PDF Sales report, Active Sales report, etc.
Visit our store and making a smart choice for the future of your business.
SEE MORE: