It is predicted that prior to 2018, the annual sales revenue via mobile apps and tablets will hit $707 billion, along with the rise in the number of consumers getting engaged with captivating mobile e-commerce experience.
Going from online website to mobile app is not something simple but so challenging. The truth is even though it is a mobile's design for varying screen sizes or offering a touch-friendly interface to consumers, mobile shopping app still shows challenges to retailers. Besides having to find out the most suitable mobile app builder and platform, businesses also need to pay attention to the design on how to build the best mobile e-commerce experience.
If you are really interested in the topic about the mobile app, then here is the set of guides that can help you attain the most engaging mobile e-commerce experience.
1.Think mobile to enhance mobile e-commerce experience
Most consumers usually look down on the visual elements and design but just care about what the site offers. Therefore, it is very crucial to keep the mobile user in mind when designing instead of trying to fit all data on your website to your mobile app.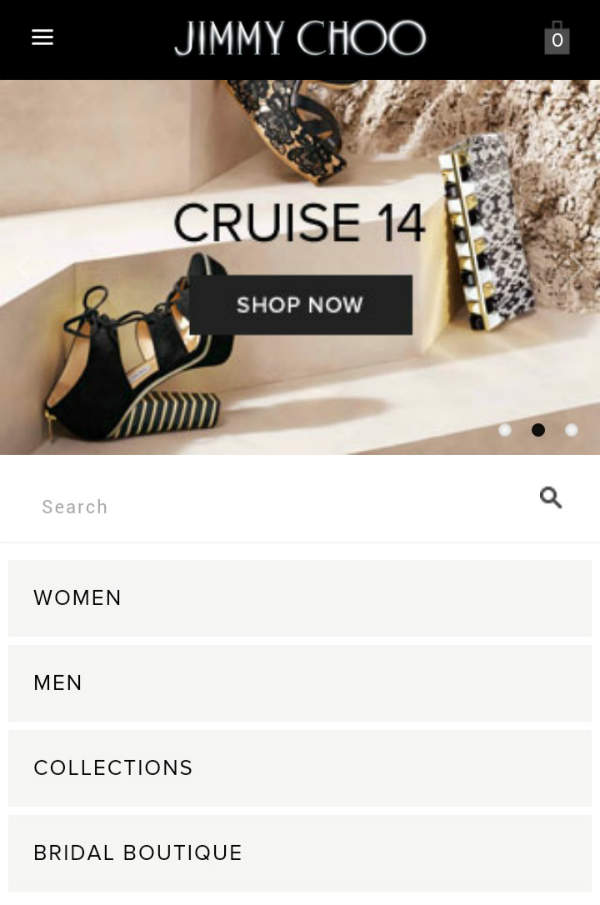 Jimmy Choo, a luxurious brand of shoes and bags, simplifies the process of consumers' scanning through the homepage by applying a simple layout showing one central image followed by a list of categories below. Though there is still a slider for the images, this layout is still ideal for customers to track the products that are expected to find on the site.
Once again, take a look at Anthropologie which is a multi-channel lifestyle brand, you can see that they create awesome mobile e-commerce experience by employing just a simple layout with an outstanding image at the centre. They have stated that with an image placed ideally at the centre, it can allow consumers to know what to expect on the website (shoes, clothing and accessories).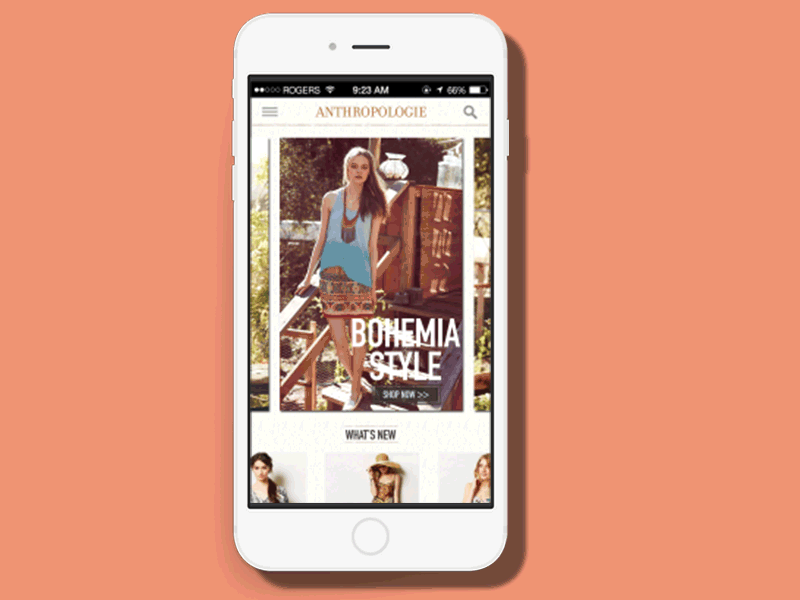 2. Take use of intuitive mobile UI to promote purchases and mobile e-commerce experience
In the position of consumers, they all want to view a previously visited products. Maybe, they want to compare two products, check whether the latter item has features compatible with the previous ones or not. Many a time consumers end up having to search for it by going through the categories all over again.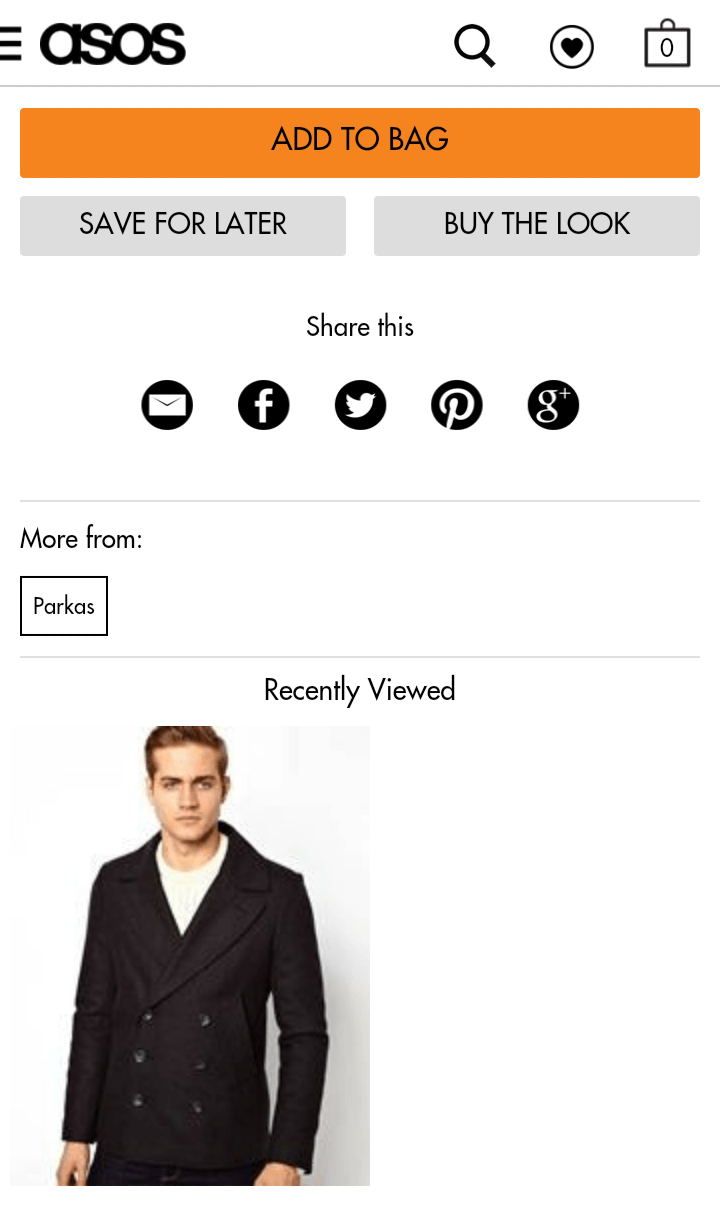 For instance, ASOS – a UK based fashion and beauty branch – can make it easy for customers to return to the previous items by displaying a list of "recently visited" items on the product page. It also provokes customers to explore other items by assuring them that finding products again will not be a hassle.
Be touch-friendly
As you may know, the navigation on a mobile screen is quite difficult because the area is too small, so the clicking on an exact button or element on mobile devices is not easy as well. To make it simpler for customers to tap, remember to make space between different touch elements within your content.
You should also study on the mobile platforms for each guideline to determine the size of touch targets to be used. It is quite important to keep complete units clickable but still ensure they do not span the entire viewport.
3.Choose the most appropriate information architecture to optimize mobile e-commerce experience
The truth is when customers can not find a sibling category they expect, they will conclude that your site does not sell that product anymore. To avoid this negative situation, you should add subcategories under the main cate.
You can also add "New" as a separate parent category. This is quite crucial as the recentness of a product could have a major impact on the purchasing power of customers. For example, the Dune London, a mobile website helps frequent visitors by including parent categories such as NEW IN to let customers quickly scan through the new products that have arrived since their last visit.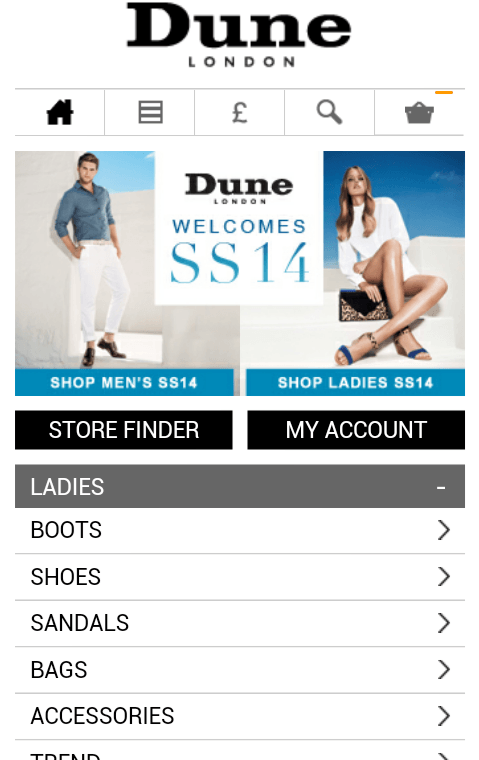 There are also some categorisation techniques that can help you attract more customers and promote mobile e-commerce experience named "Bestsellers", "Customers favorites", "Sale", etc. These customers recommendations not only reassure the decision of buying products of customers but also leave impression on their mind about your brand
Final thoughts,
It is undeniable that m-commerce brings about numerous opportunities. It not just helps to distinguish online stores with competitors but also helps to position their brand as well as promote mobile e-commerce experience well enough.