Something about McDonald Paper Restaurant Supplies
Founded in 1994, McDonal Paper is a wholesale brick–and-mortar B2B supplier with a facility and 20,000 SF E&S Showroom located in Sunset Park area of Brooklyn on 50th Street & 1st Avenue, mainly selling to other local businesses like small restaurants and other food service establishments – locally and in Tri-State Area. McDonald Paper's mission is to provide the customers with premium quality products at value driven prices. It did not have any online sales or even a website until early 2014 when Roman joined the company. Now it is going so fast to the promise land of m-commerce by Magento mobile app.
Q: Hi Roman, thank you very much for accepting our interview invitation. We are excited to hear your story. Could you please introduce a little about yourself?
A: Hello! Thank you for providing the opportunity for an interview! First I'd like to introduce myself, my name is Roman Bondarenko and I am working as Director of E-commerce in a New York-based company, McDonald Paper & Restaurant Supplies.
Q: I see that McDonald Paper website is in the beta version. Building an Ecommerce system for such a big company cannot be an easy task. How has it been so far?
A: Yes, building the whole E-commerce system from scratch for a company with 20000+ SKU's was definitely a challenging task. We started building an online store with Magento platform and now it's fully operational. We are just filling it up with content and products.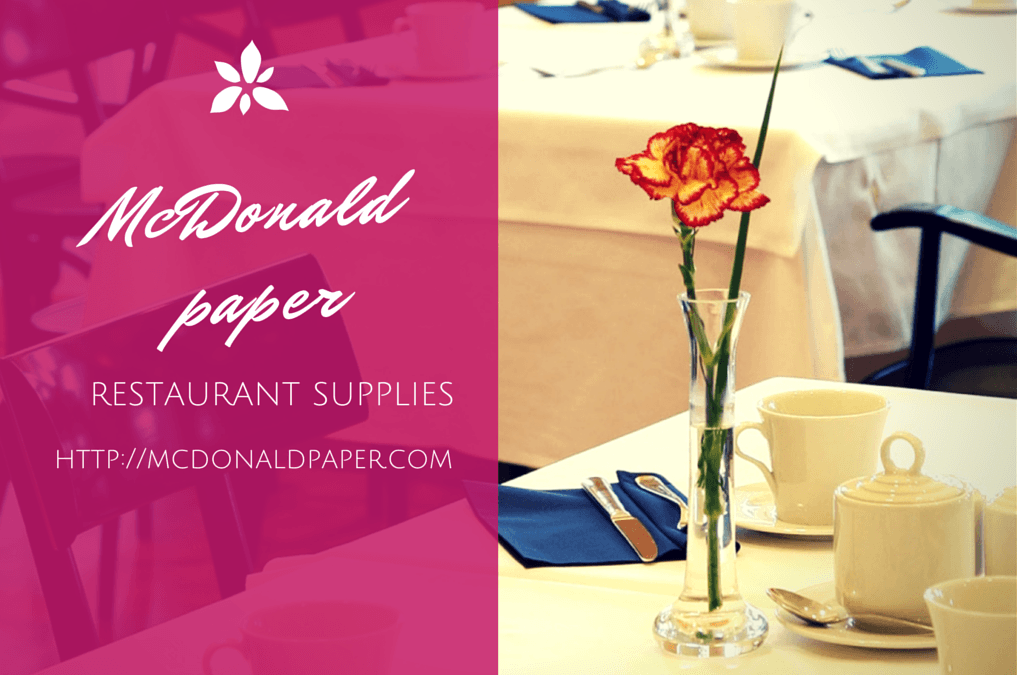 Q: As the Director of e-Commerce of the company, how do you envision the online shopping and mobile shopping in the future? And how would you prepare for McDonald Paper to catch up the trend?
A: Frankly speaking, I think that the future of sales will be dominated by online and mobile shopping! Retail and brick-and-mortar stores like will have to integrate deeply into online sales in order to survive. There are 2 main reasons for that:
The world is developing and new technologies come into life, and this, in turn, increases the competition between market players. Those who fail to catch up the trend will eventually go out of business.

People nowadays have such an intense pace of life that they have little free time. As a result, they need to take advantage of online shopping benefits.
As for McDonald Paper, the company probably faced increasing competition from online stores that are selling restaurant supplies, and we felt the need in establishing our own presence in E-commerce world. Certainly it's a step forward into the right direction, though it could have been done a few years earlier.
Anyway, I'm confident that we will manage to catch-up and integrate into online shopping properly. Our web-store is up and running, we started doing decent sales on Amazon and E-bay, and of course launched our mobile apps, which we anticipate to become popular with restaurant owners, who are always on-the-go and need to order supplies fast.
Q: So how did you get to know SimiCart? And why did you choose it among other providers in the market?
A: When we researched the Magento mobile app market for Magento, there were not too many options really. We are running Magento community edition, so we needed to find a decent third-party company to build the app for us. The final decision was between SimiCart and another company which had a price tag that was 3 times higher. I've also read some good reviews about SimiCart's customer support team, which is the most important part besides the price point. So that's how we settled upon working with you guys.
Q: Which difficulties did you encounter while working with SimiCart? How did you manage to solve them?
A: At the beginning we encountered problems setting up payments to work correctly with Authorize.net and especially Paypal, as there is tight integration with both Magento and payment merchants' API. But the hardest part was to set everything up correctly and publish the Magento app to both marketplaces (Apple and Google).The customer support of SimiCart worked very hard on helping me in a timely manner. I'd like to mention David, who was very responsible.
Q: Since USA is a high demanding market, did you have to configure or customize anything of SimiCart to meet the market's requirement?
A: Actually at this point we just want a basic tool for customers to place orders from the mobile phone, no extra bells and whistles. The functionality offered by the app out of the box is decent. Especially we liked how fast and easy to navigate.
Personally, mobile app should be simple and easy to use, especially for E-commerce stores, this helps customers to concentrate on the most important part – making the actual purchase, instead of trying to figure out how to use the fancy-looking thing.
Q: Overall features of SimiCart, which one do you like the most?
A: I'd say – ease of use and performance. We even had to upgrade our server that hosts Magento website, in order to match the app's performance. I can't say too much about the features as there is a still lot of work going on with our web-store. But I estimate that the most useful features would be PUSH-notifications and STORE-locator (At the time of the interview, McDonald Paper is on the way to integrate Store Locator to their mobile app)
Q: And if you can add or change one features in SimiCart, which will you choose?
A: Maybe a little more design options, being able to customize more?.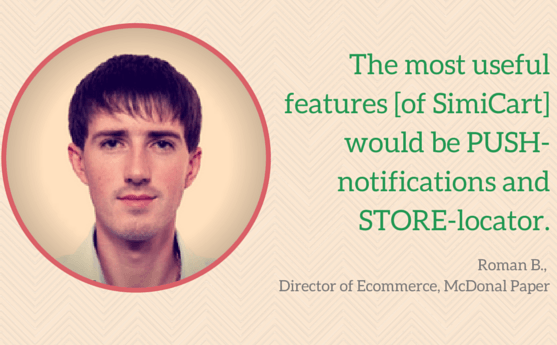 Q: How do you promote the app to your customers to encourage them to download and install it?
A: The first step was pretty simple – we just added a notification when accessing our website from mobile devices. Also we placed a few buttons at the footer – linking to Apple Store and Google Play. The next step is to promote the app by placing QR-codes on prints and offering our clients as we do a lot of printing, like flyers and digests with new products or specials.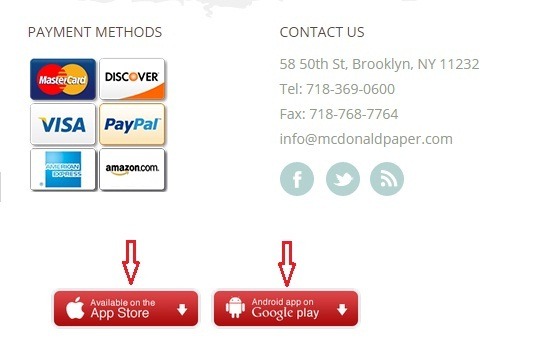 Q: Can you share with us about the result so far? Are you satisfied with it?
A: Well the result so far is that we have a decent working app for both Apple and Android, which is a good thing already. We hope that our clients will like the app and will start using it to make actual purchases.
Q: Ok, just one more question.Do you have any advice for customers of SimiCart to work better with the SimiCart development team?
A: My advice is – don't be afraid if something doesn't work from start, you may encounter some issues during the process of setting up the app. Or if something doesn't work as it should, take your time and write to the support team, these guys will help you out!
Are you from USA? Contact us for consultation and best price! sales@simcart.com
SimiCart is a solution that helps Magento Merchants build mobile shopping apps.
Magento merchants: Our solution is specially designed for Magento platform so you can get all the best features of Magento to apps. If you use a solution for every platform you'remissing many good things.
Mobile shopping apps: You will have apps that are coded separately and specifically for iPhone and android. Your customers can search and download your shopping apps from Google Play and Apple stores. And again, such tailored apps will bring the best user experience!
Simicart
See more: